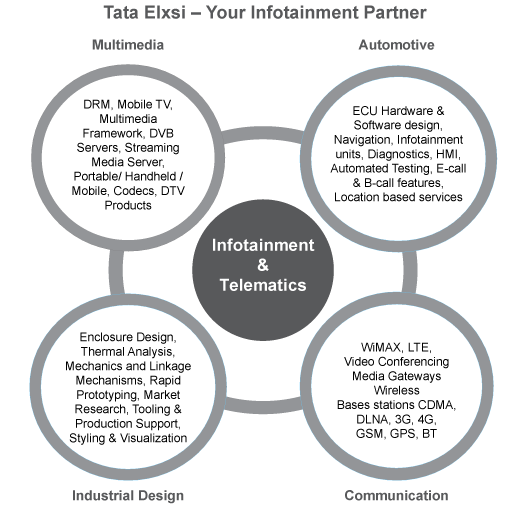 Tata Elxsi helps vehicle manufacturers, car infotainment equipment-makers and service providers to develop and integrate newer technologies in products to enhance product capabilities. Our solutions enable customers to bring feature-rich, robust, and scalable vehicles to the market rapidly at competitive costs.
We focus on 'simplicity to avoid driver distraction' and provide solutions that are connectable and upgradable, with highly optimized user interfaces. Our connected car and cloud computing services aim to redefine the telematics and infotainment systems standards.
We work with a comprehensive technology portfolio addressing a plethora of customer needs, which makes us an ideal partner for product design services in telematics and infotainment.
We also offer consulting on platform and next generation architecture, product realization, verification, validation services as well as a system integrator. Our expertise involves taking responsibility of every aspect of the product lifecycle - right from paper specifications to final prototyping.
We offer the following ready-to-use components in automotive Telematics & infotainment space
Audio/ Video/ Speech multimedia codecs
Telematics service architecture
Middleware components
Media player frameworks
Security Algorithms
Human Machine Interface (HMI) solution is the enabler that lets end users access products and technologies. By providing unique interaction designs, Tata Elxsi makes products simpler and intuitive for the end users. We help customers define the product, identify the needs, build navigation flow/HMIs, and access the usability of the product thereby enabling development and realization of the next generation of advanced user interfaces for both Telematics & Infotainment Systems.
Our platforms expertise range from Freescale, Renesas, TI, Intel, ARM and operating systems expertise in QNX, Vx Works, pSOS, Embedded Linux, Windows CE devices, Windows Auto, MS Auto and proprietary operating systems.
Tata Elxsi OPEN IVI Software Platform | GENIVI 10.0 Compliance
"Tata Elxsi Open IVI Software Platform" is now a GENIVI 10.0 compliant IVI software base, facilitating quick development of innovative IVI solutions & advanced feature demonstrators. This Linux based IVI Software platform, integrates core GENIVI components and additional middleware components such as Media player, Smart phone connectivity, Vehicle Information & control, RVI services and so on, developed by Tata Elxsi IVI team. Furthermore, integration of security stack from Irdeto, the pioneers in cyber security brands it as a tamper-proof solution.
Environment:
Hardware Platforms - NXP i.MX6Q Sabre AI & Sabre SD
Linux Kernel – version 4.1.15
HMI & applications developed with Qt 5.5
Value Addition:
Serves as a base environment to develop GENIVI compliant production system for customers
Flexible for enhancements & feature additions
Available soon on additional hardware platforms like NVidia, Renesas, TI and Intel
Middleware support:
Multimedia playback & browsing
Audio Management
Bluetooth Hands free
Bluetooth audio streaming
Vehicle Information & control services
RVI service
Device Management
System services
Software Loading Manager
Smart Device Link
iAP2 media stack
Demo applications available in Open IVI platform:
Application Launcher
Media Player (with support for playback from SD Cards, USB disks, iOS devices, Bluetooth streaming)
Vehicle Information & Control
Bluetooth Telephony
Home automation support
Smartphone Connectivity through SDL
OTA upgrade (SOTA, FOTA)
Connected Services through Remote Vehicle Interaction(RVI)
Smart phone feature control– Media remote control, HVAC control , Home automation control, App launching
Secured connectivity through 3rd party Security stack (Irdeto)