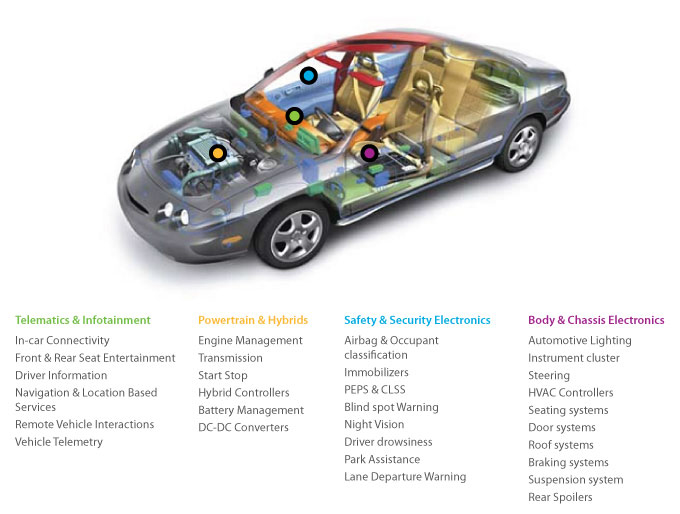 Tata Elxsi offers customized R&D services spanning across the product's lifecycle to automobile manufacturers and component suppliers. Our industry experience in working with leading OEMs, Tier1 suppliers, tool and chip vendors, makes us the preferred partner for system and sub-system design for the entire product lifecycle.
Our service offerings include:
Verification and validation
Rapid prototyping
Hardware design
Model-based design
Development of control systems
Embedded coding
Process and domain consultancy
Tata Elxsi's partnership with industry bodies such as AUTOSAR, Artop, and Genivi enables it to provide expertise in the design and development of next-Gen automotive electronics, pertaining to Powertrain and Hybrids, Body & Chassis, Safety & Security, and Infotainment & Telematics.
We are certified for ISO 27001:2005 and ISO 9001:2008 standards and compliant to Automotive SPICE® Organization Maturity Level 5 and SEI CMMi Level 5 requirements. This experience reflects in high quality deliverables and services to our customers.
Our key focus areas include:
Body & Chassis Electronics: Designing Front & Rear Lighting Systems, Instrument Cluster, Steering & Suspension Systems, Door Systems etc.
Telematics & Infotainment: Connectivity, Navigation and location-based applications, Front and Rear Seat Entertainment, Multimedia, Human Machine Interface system etc.
Powertrain Electronics: Designing an engine management system (Gasoline, Diesel & Hybrid), Transmission systems etc.
Hybrid Electronics: Battery Management system, DC-DC Converter, Motor Control etc.
Safety & Security: Designing central locking system, passive entry system, night vision system, blind spot warning, parking assistance system etc.
AUTOSAR: AUTOSAR migration services, AUTOSAR component & tool development, AUTOSAR stack support & maintenance, AUTOSAR training etc.