The media and entertainment landscape is experiencing rapid changes in consumer behavior, methods of content distribution and underlying business models. The one force that drives all these changes is technology. Our technological expertise and experience in working with global thought leaders in the Broadcast sector enables us to deliver insightful Consulting Services for players in the industry.
Tata Elxsi's Strategy & Technology Consulting (S&TC) services are directed towards Multi System Operators (MSOs), Broadcasters and Original Equipment Manufacturers (OEMs) facing challenges related to growth, expansion and technology in both mature and emerging markets, including the US, Europe, Latin America and India.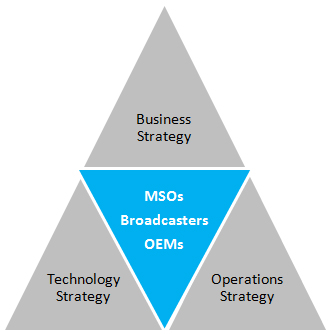 Services
Tata Elxsi offers its experience in devising and improving strategies in the following areas
Business Strategy

Market Strategy - to help clients enter new markets, strengthen position in the market
Customer Strategy - to help clients increase reach, engagement and monetization,

Technology Strategy - to help clients identify, evaluate and deploy cutting-edge B2C technologies, and
Operations Strategy - to help improve service delivery and quality
Tata Elxsi Value
Tata Elxsi brings over 15 years of specialized and global experience in working with leading MSOs, Broadcasters, OEMs, platform and software vendors, supporting their technology, product and services roadmaps. Tata Elxsi's S&TC services leverages this depth and breadth of experience across the industry ecosystem, and a dedicated team of experts across technology, operations and service delivery.