Tata Elxsi - The globally preferred partner for RDK services
The Reference Design Kit (RDK) is a pre-integrated software bundle, that provides a common framework for powering customer-premises equipment (CPE) from TV service providers, including set-top boxes, gateways, and converged devices.
Tata Elxsi is an early licensee, adopter and active promoter of RDK and provides a comprehensive set of services to various silicon vendors, OEMs and MSOs, to help adopt and implement RDK based devices and services. We bring in extensive system integration expertise to RDK along with best practice and innovative tool sets. With a rich talent pool of RDK expertise and infrastructural establishment, we enable and accelerate the deployment of high-quality video service.
Tata Elxsi is the only systems integration services company with experience in commercial RDK deployment since 2011.
RDK offerings
MSOs

More than 2 decades of end to end services to MSOs makes us the perfect choice of system integration partner for specific software and application development, ensuring fast turn to market
OEMs

We provide design & development of STBs and gateways, device testing, integration to operator network, and RDK capability testing services
SoCs

We offer RDK porting, testing, and hardware validation services. With a test driven development, we ensure rapid integration of RDK onto new platforms
App providers

Leveraging our HMTL5 RDK app framework, app developers can now quickly develop and test applications
Benefits
Proven experience

Extensive experience gained from engagements with leading MSOs, OEMs, SoCs and technology vendors in RDK space
First vendor supporting 2.2 million RDK STBs roll out
Seven different box models triaged and defects fixed
Infrastructure

Offshore lab enabled with VPN connectivity to Comcast labs (Access to XRE development & Feynman servers)
RDK STB variants available: XG1 (Pace), RNG 150, XG5 (Pace), and Xi3 (Pace, Humax, Technicolor)
CMTS
Key enablers
Readily available solutions

Prime – An HTML 5 based application framework
XRE & XG1 simulator to quicken development of Xi3 by facilitating debugging/ error simulation during testing
RDK- Lite for low memory STBs
Accelerated deployment ensuring automated test tools and processes

RDK test case repository

Leverage existing test case repository for faster device certification
Prime - HTML 5 based RDK application framework
Tata Elxsi's RDK suite 'Prime' accelerates the deployment of interactive TV applications for MSOs. Bundled with the suite is a rich, interactive UX deployed in a safe cloud computing environment. The suite is available in RDK Delia and supports ATSC & Euro DVB standards. The platform optimized, multi-screen capable solution comes with a customizable user interface, addressing the needs of MSOs.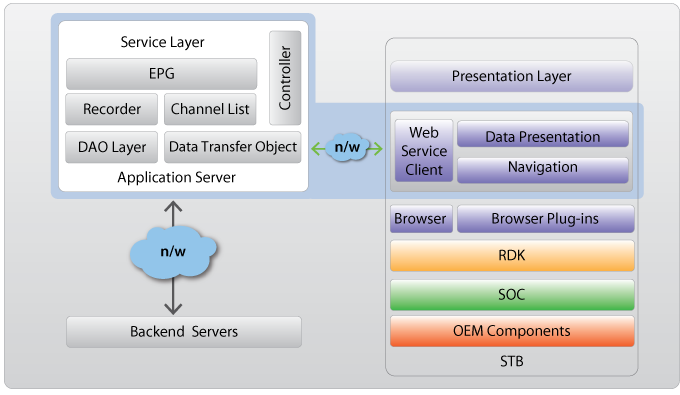 Highlights:
Integrated RDK solution

HTML5 apps framework
Cloud enabled backend servers
Ready to deploy HTML5 apps
Marlin DRM protected content
App store
Re-usable component architecture
USB media playback
Scalable and easily customizable
Integrated with Adobe Primetime

Global solution

Supports DVB, ATSC, extendable to ARIB
Rich interactive user experience from 10 foot distance

Quick program guide, multi-room video recording, social media sharing such as Facebook, Twitter; experiencing virtual presence with friends and family members, application store and lot more

Seamless extension

Users benefit with choice of applications provided by global developers
Customizable White label UI

Legacy platform support

RDK Lite for less memory existing box
Readily available RDK services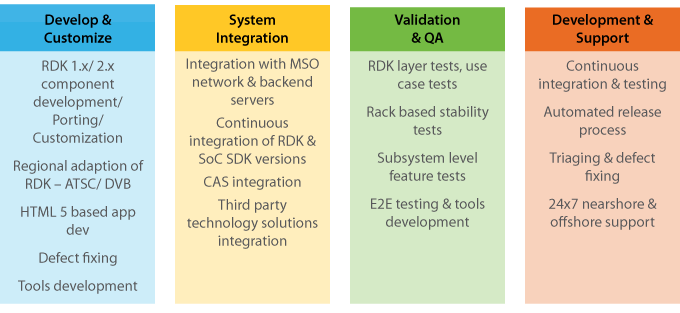 Ready to use RDK lab infrastructure
Tata Elxsi's lab setup at offshore facility enables quicker development and deployment of RDK devices & associated applications in MSO networks.
The setup includes:
XG1, RNG 150, XG5, Xi3 boxes
Connectivity with Comcast XRE Server/Feynman server
Simulator (Tata's IP) to test independently of Comcast XRE Server/XG1
Local streaming with QAM modulators, video streamers & local streams

RDK based application development
Whitelabel app store
Facilitates MSOs to deliver a consistent user experience and manage a myriad of 3rd party applications continuously. The features enabled include:
Catalogue management
Social media, reviews & ratings
Payment gateway integration
Cloud hosting
Unified program guide
Tata Elxsi has developed new and improved unified program guide with the following features:
14 days program detail of all channels
Reusable component based design
Preview of currently playing video
Genre based filtering of programs