As part of our product engineering services, we engage with medical device OEMs from consumer & market research to mechanical design (styling & prototyping), hardware and software engineering, regulatory standard adherence, verification and validation and support with comprehensive documentation for FDA & relevant regulatory submissions.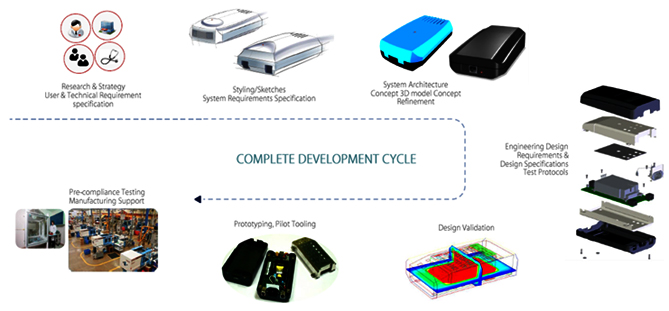 Concept / Idea Generation
Our team consists of ethnographers, usability and demography experts who engage with customers in conducting market & usability research and feasibility studies in local markets and this serves as a platform for product insights, requirements and proof-of-concept creation.
Product Design & Engineering
As part of our design & engineering services we provide system architecture & design, system modelling, hardware and software design, software integration, GUI development, connectivity solutions and rapid prototyping.
Sustenance Engineering
We help leading device makers reengineer existing products to support specific needs such as obsolescence management, product / feature enhancements, Bill of Material (BOM) optimization, and localization for emerging markets etc.
Verification & Validation
Verification & validation services are closely aligned as part of our PDLC. As part of verification & validation, we address all aspects such Software, mechanical, electrical, systems OTS/COTS/Tools, regulatory adherence, standard-based testing, compliance testing and test automation. We also provide Independent verification & validation services aligning with customer's PDLC roadmap.
Regulatory Compliance Consulting
Our dedicated team of subject matter experts are part of our delivery execution and they help drive RoHS/ REACH compliance, CAPA support, 510 (K)/ Pre-market approval, post market surveillance support, process validation- DQ/IQ/PQ/OQ Computer system validation, maintaining of DHF/ DMR (CSV), IEC 60601- 3rd edition, HSPM (IECQ QC080000) standard adherence and pre-compliance testing (EMI/EMC) in our engagements.