The customer:
The customer is a European tier-1 defence vendor.
The Project:
The customer desired to develop a product for tactical communication on the battlefield. The final product was required to support enhanced range and higher data rate for video communication, high speed mobility, multi-hop relay extension, integration of proprietary security solution among other features.
Tata Elxsi's Solution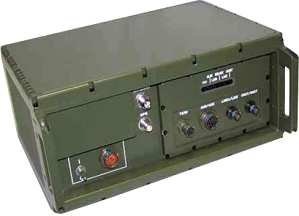 Adapting tactical communication requirements on a standard WiMAX system was a significant challenge, given the critical battlefield conditions. Tata Elxsi helped the vendor build the product by taking complete ownership of platform selection, PHY & MAC layers.
Tata Elxsi developed a broadband tactical mobile radio solution, beginning with the COTS platform, prototyping the features, integrating with the end application, before ruggedizing on the target platform.
Suitable modifications were done to enable the modem to work in extended range in both Uplink and Downlink direction, (Up to 50 km) under varied channel conditions.
The final product supported IP applications like video streaming and multicasting, VoIP, whiteboard sharing, text messaging, file transfer, each of which has different QoS requirements with varied levels of security.
Solution Highlights:
The solution supported both point-to-point and point-to-multipoint configuration
The baseband was configured to work in the 225-400 MHz range with OFDMA based TDD-WiMAX technologies at a power rating of 400 Watt
Range extension and proprietary Mesh networks implementation were achieved using Tata Elxsi's wireless expertise
Integration of custom security algorithms was done to ensure the device was suitable for robust, secure communication
The product passed rigorous field testing in Europe to ensure compliance to the exacting battlefield standards
Business Benefits:
The product was termed as one of the very first products in the world, having broadband capability and long distance communication
The product being portable & vehicle mounted makes it useful for military conditions
The ruggedized structure makes it reliable and useful to be used in military conditions with varying environmental changes.