The Customer
The customer is a US-based leading supplier of Telepresence, Voice & Video Conferencing solutions across the world. The customer's product portfolio ranges from video collaboration software for mobile devices, laptops and desktops to group video systems and immersive theaters.
Project
The customer wanted to develop a high-definition video communication Enterprise Telepresence Solution with multipoint conferencing support. Stringent budget constraints & aggressive timelines were the major challenges for the customer. Also, interoperability with existing Unified Communications products was another focus point.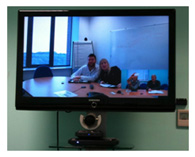 Tata Elxsi's Solution
Tata Elxsi developed a complete Telepresence solution for the enterprise market including a Telepresence endpoint with multipoint conferencing support, a Centralized Visual Communication Management Application, an Android based Touch Control interface and Voice Conferencing Solution
Enabled integration with MS AD and implementation of AS-SIP, CCCP (for MS Lync) & TIP (for Cisco Telepresence) protocols for interoperability
Designed & implemented OpenMAX components to support different underlying codecs like H261, H263, H264 , SVC & RTV in video framework
New platform migration & software re-architecture including video device driver, microcontroller device driver & software upgrade service component
Tata Elxsi was also involved in the Android-based UI & Apps development, build automation & testing
Business Benefits
Development of a dedicated Offshore Development Center (ODC) for this customer at Tata Elxsi's headquarters in Bangalore with a dedicated ODC manager, an experienced core team and state of the art lab set up.
Acceleration of the time to market of the customer by 30% & reduced R&D expenses by 40%. Leveraging experience with other UC ecosystem products, customer enhanced the interoperability of the solution to be competent in the Telepresence market.
Tata Elxsi today, is a strategic partner for the customer and has complete ownership of the product. The engineering support services range from new product development to fixing a bug reported by the enterprise user and interoperability with products from other solution vendors. Tata Elxsi also has enabled innovation in terms of migrating the solution on to an advanced hardware platform and Android operating system.