The customer:
The customer is a leading US based wireless communication infrastructure provider that develops and manufacturers wireless communications equipment for mission critical industries (Smart Grid, electric utility, oil and gas, and transportation).
The Project:
The customer was looking to build a Narrow Band Long Range (NBLR) modem to meet the needs of critical infrastructure industries.
Tata Elxsi's Solution: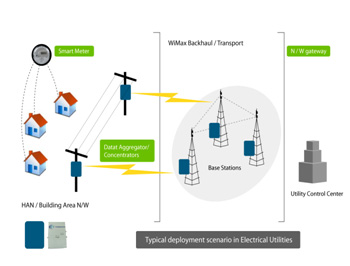 Tata Elxsi designed and developed this Narrow Band Long Range (NBLR) modem solution, based on the Mobile WiMAX standard (802.16e-2005). Tata Elxsi deployed the complete WiMAX software with its in-house Mobile WiMAX Base Station (PHY and MAC) & Mobile WiMAX Subscriber Station (PHY and MAC). The standard WiMAX solution was customized to meet the wide area IP data needs of mission critical industries. This included adapting the PHY and MAC layers to support VHF and UHF frequencies for non-line of sight, long-range communication.
The NBLR modem was a turnkey, end-to-end solution which included the base station, the mobile station and fixed station radios, network management system and configuration tool. As a part of the solution, Tata Elxsi not only provided software but also designed the board, the related drivers and also provided enclosure design.
Solution Highlights:
Software defined Radio supporting frequencies from 40MHz to 958 MHz
Supports channel bandwidth from 200KHz to 5MHz
Industrial grade software and hardware
Power supply ranging from 3.3V to 28V
Coverage up to 20 miles from the tower site
Solution Applications:
The developed modem is targeted at the following industries and possible areas of applications:
Secure, low cost, backhaul of smart meter concentrators
Public Safety & Emergency Services
Power Transmission and Distribution
Natural Gas Production, Transmission and Distribution Companies
Water and Wastewater Industries
Oil Exploration and Extraction Companies
Large construction and engineering Sites (bridges, railroads, dams, airports)
Pipeline Transportation
Business Benefits:
This solution enables the operator to establish mobile and fixed data coverage up to 20 miles from a base station tower site. The improved coverage was achieved through a series of enhancements to the WiMAX-e standard that included:
A tunable Software Definable Radio which supports all frequencies from 40 MHz to 958 MHz.
Narrow Channel Support: The WiMAX PHY was enhanced to operate in narrower channel sizes (starting as narrow as 200 kHz in width). This is because narrow channels are easier to adapt from the unused spectrum bands with low cost of acquisition.
High Tx Power: The transmit power is adjustable from 4- 10 watt using suitable heights of antenna, matching various needs based on terrains and utility requirements.