The Customer
The customer is a public listed, US based networking company that designs and builds sophisticated appliances that meet the toughest challenges in switching-routing in internet service provider, enterprise and core network segments.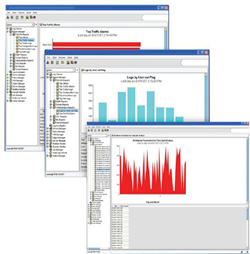 The Project
Development of an intelligent network manager and web based management tool sustenance services.
Tata Elxsi's solution:
Network & Security Management Suite:

Successful release of 6 modules of the network & security management suite addressing total 904 PRs including 498 Customer Found Defects
Developments and QA teams built complete network & security management suite expertise, thereby no dependency with/ on the customer
The team worked in tandem with the JTAC team to resolve critical customer issues, delivering a number of complex network & security management suite enhancement features on Regular Schema Merge, Validation and Publishing activities. The response time has always been very sharp while resolving critical issues

Web Based Management Tool:

This management tool is used to control the switching OS of the customer, deployed mainly in Service provider infrastructure. Tata Elxsi Team did a sharp ramp up of knowledge and product and end user environment understanding.
Developed many critically enhanced features within very short time and ensured delivery on the committed dates. Addressing the same functionality in multiple branches by multiple code check ins.
Product field support was provided for leading US telecom service provider by directly interfacing with the end customer and showcasing demo of the solution.
Business Benefits
Tata Elxsi team demonstrated excellent technical competency to solve a whopping 904 issues to realize 6 version releases
Subsequently the QA team also demonstrated their skills in testing and supporting the dev team with defects other than and/ or beyond the ones pointed out by the customer or customer's client
This performance ensured the patch and newer version release of the software which is the customer's most critical and global solution for service provider and core switching network management and security/ authentication suite