Our service design process allows us to analyse and interpret environments and stakeholders to develop, prototype and implement interactions and experiences.
Process
We follow a three-tier process that breaks down a service into different layers.
How We Do It
Investigate
We research and study the current context.
Insights
We analyse, interpret and identify key insights
Ideate
We brainstorm, conceptualise and create scenarios, experience, interactions and service touch points.
Implement
We develop prototypes, pilot-roll-outs and analyse it deliver the final service.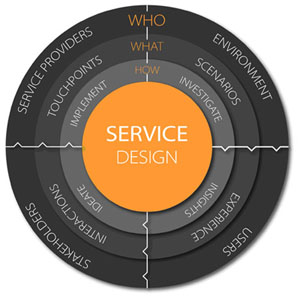 Tools
We use different tools and methods as part of our three-tier process
Service Audit:
We study the existing service universe, its users and stakeholders. Interactions and touch points to interpret and analyse it and identify opportunities.
Co-Creation
Shadowing
Experience Mapping
Transaction Analysis
Mind Map
Storytelling
Personas
Use Cases
Day in a Life
Mock-ups and Prototyping