Tata Elxsi's advanced autonomous vehicle middleware platform 'Autonomai', with deep learning and AI capabilities, is designed to help OEMs and system suppliers build, test and deploy customizable autonomous vehicle applications.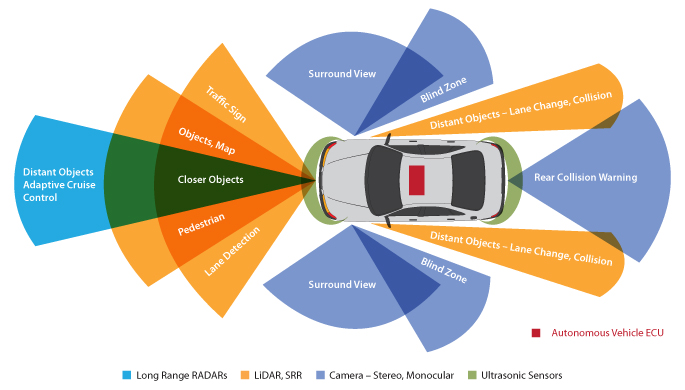 The Autonomai platform provides carmakers and Tier 1 automotive suppliers with a comprehensive and modular solution covering Perception, GNC and Drive-by-wire systems, to quickly build, test and deploy autonomous vehicles.
This solution supports sensor fusion with a variety of sensors from cameras to Radar and Lidar, and leverages sophisticated artificial intelligence (AI) and deep learning based algorithms to deliver the complex use-case scenarios expected of driverless cars.
Autonomai also allows rapid region specific adaptation through its pre-integrated validation datasets and AI & deep learning capabilities.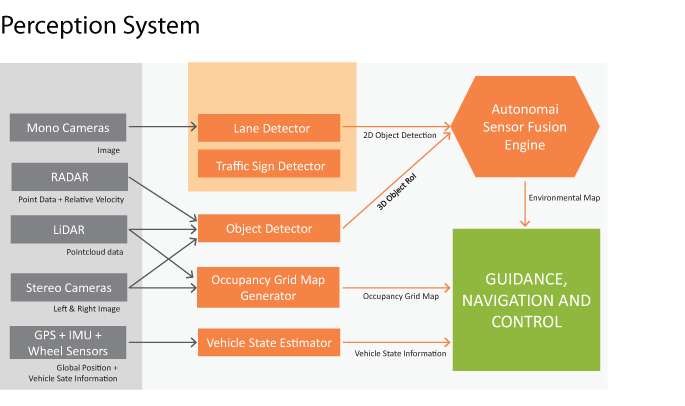 The perception system uses multi-sensor information to perceive the environment (i.e. detect, identify & classify the objects) around the vehicle. Specific routines or algorithms that detect traffic signs, road edges, lanes, type of objects like vehicles & pedestrians are part of the perception system. Ego vehicle's state is used for refining the detections. This set of functions deliver the information on the objects – ID, classifications, size, locations, instructions/ signs etc.
The Guidance, Navigation and Control system (GNC) takes decisions for planning & controlling the autonomous vehicle based on the information received from the perception system. The path planner subscribes to the traffic, lane and reference-route information to generate distance based path using path search algorithms. The motion planner generates velocity, position and heading profiles in accordance to the path and the vehicle control system provides corresponding control actions (accelerate, brake, steer) to the drive-by-wire system.
Key features of Autonomai:
Modular Architecture to suit customer needs for Full Middleware / Systems / Subsystems / Specific advanced ADAS applications
Plug and Play architecture for easy porting, optimization, integration & testing of customer systems, subsystems, and algorithms
Supports combination of multiple sensors to suit customer requirements such as LiDAR, RADAR, Ultrasonic sensors and Mono/Stereo cameras
Enables Rapid Region specific adaptation through pre-integrated validation datasets and AI & deep learning capabilities
Press Release