H.264 Ultra low latency codecs for HD video delivery
Tata Elxsi has off the shelf available FPGA implementation of H.264 Ultra low latency encoder and decoder with end to end latency of 13ms.
Success Story:

Tata Elxsi's FPGA based H.264 HP ultra low latency (ull) codecs have been licensed by some of leading broadcast camera and equipment manufacturers. The H.264 ull Codec solution features Tata Elxsi's new subjective quality based rate control algorithm, tested and quality tuned to broadcast content.
Fig: Video Acquisition and transmission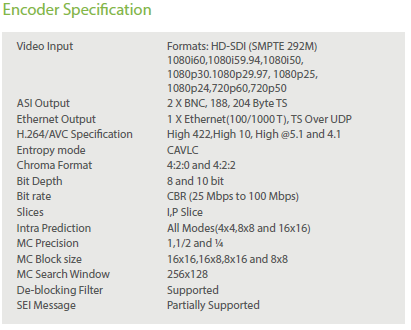 H.264 ultra low latency codecs are developed for broadcast delivery solutions for high quality video content broadcasting and editing. However, Tata Elxsi can also provide customized solution of H.264 for different use case scenario where broadcast quality of the video is not the requirement.
Solution Highlights:
H.264 High Profile 4:2:2
Low latency (13ms)
Multiple video format encoding [1080i,720p, 1080p]
MPEG2 TS Multiplexing
Algorithms designed for better perceptual quality
Support for ASI and IP (100/1000T) streaming simultaneously
Search range for ME 256x128
Proven on Altera FPGA
Easy upgradable to ASICs/Structure ASICs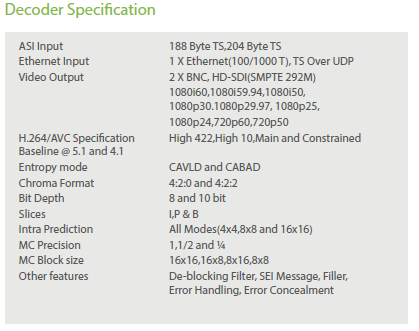 Application Areas:
Satellite News gathering & broadcasting
High End Video cameras
Broadcast contribution & Distribution
Video Servers
Surveillance (ex. Unmanned aerial vehicles)
Tata Elxsi's video Codec IPs on FPGA:
H.264 ultra-low latency 422 10 bit encoder for contribution
H.264 HP 4:2:2 encoder for distribution and IPTV
H.264 HP 4:2:2 decoder for contribution and distribution
AVC Intra encoder& decoder