LTE eNodeB solution for Commercial and Small Cells:
Tata Elxsi offers fully integrated LTE reference designs and services based on the leading hardware platforms. Our solutions are scalable to address various product requirements ranging from Femto to Macro eNodeB.
Our Small Cell solutions deliver platform optimized L1 and L2 /L3 software protocol stacks with industry leading performance providing time-to-market advantage to Network equipment manufacturers. These have been implemented on latest semiconductor platforms from Texas Instruments, Freescale semiconductor, Cavium Networks, Xilinx, etc.; are and licensed to OEMs globally and integrated with various Radios from different manufacturers.
Our LTE eNodeB Solution is fully standard compliant as per 3GPP specifications and tested for interoperability with leading test and measurement products and third party UE devices.
We bring together a vast experience and proven expertise in small cell technology development and partner of choice to provide next-generation customizable solutions. We are working with leading OEMs worldwide with committed roadmap to support 3GPP Release 9 and Release 10 specifications.
Tata Elxsi's Reference design
Tata Elxsi's LTE system software, comprising the PHY, MAC, RLC, PDCP, Scheduler, RRC, S1AP, X2AP, GTPu and SCTP, is a key component for building LTE Femto, Pico and Macro eNodeB.
Our software is integrated, optimized and benchmarked for performance on leading multi-core DSPs and processors. This is integrated with Radio and available on Commercial Off The Shelf (COTS) platform based on the chipsets.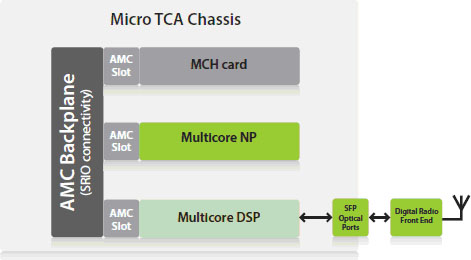 Key Features
Integrated Solution on COTS hardware

L2/L3 IPR
L1 on Freescale/TI platform

Supports FDD & TDD
Release 9 Compliant - SON Framework, O&M based on TS32.592/3 and Small cell Forum compliant L1-L2interface
Interoperability with Signalion / Qualcomm UE, Polaris Networks/ Hitachi EPC
Service Access Point (SAP) based implementation
Full featured scheduler implementation – Latency Priority, Proportionate Fairness
Solution integrated with partner radios
Flexible/Customizable deployment options for L2/L3 IPR
DL MIMO 2X2
Tata Elxsi also provides custom product engineering services including hardware design and full product development and maintenance.
LTE User Equipment Solution
Tata Elxsi provides complete LTE solution with UE PHY and L2/L3 PROTOCOL STACK integrated various Radios from different manufacturers. Our solution complies fully with 3GPP Release 8. LTE Protocol stack has completely optimized Layer 2, Layer 3 with best of industries' uplink and downlink data rates.
Key Features:
Integrated Solution on COTS hardware

L2/L3 IPR
L1 on TI platform

Supports FDD & TDD
Release 8 compliant
IOT with third party EPC, Tata Elxsi eNB
TDD & FDD support
Solution integrated with partner radios
Supports category 3
Service Access Point
MCAL - Multi Core Abstraction Layer
OAMIL - Operation & Maintenance Interface
Layer
APP I/F - Application Interface
SIM I/F - Subscriber Identity Module Interface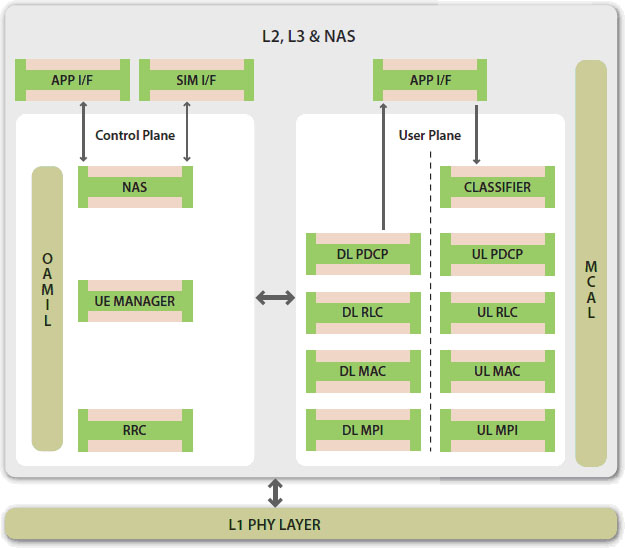 Tata Elxsi provides professional services for development and customization, porting, integration and complete independent test validation from lab tests to field trials.