Attention
This website is best viewed in portrait mode.
Voicing the views of our clients!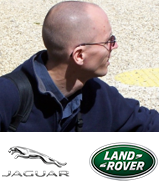 Dom Taylor
HVAC, Seat & Body Controller Software Product Owner
Having worked with Tata Elxsi for almost 15 years within the Body Interior In-House Software Group, expectations for meeting the challenges of the New Range Rover capabilities were extremely important.
New features such as indirect vent control, motorised seat 3rd row access and cabin air cleaning were fully designed and integrated into the HVAC and Seat Zone software mainlines via activities ranging from AutoSAR Base Software configuration and application modelling to code generation and verification.
The software developers from Tata Elxsi based both onshore and offshore have brought not only a high standard of experience and quality to the In-House Software Team but have achieved this via a highly collaborative approach within an Agile framework.
As the team moves onto more complex designs within the JLR product line, such as the development of a new series of Body Controllers in EVA-C, confidence levels are high the above successes can be repeated even though the complexities are magnified to much greater levels.