Tata Elxsi offers a complete set of testing/QA services to improve the quality, reliability & performance of our customer products. Our process driven testing solutions ensure faster time to market & reduce testing cost for our customer. In-house developed automation tools provide frameworks to design test plans, execute complex test cases through scripts & generate reports.
Our key highlights include:
Experience in embedded product development & testing and association with many standards bodies across the technology landscape
Over 15,000 person years of testing experience
Mature quality processes & systems – SEI CMMi Level 5 compliant, ISO 9001:2008, ISO 27001
Adherence to Tata Elxsi Test Framework to ensure predictability, consistency, and faster time to market
Best-in-class infrastructure, high-speed data links, secure lab & offshore development centers, and well-established disaster recovery processes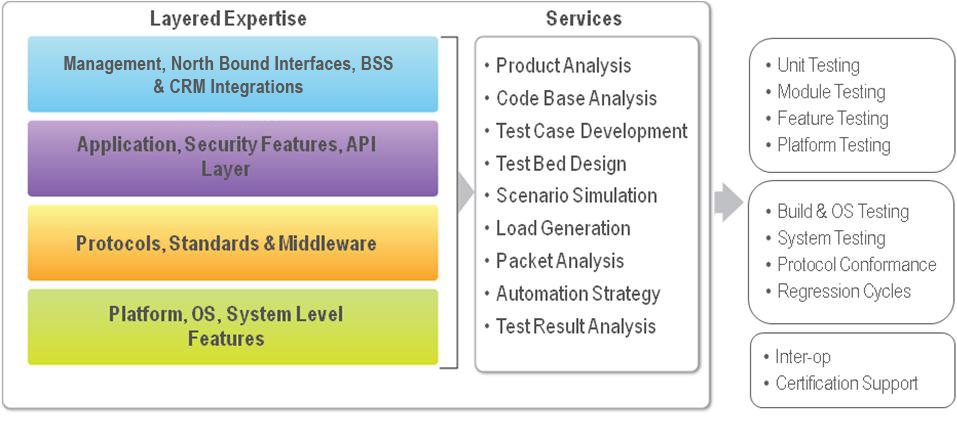 Product Testing Capabilities
Testing expertise
Tata Elxsi's provides testing services across communications, broadcast & consumer electronics, automotive, wireless, semiconductor, and medical electronics technologies.
Our testing services offerings include:
Test Tools & Automation Tools
Tata Elxsi has extensive test labs and infrastructure to support offshore and remote testing. This includes signal generators, spectrum analyzers, call generators, packet analyzers & generators. All this is supported by a suite of test frameworks that help automate and increase productivity and coverage of testing.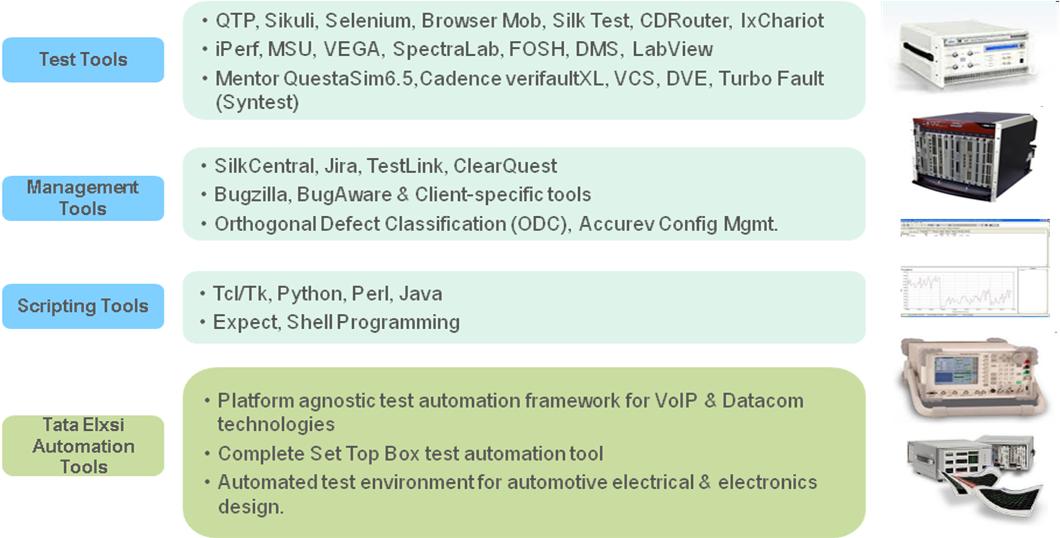 Test Methodologies
Tata Elxsi's customized product Test & QA service systematically identify and analyze defects in the products.
The various test methodologies conducted include:
Functional testing
Performance testing
Compatibility testing
Dependency testing
Usability testing
Regression testing
Stress testing
Scenario testing
Reliability testing
Error handling and recovery testing
Testing for Internationalization/Localization
Certification
The testing activities performed include:
Test planning
Writing test harness/ Regression scripts
Maintaining a bug base
Manual testing of products
The various devices on which testing are performed include:
Network Elements (Switches, Routers, Gateways etc.)
Customer Premises Equipments (RG, STB, etc.)
Consumer Electronics Products (DSC, DVCR, etc.)
Mobile Handset Application