Tata Elxsi's Digital Signage Solutions: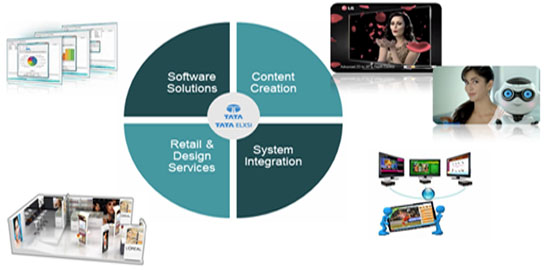 Tata Elxsi is working on the most exciting and growing intelligent digital signage industry which is compounded with latest technologies in visual analytics and web/mobile connectivity.
Our expertise in enabling intelligence for digital signage benefits customers to build innovative digital signage applications. Our ability to develop tools and solutions for digital signage framework maximizes return of investments (RoI) by providing features such as:
Dynamic content updation - Reducing signage downtime
Tailored advertisements analyzing viewer interests
Viewer analytics data measurement
Remote monitoring – Reducing in-person service calls
Scalable video wall supporting 4K resolutions
Personalizing shopping experience with mobile interactivity
Our digital signage offerings include:
Software solutions: Digital signage framework, video analytics, and mobility solution
Content creation: Custom content for advertisement and product marketing
Retail & Design services: Product/ Shop design and planning for interactive and efficient product delivery
System Integration: Complete digital signage installation support
Digital Signage Framework Solution:
Our framework solution for intelligent digital signage is tested and optimized on Windows 7, Windows Embedded 7, and Linux platforms with applications supporting both 32 and 64 bit variants.
Framework supports:
3D modeling & rendering
Hybrid Multi-monitor support
Customizable widget
Customizable background & foreground image
Different layout & orientation
RSS feed
Adobe Flash playback
Video post processing
Video analytics solutions [Feature tracking, face detection etc]
Video streaming, transcoding and playback
Gstreamer & Directshow
Benchmarking capability to analyze the hardware performance
Our signage solution offerings include: