Falcon ATE (Automation Test Environment)
About the Product:
Falcon ATE (Automation Test Environment) is an integrated test environment for automating the interactive testing of STBs, DTVs, IPTVs, and other multimedia-rich consumer electronics devices. It addresses the needs of both single screen content delivery, as well as multi-screen content delivery.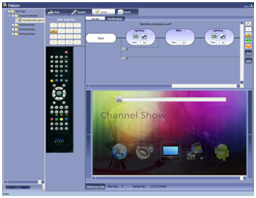 The Solution:
Falcon is a hardware-software solution, which leverages the power of collaboration among the teams. This solution is ideal for organizations that offshore/outsource the testing activity, while still desirous of holding control over the activity.
It provides total control of the distributed testing activity by providing features like real-time test case logs, integration to bug logging tools etc. It also provides support for building visual test cases over multiple devices and multiple platforms.
This solution has also a Mini Lab edition which is ideal for small testing teams and is a desktop software solution, with almost all the features of the full edition.
Business Benefits:
Reduces effort involved in test case creation, by building in validation in the process itself
Reduced efforts of non-experts to test products
Ad-hoc scalability
Visual test case creation and validation
Auto code generation (XML)
Motion detection & Audio analysis
Image comparison, High-speed optical character recognition
Very Scalable and tested up to 16 DUTs
Low cost and easy to set up
Proven Returns on Investment