Attention
This website is best viewed in portrait mode.
industries

Drug Delivery Systems
Drug Delivery Systems
Disrupt | Implement | Scale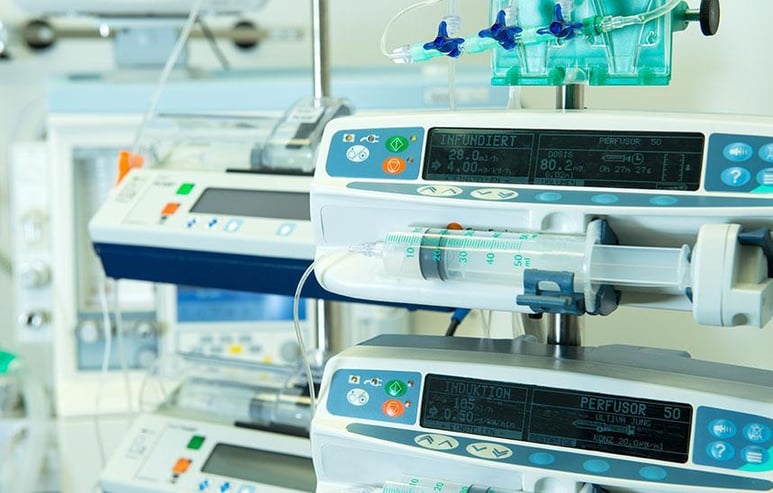 Drug Delivery Systems
Disrupt | Implement | Scale
Building future-ready mechanisms with digital capabilities for improved patient outcomes​

The growing number of patients in need of intravenous, intramuscular, subcutaneous, or targeted organ drug delivery, is pushing for innovations in the field of efficient drug delivery. The various new-age drug delivery devices and machines include auto-injectors, safety syringes, syringe-based infusion pumps, volumetric infusion pumps, micro-infusion pumps, nutritional pumps, peritoneal dialysis machines, ocular implants, and inhalers. The innovation-driven drug delivery systems increase patient safety, expedite outcomes, reduce pressure on medical practitioners, and cut down both costs and time taken.
There is an emphasis on MedTech and the Internet of Medical Things (IoMT) to provide connected devices, health systems, and software applications that offer cost reduction and enhanced patient experience. OEMs are also looking for freedom to operate and easy patentability to design and develop generic devices and increase bioavailability. Enterprises are looking to minimize harmful raw materials and use sustainable manufacturing practices to develop medical devices. The use of biocompatible material and compostable packaging are also gaining popularity.
With deep expertise in healthcare design and engineering, Tata Elxsi is aiding OEMs and medical companies to develop futuristic, outcome-oriented drug delivery systems, thereby offering improved efficiencies and cost advantages.

New-age Systems: Turning challenges into opportunities​
The fast-moving healthcare industry thrives on innovation-driven precision to make healthcare safe, outcome-oriented, and cost-efficient. With the smart use of emerging technologies, the industry is breaking fresh ground every day. There is an increasing number of patients who require regular injections of insulin and other drugs. As a result, the need for sophisticated drug delivery systems is also growing rapidly.
With the help of futuristic device engineering methodologies and a modular approach, enterprises are designing and developing new-age drug delivery systems. Patent claim study, landscaping, and technical documentation are helping them build and distribute novel products with ease. Similarly, research and strategy are resulting in faster data and design analysis and reduced turnaround.
Human factors and usability engineering is offering better threshold analysis and improved compliance. Branding, packaging, and regulatory services are enhancing aesthetics, reducing waste, improving sustainability, and making audits more effective.
Service Framework​
Designing and developing safe, effective, and globally compliant product experiences​.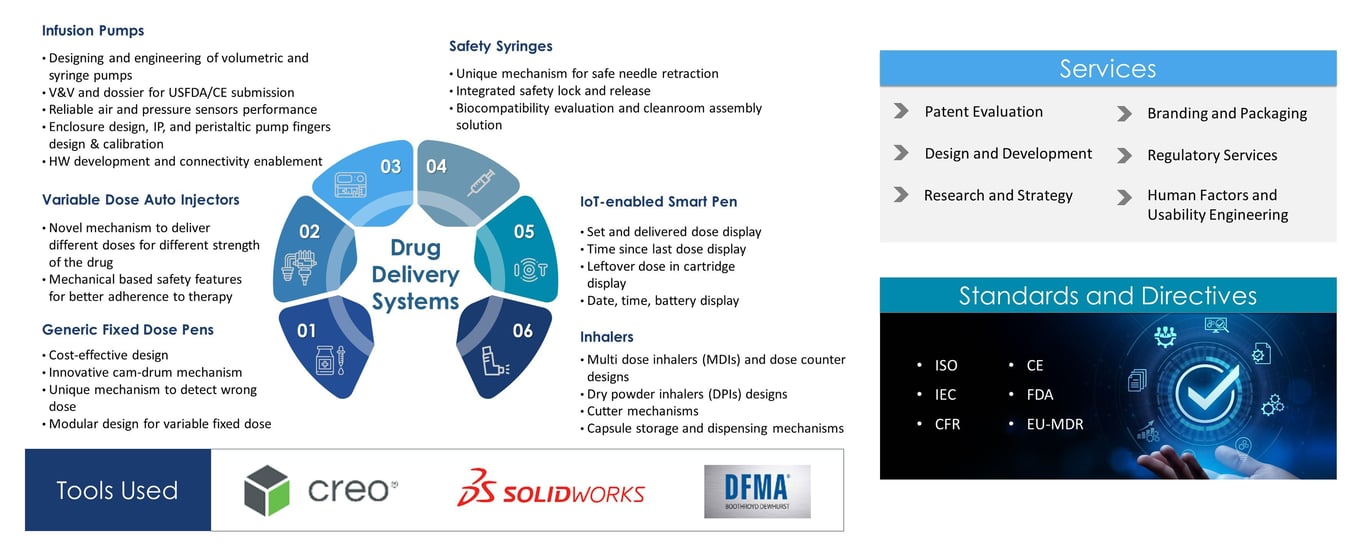 Subscribe
To subscribe to the latest updates & newsletter