Attention
This website is best viewed in portrait mode.
A highly integrated software defined automotive cockpit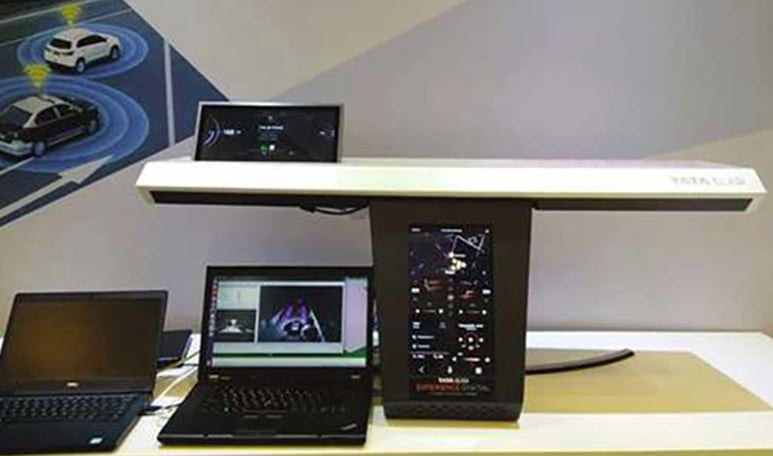 Tata Elxsi's eCockpit solution which runs on Green Hills Software's safe and secure INTEGRITY Real Time Operating System (RTOS) and INTEGRITY Multivisor secure virtualization addresses all the requirements of a full feature vehicle cockpit, supporting infotainment, instrument cluster, HUD (Heads Up Display) and ADAS (Advanced Driver Assistance Systems) functionalities on a single SoC while maintaining the highest levels of safety, security and performance.
The demonstration pairs Tata's eCockpit with the Green Hills ASIL-certified INTEGRITY RTOS and its Multivisor secure virtualization architecture to safely and securely consolidate mixed-criticality applications on a single, automotive-grade Renesas R-Car H3 processor. INTEGRITY Multivisor runs Linux and Android in independent, secure virtualized partitions.Tata Elxsi Infotainment is based on Automotive Android and the instrument cluster is running on Linux. Infotainment features are shown through a 2D/3D custom HMI on Automotive Android. V2X features are also integrated and displayed on the instrument cluster as warning messages. Linux guest OS is partitioned using Linux Containers to accommodate sub domains like ADAS. A separate Linux Container runs Tata Elxsi's Sensor Fusion ADAS IP over Tata Elxsi's own Adaptive AUTOSAR. Complete vehicle interface functionality is based on Tata Elxsi's own classic AUTOSAR4.3.
The INTEGRITY RTOS microkernel architecture is designed for critical embedded systems demanding proven separation, security, and real-time determinism. Its separation architecture helps software teams to safely and securely partition software running at different levels of criticality on the Renesas R-Car H3 processor while guaranteeing applications the system resources required for their proper execution.
This enables safe and secure execution of applications running graphics and multimedia while at the same time ensuring the safe operation of critical functions, such as the telltale status and warning lights.
"Tata Elxsi's eCockpit, combined with Green Hills INTEGRITY Multivisor, is platform agnostic and it provides automotive makers with a complete single-ECU solution for instrument cluster, infotainment and ADAS functionalities that delivers real-time performance on a single multicore automotive- grade microprocessor," said Dan Mender, Vice-president Business Development, Green Hills Software. "Tata Elxsi's software development and system integration for cockpit systems is driving the industry and we will continue to work together for providing safe and secure systems while supporting the cost and space reduction demands that are driving the trend of ECU consolidation."
"Green Hills Software's years of production program experience in mixed-criticality, safety-certified system design, coupled with their advanced MULTI toolchain, significantly simplified our integration effort and reduced development time without requiring compromises in performance, safety or security in the system," said Nitin Pai, Chief Marketing Officer & Chief Strategy Officer, Tata Elxsi. "Our collaboration with Green Hills on this type of mixed-criticality platform consolidation allows us to provide customers with truly unique value propositions as the automotive industry looks to our joint, proven, production-ready capabilities."
MOBILITY ENGINEERING SPOKE TO MR. SHAJU S – GENERAL MANAGER & HEAD TRANSPORTATION BUSINESS UNIT AT TATA ELXSI:
What are the different developmental inputs that went in, separately from Tata Elxsi and Green Hills Software (GHS) towards the eCockpit solution?
Tata Elxsi was responsible for defining the eCockpit architecture and virtualization partitioning was based on GHS hypervisor. We developed the complete eCockpit solution, which includes Android P based IVI & Linux based Cluster. eCockpit solution Integrated Tata Elxsi's Classic AUTOSAR, Adaptive AUTOSAR, Sensor Fusion algorithm IPs. GHS has provided hypervisor for RCarH3 with required support for Android & Linux. GHS also supported the Integrity safe and secure OS to handle functional safety requirements.
What are the technical parameters required at the OEM's end for integrating the solution in their automobiles?
OEM needs to define feature scope, domains to be integrated, safety, performance, certification & BOM cost requirements. Theses inputs will decide SoC & other H/W peripherals to be used. Tata Elxsi works on developing and integrating this eCockpit solution as per OEM requirements.
What are the specific benefits to the driver of the vehicle?
Architecture is flexible and modular to accommodate multi-model HMI with all usability considerations for OEM. Minimizing distraction is the major benefit for the end user since some ofthe important alerts like call, music track, surround view camera view, emergency vehicle approaching etc. can be shown from the digital cluster that allows the driver not to take his eyes away.
What types of vehicles (passenger, CV, HD etc.) are ideally suited for the solution to be used?
Architecture can be adapted to all types of vehicles. Safety requirements and features would be different as per vehicle types.
Are upgrades and updates Internet-dependent?
USB and OTA upgrades both will be supported by this architecture.