Attention
This website is best viewed in portrait mode.
BlackBerry Empowers Automakers to Provide the Experience Drivers Want and Can Trust with the World's First Safe and Secure Digital Cockpit Solution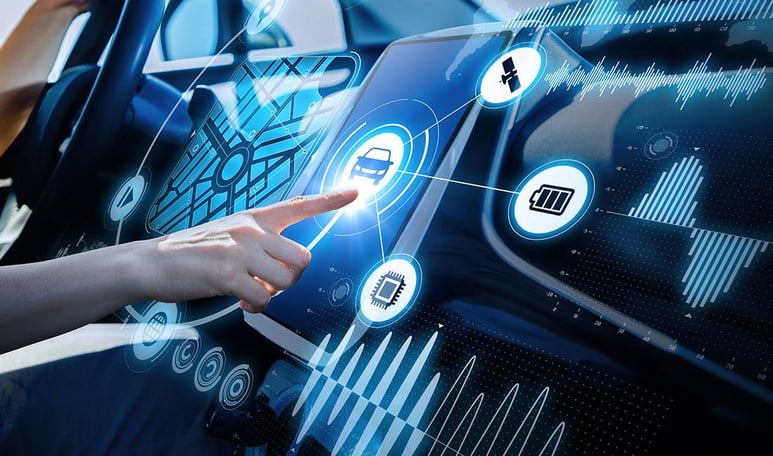 QNX Platform for Digital Cockpits Brings Android Apps into the Car in a Highly-Secure Manner

LAS VEGAS, Jan. 7, 2018 /PRNewswire/ -- CES 2019 -- BlackBerry Limited (NYSE: BB; TSX: BB) today unveiled the world's first digital cockpit solution that empowers automakers to provide the in-car experience drivers want, with the security, safety, and reliability they need.

The QNX Platform for Digital Cockpits enables automakers to offer a reliable and secure QNX-based digital instrument cluster and infotainment system that provides access to the latest Android-based applications such as Google Maps and Google Play Music all from a single ECU. BlackBerry's ISO 26262 safety-certified hypervisor makes sure the multiple operating system environments powering the cluster, infotainment, and other driver information systems do not interfere with one another. This isolation is important because if an app crashes, is compromised, or needs to be updated, it will not impact critical-driving functions.

BlackBerry's QNX Platform for Digital Cockpits illustrates the company's new go-to-market strategy, which is to develop and sell vertical solutions that bundle complementary products. For example, the QNX Platform for Digital Cockpits combines BlackBerry's safety-certified QNX Hypervisor for Safety, QNX Platform for Instrument Clusters, QNX CAR Platform for Infotainment,and a secure Android implementation. By delivering this cockpit solution, it will help accelerate automakers' development timelines and reduce the risk and cost of moving projects from research to production.

"As the ECUs in a car consolidate, automakers are seeking safe, secure, and reliable solutions that are flexible enough to deliver a unique driving experience," said John Wall, Senior Vice President and Co-Head of BlackBerry Technology Solutions, BlackBerry. "After two years of constant improvement and testing, we have built the world's first safety-certified digital cockpit that enables secure Android apps in the car. We believe being able to provide this level of security will be a key differentiator for automakers as consumers begin to weigh security and data privacy when purchasing a vehicle."

BlackBerry's QNX Platform for Digital Cockpits is made possible thanks to a partnership with Tata Elxsi who provide customizations and support for Android and ensure Android updates and customizations are available for the lifetime of the vehicle. The development builds on the companies' multi-year partnership, first announced in 2017, that saw Tata Elxsi sign on with BlackBerry as a value-added integrator to help companies design and develop secure, mission-critical solutions using BlackBerry QNX technologies.

"We have been enabling the Android ecosystem for mobile, Smart TV and automotive for over 10 years with our Android Center of Excellence," said Nitin Pai, Senior Vice President of Marketing and Strategy, Tata Elxsi. "The Tata Elxsi – BlackBerry partnership brings together two global and world-class companies to deliver a future-ready and yet secure digital cockpit platform with the quality and long-term support assurance that automakers seek from platform and solution providers."

BlackBerry provides OEMs around the world with state-of-the-art technology to protect hardware, software, applications, and end-to-end systems from cyberattacks. BlackBerry pedigree in safety, security, and continued innovation has led to its QNX technology being embedded in more than 120 million vehicles on the road today, as well as automotive design wins with Baidu, Delphi, Denso, NVIDIA, Qualcomm, Visteon, Jaguar Land Rover, BYTON, and more.

An early release of the QNX Platform for Digital Cockpits, in addition to other innovations, will be demonstrated in a 2019 Karma Revero concept car in BlackBerry's booth, #7523 (LVCC North Hall) at the Consumer Electronics Show (CES) in Las Vegas from January 8 - 11, 2019. The Digital Cockpit platform will also be demonstrated at the Tata Elxsi booth #815 (Tech East, Westgate) at the CES 2019.

For more information on BlackBerry's products and services for the automotive industry, please visit www.BlackBerry.com.

About BlackBerry

BlackBerry Limited (NYSE: BB; TSX: BB) enables the Enterprise of Things by providing the technology that allows endpoints to trust one another, communicate securely, and maintain privacy. Based in Waterloo, Ontario, the company was founded in 1984 and operates globally. For more information, visit www.BlackBerry.com and follow @BlackBerry.

BlackBerry and related trademarks, names and logos are the property of BlackBerry Limited and are registered and/or used in the U.S. and countries around the world. All other marks are the property of their respective owners. BlackBerry is not responsible for any third-party products or services.