Attention
This website is best viewed in portrait mode.
CAMM SUMMIT 2022: 'Ad-tech to allow brands to take control of consumer experience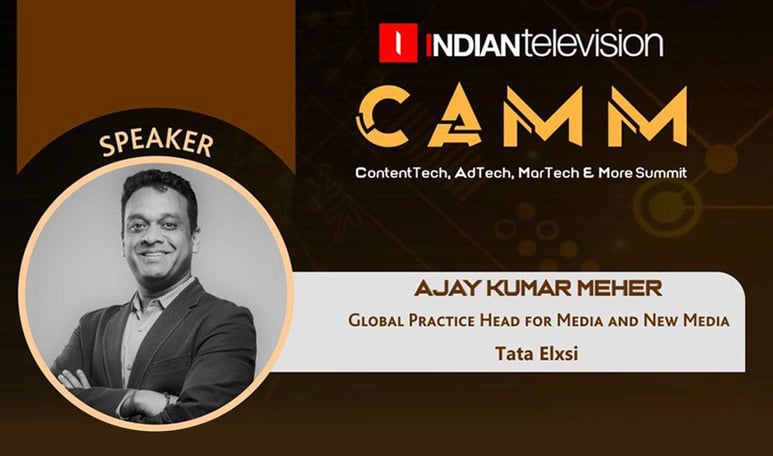 Industry experts talked about leveraging technologies like blockchain, metaverse, and AR/VR
Mumbai: Facebook rebranded to Meta in October last year and threw the marketing world into a frenzy by coining a new buzzword 'metaverse.' Marketers are often quoted saying that technologies such as AR/VR, blockchain, cryptocurrency, non-fungible tokens (NFTs) will have a transformative effect on the advertising industry but the implementation of these technologies at scale still has ways to go.
"In digital media, we've been comfortable talking in terms of reach, frequency, leads but suddenly there is a challenge that we're all facing," said Madison World vice president Kosal Malladi during a panel discussion held recently. The discussion was on 'new technology experiences in content-tech, ad-tech and mar-tech' organised by IndianTelevision.com during its Content-Tech, Ad-Tech, Mar-Tech and More (CAMM) Summit and Exhibition 2022. The virtual event was co-presented by PubMatic and industry partner Adjust.
The challenge we're facing, explained Malladi, is that while there are a lot of people giving 'gyaan' about the metaverse, blockchain and everything associated with it, they don't know how to implement it. "Adtech and martech is evolving so quickly that if we don't keep pace with the change, we'll become dinosaurs."
The discussion was joined by eminent marketers, technologists and media strategists including AsiaAsia India lead product marketing and brand communications Kishen Ramaswamy, Tata Elxsi global practice head for media and new media Ajay Kumar Meher, Verse Innovation vice president monetisation, growth strategy and partnerships Venkatesh Adavi and MIQ India and SAARC head of growth and revenue Varun Mohan.
Starting off the discussion on the applications of blockchain technology, Tata Elxsi's Ajay Kumar Meher said, "There are people who're asking the fundamental question of what is the practical use of a blockchain."
"Blockchain is a shared immutable ledger," he explained. "It is a process of recording transactions that is unchangeable. It also helps in tracking assets that may be digital assets such as NFTs. Should the asset only be digital in nature? Not necessarily. The sale of a house may be recorded and registered on a blockchain so that the owner can be defined. This would prevent the same property from being sold multiple times to different people."
In the media and entertainment industry, "blockchain can manage content micropayments. Suppose a broadcaster is buying the rights to a movie and an artist has recorded a song that is played in the movie, then that artist can be paid a specific micropayment every time the movie is played," said Meher.
He added, "If a content owner would like to sell the rights to his content to various stakeholders via the blockchain then he will be able to track whether the content is being used as stipulated in the agreement. Another level of usage are royalty payments where we can define all the stakeholders in the piece of content and precisely know what is to be paid for a particular usage."
"Artists who are creating a lot of digital assets may leverage NFTs to define their ownership of that asset," Meher further said.
Meher shared several use cases on how blockchain could be deployed in the media industry including creating a blockchain-based exchange between advertisers, agencies and publishers to measure exactly how many ads are displayed on the publisher side.
"The wastage of media will be controlled with far more engagement opportunities unlocked by ad-tech," remarked MiQ India and SAARC head of growth and revenue Varun Mohan. "Ad-tech will play a vital role on the measurement side. Today, If I take the FMCG category as an example, they are facing a lot of challenges in monitoring data that is coming from offline channels. With ad-tech, brands will take ownership of consumer behaviour and engagement via multiple touchpoints that will help them plan their media activation."
Next Verse Innovation's Venkatesh Adavi spoke about the use cases for AR/VR in India. He said, "AR is quite ahead in terms of adoption compared to other technologies. It is being used by both people who consume content as well as marketers and media companies who want to talk about their brands and products."
He added, "VR still suffers from issues such as proliferation of equipment, bandwidth and network coverage that needs to be there to enable the ecosystem. There's still some heavy lifting required in terms of development of VR content and from an access point of view."
"AR technology is growing fast as there is a processor and camera in everyone's hand via the smartphone. What we see on short video app Josh is that users live creating content that can be layered on AR. Brands are also catching up. We get a lot of brands who want to create AR effects, so that they can be a part of the content that consumers create.
"The holy grail of marketing is engagement and AR gives a canvas to marketers to enable their products to be utilised in the videos that consumers are creating. If millions of consumers create videos using brands' AR effects, then you get so much earned media," surmised Adavi.
AirAsia's Kishen Ramaswamy spoke about potential use cases of the metaverse in the airline industry. "Metaverse is a combination of AR/VR but with a real-world economic model. Today, in general, people are more open to having virtual meetings over physical ones, especially in the corporate segment. This opens up people to have experiences outside the workplace. That is important for us as a brand and we've been focusing on creating experiences that our audiences would appreciate," Ramaswamy said.
"For a first-time flier booking a ticket, checking-in and picking your seats can be an intimidating experience," he stated. "Why not create a metaverse experience where our customers can explore doing those things and learning on their own. For a brand, it is an opportunity to show what they can expect. We expect this use case to become a reality in the near future."