Attention
This website is best viewed in portrait mode.
Connectedness is the first step to enable transformation in the automotive industry, says Nitin Pai of Tata Elxsi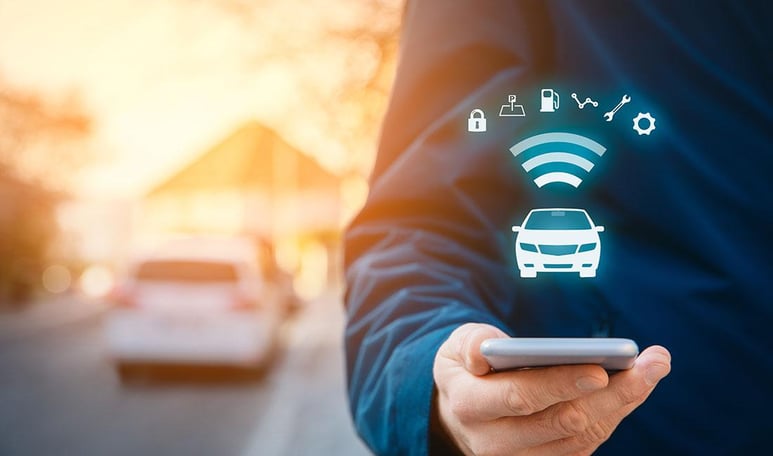 Tata Elxsi is Tata Group's design and technology services arm. In a conversation with SMBStory, Nitin Pai, Chief Marketing Officer and Chief Strategy Officer spoke about the company's bets in the OTT, healthcare, and automotive sectors.
Tata Group's design and technology services company, Tata Elxsi, has a strong presence in sectors such as automotive, healthcare, media and communications, and transportation, including electric mobility.
Some of the company's notable projects include a project with the Chhatrapati Shivaji Maharaj International Airport, Mumbai. The company is also working on providing an integrated transportation system to Kochi Metro Rail Limited. This project will not just integrate metro services but also bring together bus services, taxis, and other local transport systems. This way, a customer's journey from home to the final destination is taken care of. Additionally, Tata Elxsi is also developing a smart card the customer can use for making one payment for the entire course of the journey.
In the OTT space, the company has worked with brands such as Hotstar, Voot, SonyLIV, Discovery+, and Zee5.
Last year, Tata Elxsi also launched an artificial intelligence (AI) center to meet the country's growing need for intelligent systems.
The company, which is listed on the Bombay Stock Exchange and National Stock Exchange, recently announced its Q4 results, reporting an 8.7 percent increase in its quarter-on-quarter revenues (QoQ) to Rs 518 crore.
"Technology is ultimately for improving customer experience, and that is where we are uniquely positioned," says Nitin Pai, Chief Marketing Officer and Chief Strategy Officer of Tata Elxsi, who joined the company in 1996. In a conversation with SMBStory, he speaks about the automotive industry, EVs, SMBs, and much more.
Edited excerpts from the interview:
SMBStory (SMBS): How is Tata Elxsi different from other technology arms of the Tata Group, say, TCS?
Nitin Pai (NP): The fundamental difference is we are building software and other components that make up the computer, whereas a company like TCS is building applications that run on top of computers.
We work in verticals like automotive, medical devices, healthcare, media and communications, and technology design.
SMBS: Before 2010, you were industry agnostic, but after that, you narrowed your focus to select verticals such as automotive, healthcare, and media. What led to this shift?
NP: I think it was a question of scale. We used to work with many customers, but we did a very narrow part of what they needed as a product. We were doing only what needed to be done.
When you work in a limited number of industries, you get a deeper understanding, including the deployed systems. This way, we are able to understand customers of that industry deeper and translate those requirements into technologies and software in a manner that is seamless and transparent. This is something you cannot do while working in 15 or 20 industries at the same time.
SMBS: How will cloud computing become an inseparable part of the "new normal" across industries or sectors you are operating in?
NP: I would say all industries out there are very clear that the cloud is going to be an integral part of what they do. If we look at the automotive industry, everyone has shifted to remote working or work from home minus the manufacturing lines. If we look at consumers, they cannot visit retail showrooms, so the new norm of selling has to be cloud-based.
A consumer is looking for comfort, convenience, and connectivity. So while buying a car, you will take a look at its appearance, but then also consider other factors such as mobile connectivity, charging, and maps.
Similarly, many telecom companies started with the DTH model for media and entertainment but pivoted and introduced OTT as the consumer wants everything in one place. They had no choice but to go to the cloud. This is true for other industries as well, including healthcare.
SMBS: Tata Elxsi recently partnered with Tata Motors to develop a platform that powers the Nexon EV range. Can you elaborate more on this partnership?
NP: The future of cars is connected, autonomous, shared, and electrified. We have a play in all four domains. Connected, in many ways, is a precursor to autonomous and electric vehicles because you create less value with an EV that is not connected. Simply because you are not able to monitor a lot of parameters, and in today's time, a lot of your comfort and convenience comes from connectivity features including music and entertainment and others like updated maps, road information, vehicle to vehicle signals, etc.
So we believe that connectedness is the first step to enable a transformation in the automotive industry. It creates great value for consumers.
We developed this unified, connected vehicle platform about two, three years back for Tata Motors to be able to implement. It has been a fantastic project. And we rolled out a range of Nexon EV cars in February 2020. It has now expanded to the entire passenger as well as commercial vehicles range.
We are now looking at other customers as well because this platform is necessary. It provides the ability to connect to the vehicle, manage, monitor it, store all the data, and process the data with AI and IoT engines.
SMBS: Autonomous vehicles are already a reality in the US and some parts of Europe. How long will India take to bring them into its ecosystem?
NP: It is challenging to deploy autonomous systems on Indian roads. It is a little easier to deploy them on highways but not in metro cities and urban areas. I think autonomous systems will be deployed in a few ways in India- in assisted driving in cities. The system alerts will assist the driver but not take direct control. Certain features such as auto parking can also be implemented since it is a very safe, controlled environment.
In addition, there are sensors installed in EVs that can be LiDAR or RADAR-based, or even ultrasonic as well. They help in identifying and detecting objects in the environment. All these sensors have different purposes and limitations. For instance, Radar can see long-distance objects, but the resolution is unlike LiDARs, which have a good range and accuracy but may not work for long distances.
So how do you take all this data from different sensors and marry it with the data of the external environment? That is the challenge. Additionally, even the most sophisticated systems assume that certain things like roads are standardized.
How will the car know whether a road is one-way or two-way unless it is mentioned in the maps? In India, any road becomes one way without a sign or warning. This lack of non-standardization in our infrastructure can be dangerous.
It is very risky to deploy fully autonomous vehicles on Indian roads. So I think we have some time to go.
In India, features are going to come step-by-step. Autonomous driving systems will come in first, and then, gradually, we will see more autonomy coming in.
The second thing you have to remember is that putting in sensors, imaging tools, cameras, etc., is an expensive affair. So, if these vehicles are not fully autonomous, then the question will be, why am I paying $10,000 or $20,000 for an EV? Just so I can use the auto parking feature in my home backyard? So questions of value also get raised.
SMBS: You have worked with the top OTT platforms. Will we see Tata Elxsi entering the OTT space?
NP: We have already launched a white-label B2B platform called Tata Elxsi Play or TE Play.
So companies going B2C can use this platform, which is hosted on the cloud. It has great performance and can be used for up to 100 million users.
Companies who want to use this platform don't have to buy it. It is more like a pay-as-you-use or grows model. We are going to be the platform behind the OTT services.
SMBS: 3D printing is gaining a lot of prominence in the Indian market, especially in the health sector. Is Tata Elxsi developing anything for 3D printing projects in India?
NP: We were one of the first in the country to import the 3D printing machine in 1999. It was a prototype from the Massachusetts Institute of Technology. Today, we are not into mainstream manufacturing, but our design studios are already equipped with 3D printed parts for customers for consumer trials, testing, etc.
Additionally, we have been importing, selling, and supporting our customers for 3D printing. We have been supplying to some of the leading automotive companies' 3D printers capable of manufacturing metal parts and not just plastic parts.
But if you talk about using 3D printers in the mainstream segment, it is expensive.
I think it is better to create specialized and personalized use cases, such as for creating prosthetics or for someone who needs a knee replacement. Personalization will deliver more value also.
Tata Elxsi is also working on providing an integrated transportation system to Kochi Metro Rail Limited. This project will not just integrate metro services but also bring together bus services, taxis, and other local transport systems.
SMBS: How will 5G use cases disrupt the automotive, health, and media sectors?
NP: In media and entertainment, it is all about OTT- anytime and anywhere services. The automotive industry is all about connected cars. So you need 5G for security and speed as well. 4G does not have the data range that you need for autonomous use cases. We strongly believe that connected, autonomous cars will be really enabled with 5G.
In healthcare, 5G has democratized the whole ecosystem. Let us also take into account the whole concept of digital health, which has become so prominent in the wake of the pandemic. I see that 5G will enable an individual not just to get treatment from the local hospital but from the best/doctor or hospital in New York.
SMBS: How can small and medium businesses (SMBs) champion technology-led transformation?
NP: SMBs are spread across various sectors. But if I talk about manufacturing, the answer is not so simple.
Talking about this sector, the first and foremost thing is to ask what their core business is. If they are in the brick-and-mortar business of building products, then digital is important, but the act of manufacturing has several aspects.
When you talk about adopting digital means, it could include automated assembly lines, robot-based manufacturing, etc. But these require many investments, and SMBs need to evaluate if it will be justified to put in that kind of investment according to the capacity they produce or markets they address.
So the bottom line is that SMBs may not want to automize or robotize their product lines unless there is a clear ROI. But having said that, I have to add that data definitely helps. Because today, if you want to deliver what the market expects, then that decision-making has to be data-driven.