Attention
This website is best viewed in portrait mode.
Disruptive Tech Helps Tata Elxsi Bring Innovation in Transportation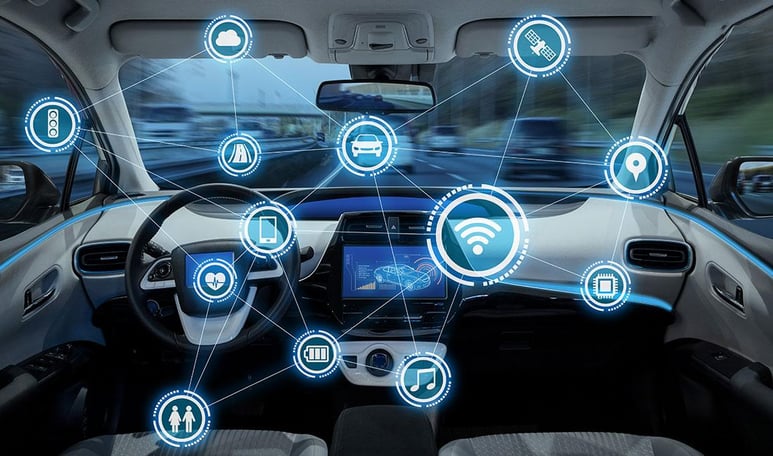 The transportation sector has, over the years, undergone a significant shift due to technological advancements. A wave of new-age technologies is expanding the scope of the industry from just a commuting market to a digitally 'connected' marketplace. Tata Elxsi, one such leading engineering firm, uses cutting-edge technologies like IoT, AI, and design thinking to help enterprises in the transportation industry become efficient and cut costs. The company has recently developed KOIOS, a highly scalable and integrated platform that provides an end-to-end solution for intelligent mobility services.
In an exclusive interaction with CXOToday, Shaju S – General Manager and Head – Transportation Business Unit at Tata Elxsi, sheds light on the connected car market, use of AI/ML, augmented reality, and IoT technologies to innovate in the transportation sector and how Tata Elxsi, as a company is thriving on digital disruption, and much more.
There has been a spike in the adoption of digitalization across the transport industry in recent years. What trends do you notice?
Digitalization's rapid pace enables the massive transformation of the transportation industry, embracing long-standing innovations like artificial intelligence (AI) and big data & analytics, and newer technologies like the Internet of Things (IoT) and cybersecurity are finding various applications in the industry. The industry's front-runners are autonomous vehicles with use cases ranging from human transport to logistics, last-mile connectivity, etc.
According to the US Department of Transport, more than 1400 self-driving vehicles are now on US highways. 5G wireless technology ensures reliable communication for vehicles, playing a critical role in managing safety challenges associated with connected vehicles; converting vehicles into marketplaces, allowing consumers to do everything—refueling, purchasing services, paying for tolls, getting Features on Demand (FoD), and much more.
Much like mobile phones, we will see operating systems becoming a standard for vehicles, which will be crucial in achieving differentiation. Voice recognition and personal assistants, combined with the launch of 5G soon, will connect the vehicle-to-home, vehicle-to-vehicle, and vehicle-to-everything. Digital platforms can gradually reduce the physical touch-points involved in purchasing a vehicle. In 2021 and beyond, consumer demand will push for more digitalization, driving the auto industry to create a multi-channel, digital vehicle buying experience.
Several applications utilizing AR (Augmented Reality) and MR (Mixed Reality) solutions are emerging for driving comfort and safety, such as projecting route maps or safety information onto the windshield, using digital driver control and health tracking devices, etc. Post-COVID, we see a pivot towards adopting more electric vehicles supported by connected and digital technologies. The smart factory combines a traditional manufacturing excellence approach with IT-OT integration to significantly increase performance.
How has the pandemic affected your business and customer acquisition or expansion plans? Have you changed or revamped your business model to suit the new normal?
Tata Elxsi continues to win both new deals and add new customers even during the pandemic time. During the first half of COVID-19, we did see deal closure cycles becoming more prolonged due to deal deferrer, higher scrutiny, and of course, an evident slowdown in decision making across the value chain. But this trend reversed during the last six months, and there is more traction in the marketplace.
We support customers and chisel out tailor-made collaboration opportunities to ensure sailing through difficult times. We also provided business continuity to help existing customers by enabling work from home for 95% of the total workforce with appropriate infrastructure and security measures. This move has ensured sustenance of existing projects, giving customers complete confidence and support, allowing more work to be pushed offshore. We support our customers with cost optimization plans and critical support, enabling a smooth transition to a new normal. We also help our customers set up global engineering centers, BOT centers, cost savings, and productivity improvement in engineering research and development.
How is the transport sector leveraging AI and ML, and IoT in their day-to-day operations? How are you applying these technologies to grow in the embedded design market?
Connectivity is transforming transportation, moving away from a "product-oriented" to a "customer-centric" business approach for personalized and digitally enhanced experiences. Vehicles are becoming "devices on wheels" with the introduction of electronics and connected features. By 2030, there would be a 2X increase in overall connected vehicles on the road. The connected vehicle features significantly influence the new age customer's decision to purchase a vehicle. Today almost three out of five connected-car owners claim that having connected car features influenced their vehicle choice. Nearly one-third acknowledged it as the primary reason for making the purchase.
Keeping this in mind, Tata Elxsi came up with a Connected Vehicle Platform (CVP) – a cloud-based, cloud vendor-agnostic, hyper-scale IoT platform enabling customers to offer digital and connected features to end consumers. CVP enables our customers to leverage connectivity's full benefits by securely collecting, aggregating, and analyzing the data from vehicles and provide customer-centric features. It supports the industry in targeting and fulfilling the increasing consumers' need for a digitally enhanced experience. AI, ML, and IoT are being used extensively to satisfy transportation industry requirements, be it for user experience, driver and passenger comfort, or developing autonomous and connected vehicles. Multiple applications include driverless vehicles, fleet management, in-vehicle driver assistance, and improved vehicle diagnostics services for aiding vehicle inspection or insurance.
Advanced data analytics can assist vehicle-related decisions throughout its lifecycle. Vehicle data facilitates predictive maintenance, advises fleet administrators, and warns concerned authorities in the event of an accident. Furthermore, automotive customer data can boost sales, improve supply chains, and improve product design for newer vehicles. AI also has applications in the automotive industry, helping to speed up production and cut costs.
Tata Elxsi has designed intelligent parking technologies such as advanced assisted vehicle parking systems and automated parking with top global OEMs and Tier-1 suppliers. We have recently developed Park by memory and parking slot detection models that can save Indian drivers time and make parking problems much easier with machine learning, automation, and data collection.
Tata Elxsi works on AI-based perception models, driver intelligence solutions, and ML and AI-based Cabin Monitoring Systems to detect driver fatigue, hazardous objects, among other things. With single powerful ECUs being able to execute multiple systems' functionalities and developing innovative and dynamic consumer electronics and appliances products to cater to the rapidly evolving industry, the embedded design market is in a focused growth stage as of today. Tata Elxsi, with expertise in embedded hardware and software expertise, provides engineering services to develop innovative and dynamic consumer electronics and appliances products to cater to the rapidly evolving industry.
What are the new trends in connected cars, and where you see this market heading in the coming years? What's driving these trends?
Consumers have begun to appreciate comfort, convenience, and safety due to digital features such as remote vehicle control and voice command integration. OEMs use analytics on consumer and vehicle data to provide value-added services like usage-based insurance, location-based services, and journey planning and create new revenue streams through app-based services. Investments in developing the connected vehicle platform in-house or integrating the available applications in the market by weighing in multiple considerations on ROI, Consumer adoption, or software development capabilities within the organization will become an essential factor for major OEMs.
With the rise in demand for connected and autonomous vehicles, in-vehicle telematics and sophisticated infotainment systems increase. Development of 5G & V2X applications enables safe driving, better driving assistance, avoiding traffic congestion, improving fuel economy, emergency help, in-vehicle services, etc.
What are the key challenges in deploying autonomous tech in India's transportation sector?
India faces several difficulties for the actual deployment of autonomous vehicles in the near term. The lack of traffic discipline among road commuters and road infrastructure conditions will be the major roadblocks. With unscientific route geometries and a lack of road signs except for a few high-profile national highways, the situation is not favorable for introducing autonomous driving.
While L3 and L4 automation are decades away in India, L2 autonomous tech with features like adaptive cruise control, parking assist and self-parking, collision avoidance, blind-spot monitoring, etc., can be seen in Indian vehicles very soon. Self-driving possibilities exist in off-road vehicles, such as farming, mining, and in a controlled environment like campuses for last-mile delivery. The paths are predictable, and monitoring is possible.
The Indian Railways is undergoing massive digital transformation in recent years. Tata Elxsi has worked closely with the Indian Railways in its digital transformation efforts. Can you tell us how Railways is leveraging intelligent technologies for better cost and performance efficiency?
The Indian Railways is the third-largest railway network within the world by size, and they are continuously enhancing the passenger experience through the use of digital technologies. Some features like face recognition, emergency talk-back system, Wi-Fi infotainment system, automatic plug-door, and step control have enhanced the railway's passenger travel experience. Designing coaches, signaling and traffic management, freight management, train services, workforce, and customer management are critical digitalization areas within the rail sector.
Indian Railways is leveraging new technology to improve the existing infrastructure's efficiency to run more trains for better cost and performance optimization. One such initiative is a Real-Time Train Information System, used to track trains' location in real-time through onboard sensors, GPS receivers, processor panels, etc., placed inside the locomotives. This helps in easy monitoring and management of the locomotive system and improves train operations using AI to improve accuracy.
Tata Elxsi works on technologies and innovations that can transform the Rail industry to re-imagine products and services through design thinking powered by digital technologies. We help customers enable digital transformation in rail transportation to deliver cost-efficiency, robust designs, adhere to safety standards, and deliver innovations. As a technology company, we have invested in creating platforms, tools, or solutions to enable digitization while also developing and expanding internal capabilities to add value to our customer's digital rail programs.
What are the critical security challenges in an increasingly connected world? What should CISOs in the transportation sector know to mitigate these threats?
As vehicles become connected, they are also getting exposed to cyber threats. The automotive sector's threats are much more than mere privacy concerns; it involves safety-critical implications affecting driver and passengers' life if the vehicle is hacked. Cybercrime is becoming more profitable than the global illegal drug trades at $600bn vs. $400bn. FBI warns automakers that a wide range of cyber-attacks and malicious activities are expected soon as the connected and automated vehicles become targets for financially motivated actors. It is estimated that roughly 40 terabytes of data are generated and consumed by modern cars in 8 hours. More data leads to more cyber-attacks.
UNECE is coming up with regulations to ensure proper management of cybersecurity risks in the automotive sector. The new regulations are expected to be in force from 2022 for new vehicle registrations. ISO and SAE are working together to define automotive cybersecurity standards for security risk management. The draft standard is published, and companies started to align it for automotive hardware and software development. Tata Elxsi is also aligning to WP.29 and ISO21434. Strong cybersecurity controls need to be in place, data protection, and access control mechanisms to address these new threat scenarios.
How are you toying with new digital trends in transport management?
Tata Elxsi has developed a cloud-based Connected Vehicle Platform with a typical standard technology stack that delivers the scalability and high performance required to support the entire range of electric, commercial, and passenger vehicles. This platform has been deployed with Tata Motors and is live with over 120,000 vehicles and growing constantly. It supports the diverse needs of Passenger Vehicles and Commercial Vehicles. Additionally, the platform is live with EVs as well. It has a rich range of features to enable tracking of the EV experience from Battery and Intelligent Charge management to live Range Polygons that predict the range of the EV, considering geospatial and traffic features. We are now engaged with another OEM to help customize and deploy the Connected Vehicle platform for their Indian portfolio of vehicles. We have also developed KOIOS, a highly scalable and integrated platform that provides an end-to-end solution for intelligent mobility services. This platform includes vehicle-side components, cloud server applications, mobile applications for the passengers, cloud applications, the vehicle-side unit, etc.
What are the tech-related plans of the company for the next 1-2 years?
Tata Elxsi's capabilities and processes have been built over many years and continued value deliverance which has helped us build credibility with our customers. With a firm foundation of IoT Platform, AI/ML Expertise, and Cloud Engineering, the company is poised to enhance the value delivered to customers with new growth dimensions of Digital Twin Technology, DevOps, Connected & Personalized User Experience and Industry 4.0 digital transformation. These new dimensions should help customers re-imagine and optimize their products and services through design thinking and digital technologies; in single window interaction.