Attention
This website is best viewed in portrait mode.
Publication Name: www.autotechreview.com
Date: December 2019
Driver Assisted Systems Serve As Building Blocks For Autonomous Vehicles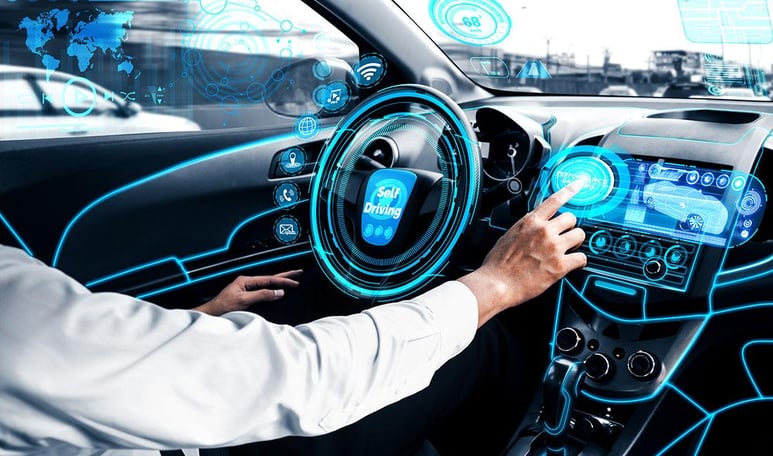 SHAJU S - General Manager and Head Automotive Business Unit at Tata Elxsi
The industry disruptions, safety standards and digital transformations taking place around Autonomous Vehicles are discussed in this article
Many vehicles today feature advanced driver assistance systems envisaging the prospect of achieving automation levels for driverless vehicles. Driver assisted systems serve as the building blocks for autonomous vehicles and in this driverless car journey, L3 and L4 levels are expected to witness more growth over the short-term. Complex technologies and safety requirements addressing fully autonomous cars will mature over the long-term. As complexities increase, significant testing measures are required to ensure the safety of the system for the desired use case.
At higher automation levels, vehicle safety would warrant tens of billions of miles in simulated environments. Simulated testing and virtual validation of autonomous electronic control units (ECUs) will be vital towards determining the levels of safety, and demand for simulation testing will increase going forward. There have been inter as well as intra-industry involvement through initiatives and strategic partnerships for quicker realisation and high volume deployment of safer and secure systems in the mobility landscape.
INDUSTRY DISRUPTIONS
Disruptions in the automotive industry have led to advancements not only in autonomous driving and connected car technologies but also intuitive HMI, virtualisation and ECU consolidation for digital cockpit dashboards. The evolution of such systems is refreshing to improve human-machine interactions and safely perform in-vehicle activities. Cutting down on in-car physical operations is also the way ahead as consumers look for application-based vehicle technologies.
By differentiating HMI, automotive OEMs envisage delivering smart, safer and reliable gesture and speech recognition, deeply anchored with the human and machine at the heart. With perceived accuracy issues with speech recognition systems, gesture controls in built-in systems enable the driver to keep his eyes on the road with little or no distraction and to avoid accidents. The adoption and revenue growth from automotive gesture recognition is likely to strengthen with global OEM giants having already launched these features in their vehicle models.
SAFETY STANDARDS
OEMs and Tier I suppliers are reconsidering the necessity and appropriateness of the current safety standards, further exploring the exposure, severity and controllability of the ECUs and vehicle in the outside world to better plan redundancies. Efforts are being undertaken to define safety goals, and requirements to accommodate autonomous vehicle technologies are being looked at, with the possibility of setting exceptions to certain standards, depending on the levels of autonomy implemented (semi and full autonomous). For fully autonomous vehicles, setting safety targets that suppliers can deliver and ones that fall in line with the road and transport regulations are evolving gradually.
The connected car technology and IoT platforms for the automotive space have exponentially increased the role of software and networking in vehicles. The sheer volume of software in vehicles is increasingly exposed and is vulnerable to malicious hacks from external parties. A fool-proof cyber security standard should be in place for data security. OEMs and Tier I suppliers are sparing no effort in defining a unified solution for the next generation cybersecurity standards, which will spawn new features.
Ensuring a secure ECU is a challenging task and there is a crying need to address these to build secure in-car and external connectivity solutions. Ensuring compliance with regulations such as ISO:26262 for functional safety, defining cybersecurity standards, threat detection, assessments and analysis processes will prove vital towards maturing security in the connected car ecosystem.
Safe driving autonomy solutions focus on incorporating the best of both worlds from humans, machines and the underlying technologies. Human individuality and data-based decision making are at the centre of this innovation. Accepting autonomous driving and connected car technology advancements is increasingly important for the auto industry and also for its intended consumers. Autonomous driving comes with its own benefits but also brings in challenges towards ensuring a safer driving user experience. Various recent studies and reports suggest an upswing in user confidence in trusting the technology coupled with improved willingness to own a semi/fully autonomous vehicle. These numbers will certainly continue to rise as users begin to experience the technology with growing PR, advertising, events and test highlighted by OEMs and other industry players. Autonomous driving shows promise and OEMs in contemporary times are striving to eliminate public concerns.
DIGITAL TRANSFORMATION
The era of digital transformation gives birth to exciting solutions simplifying the most complex activities, building a whole new world of unique possibilities and opportunities. Open innovation provides answers to these diverse automotive safety challenges collaborating with stakeholders from various engineering and non-engineering backgrounds. Although there have been multiple implementations and success in building safer automotive systems, there is no single distinct approach.
However, factors such as processing capabilities, redundancy levels for a safer operation, etc, can help measure the degree of safety. High performance computing platforms, efficient & scalable sensor fusion technologies (accommodating a wide range of sensors) and safety critical control, perception & navigation software blocks will be the key in structuring future automotive safety systems.