Attention
This website is best viewed in portrait mode.
Driving Into A Secure Space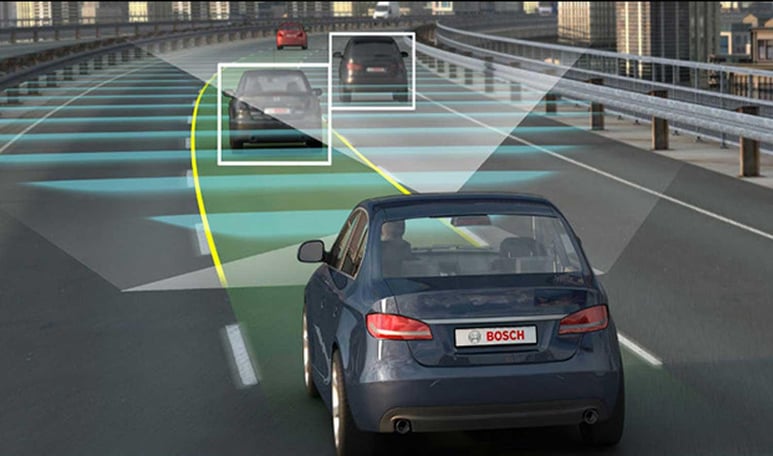 With smartphones and feature-rich vehicle cockpits becoming universal, the likelihood of driver distraction has also increased.
Driver inattentiveness and drowsiness are major contributors to road accidents, across the world. Urbanization has led to drivers spending more time on the road with more traffic. With smartphones and feature-rich vehicle cockpits becoming universal, the likelihood of driver distraction has also increased. This increases the importance of having a system to monitor the driver to help reduce accidents.
Driver Monitoring Solutions (DMS) need to take into account various factors of the person driving such as face detection, eye gaze detection, partial eye closure detection, head pose detection, driver alert detection while building these systems. The head pose will determine the orientation of the head whereas the eye gaze will determine where the eyes are gazing in relation to the head. Together, these two algorithms will determine where the driver may be looking.
The Fig 1 shows the different directions considered by the algorithms for eye gaze and head pose. Additionally, head pose includes up, down, left tilt, right tilt directions which is shown in Fig 2.
The key features of DMS are to track the eye movement and orientation of the driver's head to precisely determine where the driver is looking, gage his alertness, and understand if he is drowsy or if his eyes are half-closed and whether he/she is wearing sunglasses. Features like emotion detection, driver recognition, and percentage closure of eyes can also be added to this through machine learning.
Driver monitoring systems can be used for driver readiness detection wherein the driver must be ready to take back control of the vehicle from autonomous to manual mode. In trucks, the system can be used for driver monitoring and alerting the driver as well as the fleet operations centre. The system could also help in driver behaviour analysis via a video recording of the driver in the event of distracted driving. The system can also be enhanced as a "cabin monitoring system" and would be helpful in personalizing cabin experience and remote monitoring of occupants in autonomous cars.
Upon carrying out real-time performance of DMS, it has consistently given above 90% accuracy in face detection, eye detection, and head pose identification in Indian conditions and faces. The system is also verified for varied faces from Europe, US and Japan. The system is validated on various cameras, like IR, NIR, HDR, webcam, monochrome and custom made camera modules with various lens suitable for DMS, in test benches and test vehicles. It can be enhanced to add features like emotion detection, occupant detection, face recognition, gesture recognition etc. The accuracy of DMS is translated to confidence levels and alertness indicator for the vehicle, which increases its reliability.
DMS is a feature still commonly seen in luxury and premium cars. In developed countries with good demand for luxury vehicles, DMS has good penetration. Some European countries are also mandating the requirement of DMS by law. Unfortunately, in India, even the luxury OEMs offer DMS as an optional feature and not a standard in all their models. Some reports say that APAC region, and India, is expected to witness the highest CAGR due to current relatively low adoption of the technology and increasing awareness of driver and passenger safety. With increased consumer awareness on safety, recently OEMs in India have been offering an increasing number of ADAS features in premium and mass-market cars. A low-cost version of DMS could be answer to requirements in India and help to gain demand before moving to standard monitoring systems. However, in the current wake of pandemic and economic slowdown, this will take a little longer.
DMS is based on a concept is known as Hybrid Pipeline, which utilizes AI, and Camera Vision-based technique. The idea behind this is to leverage hardware capabilities to the maximum and provide aftermarket support for certain features. This provides the flexibility of using either machine vision or machine learning algorithms, allowing greater choices for feature and platform selection. Driver monitoring can also create novel in-cabin experiences, by integrating driver monitoring with other solutions like emotion detection, facial recognition and emotion recognition.
With autonomous cars in place and no driver presence, it is imperative to ensure that all in-cabin occupants are safe and secure. Keeping this in mind, we have extended the driver monitoring solution to a two camera-based Cabin Monitoring solution. Cabin monitoring solutions help monitor occupant activity, emotions, child presence in car, seat belt status, occupant wellbeing, threat identification and gesture recognition. In the future, adding medical sensors to monitor vital parameters like blood pressure and ECG monitoring will be beneficial to this technology.