Attention
This website is best viewed in portrait mode.
Exclusive Interview with Mr. Sankar Kumar Rajan – Global Head (Rail and FMCE, Transportation Business Unit), Tata Elxsi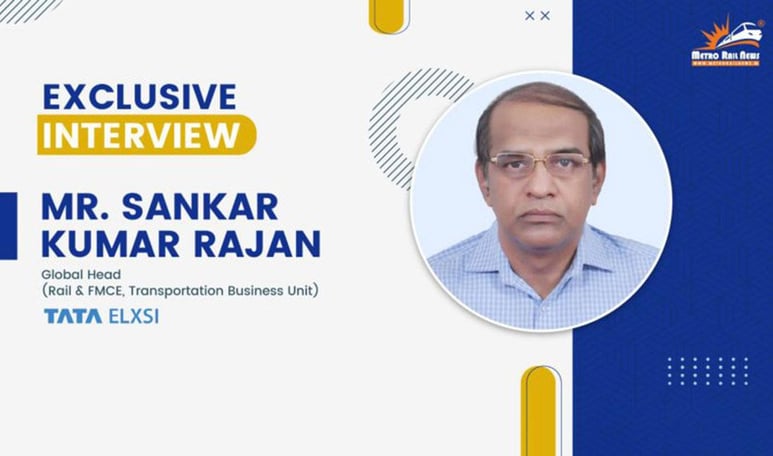 Metro Rail News Team Conducted an exclusive email interview with Mr. Sankar Kumar Rajan – Global Head (Rail and FMCE, Transportation Business Unit), Tata Elxsi.
Mr. Sankar Kumar Rajan is a seasoned professional with over 30 years of experience in high-end electronics, embedded systems, and software technology. He has worked with customers in the US, Europe, and APAC regions and handled responsibilities such as ODC management, customer satisfaction, innovation, P&L, business development, and solution architecture. He has expertise in hardware and software engineering, system and safety engineering, and modelling and simulation. He specialises in delivery, leadership, strategy, innovation, outsourcing, technology, and business alliances.
The interview discusses the latest digitalisation trends in the railway industry. The adoption of new technologies, such as autonomy and automation, IoT, ADAS, passenger experience, and next-generation technologies, aims to enhance efficiency, safety, and the overall passenger experience.
Here are the excerpts from the interview:
What are the latest digitalisation trends in the Rail industry today? Please share your insights on its global adoption and impact on the railways?
The rail industry is currently experiencing a digital revolution, with the adoption of new technologies that aim to enhance efficiency, safety, and the overall passenger experience. Some of the latest digitalisation trends in the rail industry are:
Autonomy and Automation: Using autonomous and automated systems to improve operations, reduce costs, and enhance safety. This includes technologies such as driverless trains, automated maintenance systems, and predictive maintenance using AI.
Internet of Things (IoT): Leveraging IoT to collect data from various systems such as trains, tracks, and stations. This data can be used to optimise operations, reduce costs, and enhance safety.
Advanced Driver Assistance Systems (ADAS): ADAS is being used to improve safety and reduce accidents. This includes systems such as monitoring and detection of defects, collision avoidance, and automatic speed regulation.
Passenger Experience: Using technology to enhance the passenger experience, including connected travel, ticket booking, and passenger comfort. This includes technologies such as end-to-end journey planning, in-train entertainment systems, and personalised service.
Next-Generation Technologies: Adopting next-generation technologies such as 5G and Future Railway Mobile Communication Systems (FRMCS) to enable high bandwidth applications such as real-time monitoring, predictive maintenance, and enhanced passenger connectivity. As the rail industry continues to embrace digitalisation, we can expect to see further advancements in the years to come.
A number of key technologies, like AI, Cloud, Big Data etc. are making a significant impact on the railroad industry. What, according to you, are its major advantages and demerits?
Advantages:
Predictive Maintenance: Implementation of AI and Big Data has enabled the development of predictive maintenance models that help in predicting potential asset failures before they occur. This helps to ensure that there are no interruptions to revenue-generating service operations due to unplanned maintenance, and the maintenance/repair/ replace process becomes more planned and efficient rather than being reactive.
Traffic Management: The use of AI and Machine Learning algorithms in monitoring rail network traffic has been an important development for the industry. With the help of real-time data analysis, traffic can be optimised, and congestion can be predicted and averted.
Digital Twin: The concept of a digital twin, where a virtual replica of a physical asset is created, is being used for network modelling and devising maintenance strategies. The digital twin can simulate real-world conditions and provide insights into the asset's behaviour, helping to predict potential faults and develop efficient maintenance strategies.
Cloud hosting: Moving various on-premise applications to the cloud enables the industry to create more integrated solutions for rail operations and benefit from improved efficiency, faster time to market, and reduced cost of ownership. Another important aspect to consider is the Cybersecurity challenges. The more the proliferation of connected services, the bigger the challenge. In particular, the aspect that "OT and IT needs to be connected to deliver various Digitalization initiatives also means increasing the attack surface for cyber-attacks."
Tata Elxsi's expertise in design-led technology and customised solution services for a no. of industries is globally acclaimed. What is the strategy for keeping the company abreast with the latest trends & technologies to meet customer needs?
Tata Elxsi strategies to be abreast with the latest trends & technologies by:
Taking part in national & global rail symposiums, for example, InnoTrans last year, to understand the need & pain points of the stakeholders in rail industries, be it Train Operating Companies (TOCs), Rail OEMs, and Systems & Technology partners.
Services Mapping- Identify & synchronise service lines to craft & cater the customer needs. Organizing- Digital Campaigns, Industry focused Tech Days & Workshops to demonstrate Tata Elxsi's focused service lines & GTMs.
Railroad industry has come a long way with digitisation and the use of technology. Tata Elxsi in the segment is known for a no. of successful pilots. Would you like to share a few major accomplishments of the organisation as learning cases? ,/b>
Depending on the intensity of the traffic or the inherent instability of the track's base, geometric flaws in rail tracks are likely to develop after a particular amount of time. The discovery of such problems through measurement and their rectification is essential for the effective and safe operation of a railway and consequently constitutes a considerable portion of any infrastructure manager's maintenance budget. Using digital technologies, Tata Elxsi can solve many of these customer problems. We have more than 30+ reusable algorithms in-house which are used in the transportation industry. This will help our customers to solve their business problems. E.g., Track maintenance- track geometry, turn out switch gap measurement, joint gap measurement, joint bar inspection, track gauge measurement, vegetation detection, obstacle detection, collision avoidance, sensor fusion architectures leveraged for quick turnaround, etc. are a few of the existing algorithms which can help to enhance the safety and comfort of railway transportation.
With the means of even more diverse and precise algorithms for inspection systems, we could help customers to predict and prioritise the necessary maintenance activities. Further, Tata Elxsi has a number of reusable algorithms to address passenger convenience and security needs that are so essential with the increase in rail traffic.
In what ways specifically has Tata Elxsi helped the development of Rail Transportation in India? How are you embedding 6G technology solutions with your services?
We have assisted many Indian customers. Using Virtual Reality, Tata Elxsi enabled this global locomotive client's teams to connect remotely, review, operate, and train at each stage of product development. Tata Elxsi enabled the client to review the locomotive's interiors and exteriors collaboratively to reduce prototyping costs. This resulted in a decrease in personnel hours, time, and effort required to visualise the end product. Similarly, Tata Elxsi designed and executed a complete wayfinding signage and information design system for ten airports and Metro rails in India.
With changing technologies, how do you see the future of the railroad industry, especially in developing nations? How is the company planning to adapt to new demands amidst the changing transport requirement globally?
The future of the railroad industry in developing nations will be heavily influenced by digital technology that would bring about transformation in the way the business runs. As the industry evolves, companies will need to adapt to new demands and changing transport requirements globally. Leveraging digital technology to reduce manual interventions when it comes to maintenance of wayside and rolling stock assets would be increasingly used to reduce cost and improve efficiencies, thereby maximising revenue.
We have been heavily investing in digital technologies for many years now and have developed solution accelerators such for obstacle detection, collision avoidance, sensor fusion architecture, data analytics, video analytics, cloud core, etc., that could be used for rail-specific use cases. These accelerators will enable us to adapt quickly to changing demands and stay ahead of the competition. We are also customising automotive-specific solution accelerators and reusable assets for addressing new domain use cases.
Please share your views on Metro Rail News and your message for our readers.
Rail transportation is and will continue to be a key means for moving masses and freight in an environmentally sustainable way across the globe. Digitalisation shall play a key role in transforming current rail operations to the next level to increase customer comfort, increase safety, decrease the cost of operations and maintenance, and increase the network capacity to meet future demands. Metro Rail News is the magazine and the website to carry the news on the major events in the rail world and has a large community that subscribes to the publication, aiding in widespread access and information on the current trends and innovations within the rail transportation industry.