Attention
This website is best viewed in portrait mode.
Publication Name: analyticsinsight
Date: September 01, 2021
Exclusive interview with Narendra Ghate, Chief Designer, Research & Experience Design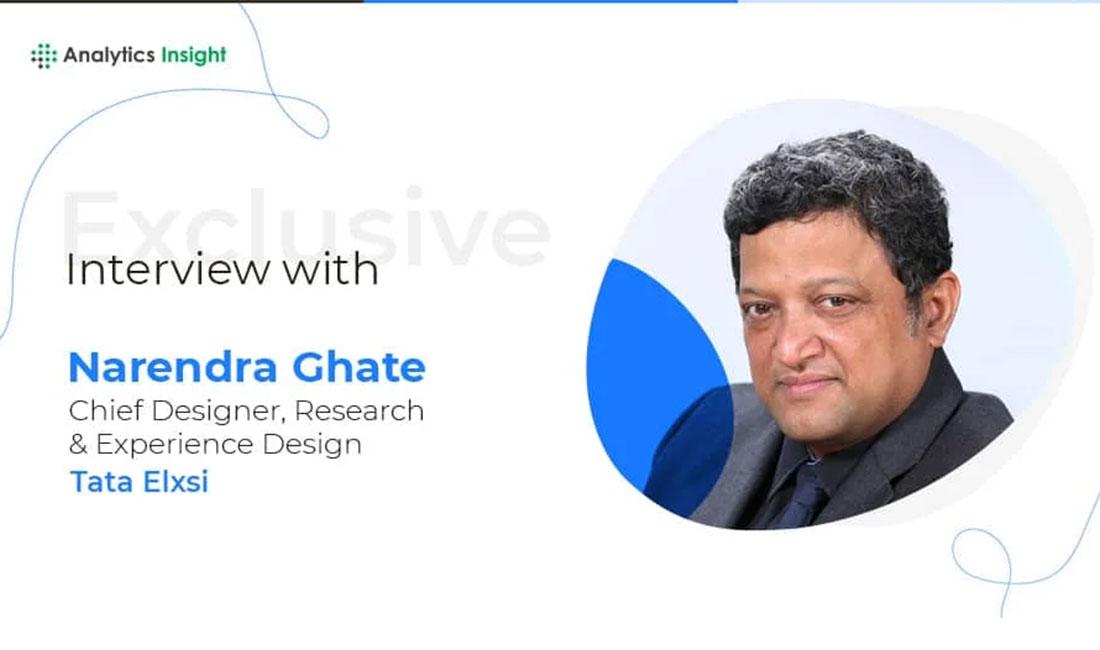 Tata Elxsi is among the world's leading design and technology services providers across industries, including Automotive, Broadcast, Communications, Healthcare, and Transportation. The company helps customers reimagine their products and services through design thinking and the application of digital technologies such as IoT (Internet of Things), Cloud, Mobility, Virtual Reality, and Artificial Intelligence. Analytics Insight has engaged in an exclusive interaction with Narendra Ghate, Chief Designer, Research & Experience Design at Tata Elxsi.

1. How are businesses increasingly embracing technology to deliver an unmatched customer experience?
Over the last 20 years, all businesses are transforming into related services. Earlier businesses could opt for a sell-it, forget-it approach to certain products. Every transaction after the sale was done under some obligation (warranty, AMC, etc). Now, of course, things have changed. Our customers are connected and they have a powerful weapon called social media. A bad review from an unhappy customer can seriously hamper your sales. Businesses are aware of this and actively use social media technologies to protect their brand and create a customer tribe that becomes a difficult moat for any competition. This means creating an unmatched customer experience achieved through product innovation and brand connection. A referral purchase of your product through social media creates a networking effect. Businesses are now focused on building relationships to enable this channel of growth. This is just one example of businesses embracing technology to protect and grow. Technology has always been used to create product innovation. However, now, the technology is not used unilaterally. Customers are being listened to more actively and the use of technology is well directed and focussed towards customer satisfaction. Simple evidence of this is the number of times any app is updated every year.

2. How are companies enabling user adaptability to digital living through a user-centric approach?
In normal circumstances, companies are trying to get their customers to move in a particular direction or there are customers seeking change in the products or services they use. We are in a unique situation where both the companies and the customers are now pushing in the same direction i.e. more focus is on digital living. As a result, the customers are more forgiving and more willing to learn new technologies to enable this to happen. A typical grandma would not have bothered to learn about zoom meetings two years ago. Companies too can focus their direction better. Earlier, what was a very diverse set of product feature requirements have now been very rapidly narrowed down to certain key requirements. Varied customers too have become more unified and differentiated only narrowly between their online behaviour traits. Now, there is an online store for every offline store that exists. Whether it is marriage services or funeral services, there is a virtual element in the product offering. Multiple innovations have helped this journey. Be its subscription services for your daily milk supply or AR-based measurements for your glasses.

3. How design-led digital expertise will drive innovation, simplify processes, transform customer and user journeys
Design and empathy go hand in hand. Empathy in turn represents the customer's expectations. Today, customers expect simplicity in almost all their touchpoints in life. Simplicity means ease of decision making, ease of use, clarity of outcomes, transparency, etc. Examples of this can range from simple one-click purchases (amazon's swipe to buy) to websites that are clutter and ad-free. Whether it's the government's vaccination portal or Practo's telehealth, we see a sudden simplicity and clarity that helps the end customers. These transformations are mostly due to the recognition that a design-led approach creates a natural empathy in the products we develop, leading to better customer experiences.

4. The industry is seeing the rising importance of Big Data Analytics and AI. How do you see these emerging technologies impact the business sector?
Big Data, AI is already here and making a big impact as we speak. Businesses that have adopted these technologies are seeing major advantages over their competitors. This is resulting in a race to adopt these technologies in various businesses. To put it simply, Big Data-based AI means an ability to predict the future. Ability to know who your next customer will be. Know what would be the demand in a particular geography. Capability to know which product features will be popular. This ability is very valuable to any business as it allows them to use their resources optimally, focus on guaranteed winners and reduce the risk considerably. Thus whether it is banking or healthcare, transport to education, all industries will heavily adopt Big data-based AI.

5. The industry is seeing a rising importance of business and technology enablers like virtualization, convergence, and cloud. How do you see these emerging technologies impact your business sector?
The biggest technology enablers remain Big data and AI. Cloud will allow big data-based AI to be deployed at scale on the edge points (Consumer devices). 5G will enable computing loads to be shifted away from edge devices making most products cheaper and smarter. So, in a way, all these technologies are enabling each other. Many modern-day use cases are not possible based on just a single technology. Tata Elxsi is a great cauldron where all these technologies can be brought together to create innovations. Our ability to understand the end consumer when taken together with our prowess in these technologies make this a huge positive impact for Tata Elxsi.