Attention
This website is best viewed in portrait mode.
How hydrogen can save the internal combustion engine in the world of EVs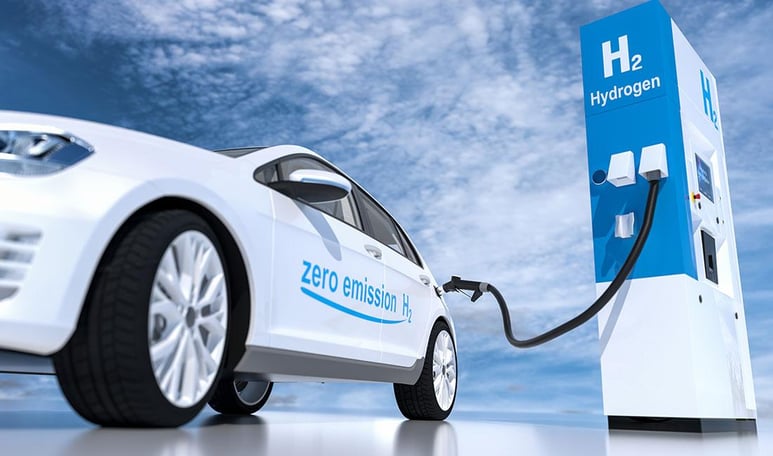 This article is authored by Manoz Kumar M. Tirupati, Global Delivery Head of Transportation Design & Engineering, Tata Elxsi
Introduction to Hydrogen Engines
A hydrogen engine (HCE) is an engine that uses hydrogen (H2) as fuel. It is a modified gasoline-powered engine but doesn't emit any carbon-based pollution, which is a big benefit towards carbon neutrality. It's also vital to remember that HCES vary from hydrogen fuel cells in that the former receive their energy via hydrogen burning while the latter derive it through electrochemical processes.
HCES operate similarly to 4-stroke gasoline engines (ICES). But compared to gasoline, which has an octane rating of 90 (for premium gasoline), hydrogen has a higher-octane number of 130. As a result, HCES have a superior air-to-fuel ratio of 180:1 compared to ICES' ratio of 371. Thus, cars may operate on lean mixes (Less Fuel more air). Ionization energy for HCES is generally 0.02 m3 vs. 0.24 m3 for ICES. Compared to ICES, HCES also have greater flame velocities, which leads to quicker combustion. Additionally, hydrogen has a 500°C auto-ignition temperature compared to ICES' 250°C, allowing HCES to have larger compression ratios. Due to the increased diffusivity of hydrogen, the air and fuel combination will mix more effectively and quickly. Furthermore, the quenching distance is shorter (The distance between cylinder walls and the maximum point where combustion flames reach). This guarantees that the entire air-fuel combination gets burned.
Since the first engine was created in 1806, hydrogen engines are not a recent invention. However, adoption was only passive due to high hydrogen costs and safety concerns with HCES. The pursuit of alternate fuels has reignited the interest.
Market Overview, Expectations, and Associated Challenges
The HCE market is currently valued at $18.22 Billion in 2023 and is projected to be valued at $46.31 Billion by 2033 at a high-paced CAGR of 9.78 percent according to a recent report by Future Market Insights. The major contribution is expected from North America, Europe, and APAC regions.
In the automobile sector, electrification adoption has reached previously unheard- of levels. The transition to BEVS hasn't been successful in industries like mining. agriculture, and other offroad applications, which demand higher power outputs round-the-clock while being exposed to intense vibrations and heat generation. To decarbonize the engines, it is anticipated that diesel-based engines would be immediately replaced with HCES.
The transition to HCE presents some difficulties that OEMs, Tier-1s, and other businesses must resolve.
Since hydrogen has a very small molecular structure and can escape, the current materials cannot be used for HCES without risking fire incidents. The engine will be subjected to extremely high thermal & structural stresses since the air-fuel ratio of HCES is 6 times greater than that of ICES. Additionally, they will experience hydrogen embrittlement (Cracking). As a result, it's important to look for substitute materials for parts like camshafts, cylinders, valves, injectors, pistons, liners, crankshafts, fuel systems, storage units, etc. that can accommodate hydrogen as fuel.
Due to the need for 12 times less lonization energy than gasoline, hydrogen is highly flammable. To prevent accidents because of low ionization energy & backfires caused by hydrogen escaping via cylinder inlet valves, strict safety mechanisms like redundant provision for shutoff and safety valves, over-dimensioning of components exposed to pressure, and Barrier concept (Double walled construction) for hydrogen tanks must be considered at the concept stage.
Although HCEs are carbon-neutral in their emissions, they still emit minute amounts of NOx. To make HCES completely emission-free specific SCRS (Selective Catalytic Reductions) need to be designed.
The identification of non-combustible lubricants for the engine must also get attention since the burning of lubricants releases minute amounts of hydrocarbon-based pollutants owing to the increased temperature of burning hydrogen inside the HCES.
The production of hydrogen is another important issue. The endeavour to develop cleaner fuel loses its purpose because 95 percent of the hydrogen currently produced comes from natural gas and fossil fuels (grey hydrogen) and there are only 800 refuelling stations in operation worldwide.
Key Market Players
OEMs and Tier-1 suppliers have already started adopting HCES Companies like BorgWarner and Cummins in the US have already begun to make investments in hydrogen engines. Even so, Cummins showcased their hydrogen engine at the recently held Indian Auto Expo 2023, Greater Noida, India. Westport Fuel Systems are actively developing HCES for heavy-duty vehicle applications in Europe.
Toyota has made available the Corolla Cross HCE concept vehicle. A 5.0-litre V8 engine driven by hydrogen is also being developed by Toyota and Yamaha. It will have a 450 hp output at 6500 rpm. Japanese automakers including Mazda, Subaru, and Kawasaki Heavy Industries have also begun their study in this area. H2-ICE Trucks were also introduced by Ashok Leyland, an Indian commercial vehicle OEM at the Auto Expo 2023. They also showcased the H2-ICE truck at India Energy Week 2023 along with Reliance Industries.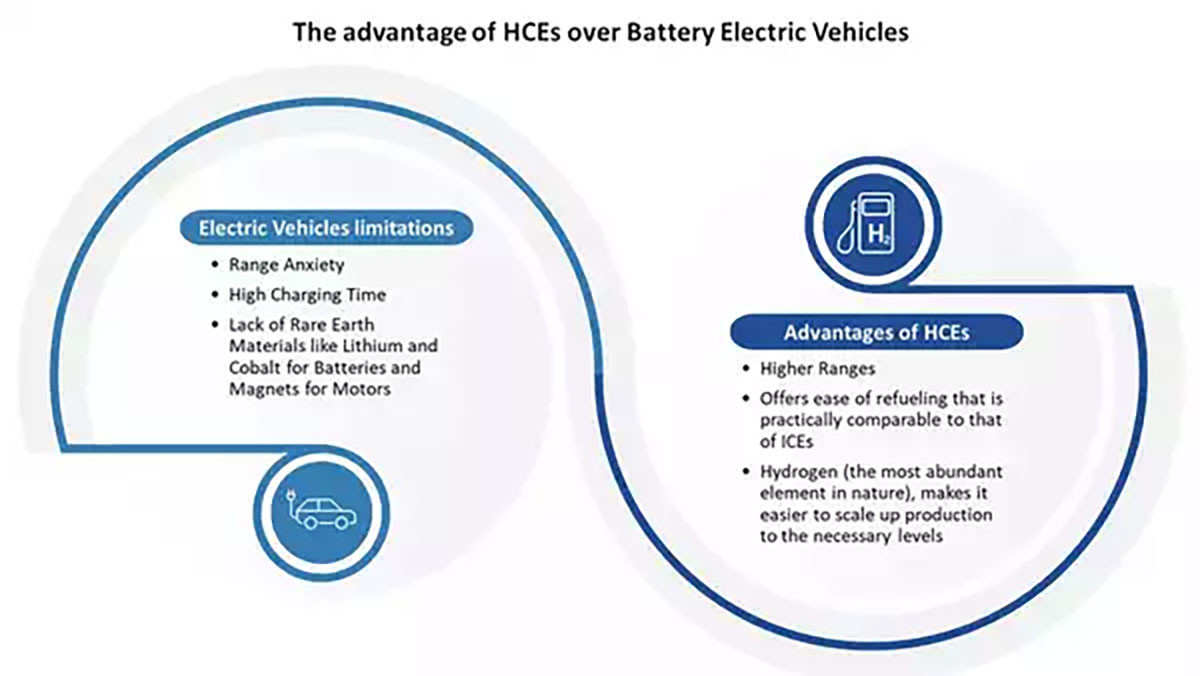 ConclusionConclusion
The automotive sector is competing in a parallel marathon using a variety of technologies to find the ideal replacement for fossil fuels. Stringent regulations imposed by Government agencies compel OEMs and Tier-Is to adhere to harsh emission standards. The best alternative, in this case, is hydrogen engines. Compared to ICE, hydrogen engines require about the same amount of time to refuel, but the latter has the major benefit of being carbon neutral.
However, for this change to be economically viable, significant resources and efforts are required. The transition to HCES is occurring more slowly since OEMS and Tier-ls are still substantially engaged in conventional engines while electrification still is their major focus. Therefore, it is crucial to determine the extent of hydrogen engines early on and to make the necessary preparatory expenditures in this technology.
For businesses to build the required infrastructure for HCES, such as hydrogen plants that create green hydrogen and refuelling stations, support from the government across the globe is crucial. It's also necessary to implement incentives like tax credits to aid companies in expanding their operations.
The emphasis must also be placed on educating target consumers through advertising to encourage the purchase of HCE cars. When these steps are achieved, HCEs will become economically viable and have a competitive edge over other technologies.