Attention
This website is best viewed in portrait mode.
How Is Tata Elxsi Driving The Autonomous Vehicle Efforts In India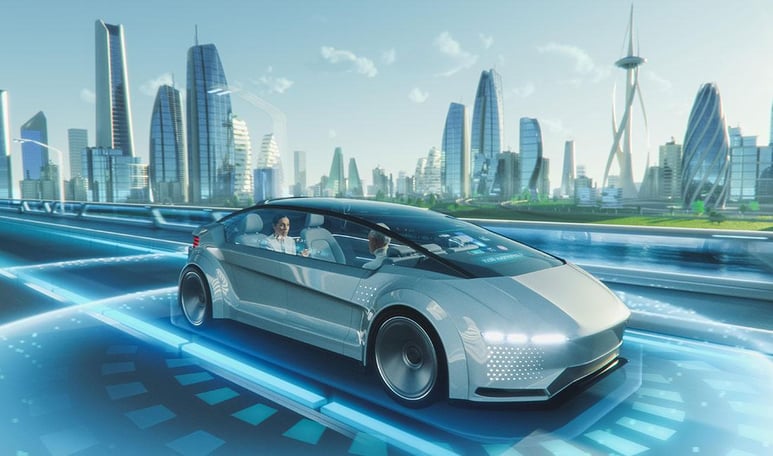 Tata Elxsi has been an early starter when it comes to self-driving vehicles.
The arrival of self-driving vehicles has been a turning point for the automobile industry. The role of big data in predicting the future of the automobile industry in mobility, electrification, connectivity etc is critical in dictating the direction of the autonomous driving industry. The big data is also harnessed to upgrade self-driving technology.
Tata Elxsi provides design and technology services for product engineering and solutions across industries including broadcast, communications and automotive. The team is bringing entirely new ways in which data is seen, analysed and put to action. The company's best-in-class algorithmic capability, and over two decades of experience in engineering, places them in a unique position to provide customers with insights and knowledge that can drive businesses like never before.
We caught up with Biswajit Biswas, Chief Data Scientist at Tata Elxsi, to know more about their various efforts to propel the self-driving industry.
AIM: Tell us about the company's algorithmic capability in the self-driving industry. What are the various platforms and tools used?
Biswajit Biswas: Tata Elxsi has been an early starter when it comes to self-driving vehicles. We have created a full-stack IP called AutonomAI, which some of the OEMs have adopted. This has helped to accelerate their program for autonomous vehicles. In self-driving vehicles, key components are perception and navigation. We have built high-performing deep learning models for various perception tasks – both stationary and nonstationary suiting needs for different terrain, geography, and transport safety rules. We have built tools and platforms to accomplish most of these, apart from relying on open source components and our partners. We have developed tools in sensor fusion, synthetic but realistic data generation, validation, automated testing, driver monitoring system, cabin monitoring system, and Analytics for CAN bus signals.
AIM: How has Tata Elxsi enabled big data analytics in the auto sector?AIM: How has Tata Elxsi enabled big data analytics in the auto sector?
Biswajit: Tata Elxsi's customer engagements in the area of Big Data Analytics broadly fall into three categories:
Productivity improvement: Using AI for ticket analysis and management, ticket classification, duplicate removals, bring focus and prioritise where real attention is required by providing powerful insights for the data received.
Intelligent Triaging: Anomaly detection, RCA analysis for major faults
Design improvement: This involves analysing data collected from drive chains, drivers, and occupants, even reviews mentioned in the public domain (auto magazines) to optimise cabin comfort, complement ADAS and other assist systems.
AIM: How does Tata Elxsi collect and process big data?
Biswajit: Large scale data processing needs data collection from various parts of the organisation, which requires a robust ingress system without losing quality. We closely work with our Enterprise Cloud partners (e.g., AWS, Azure, GCP) to bring the appropriate technology. In most cases, we help customers create a data lake for each use case basis without necessarily churning the ocean to offer the correct RoI. There are various vectors to solve the data to insight puzzle, the majority of data is of very high velocity (CAN signal), and some are comparatively lower velocity. Also, there is the issue of time synchronisation of the data as the clocks of various subsystems are not precisely aligned. We have developed a set of tools to adapt to multiple data formats to quickly get past the pre-processing challenges and perform the analytics as needed.
AIM: How data crunching is used to derive insights? How has this improved/changed passenger experience?
Biswajit: Data crunching leads to insights that transform the passenger experience at an entirely new level. As mentioned earlier, we are working to improve productivity in some of the hard to debug engineering problems, bring AI-based automation to problem-solving, and improve driver and passenger experience. When it comes to passenger experience, we have worked with OEMs to personalise cabin comfort based on the driver profile, where parameters are adjusted by continuous learning. We have a suite of computer vision and AI-based solutions for tracking driver alertness, health monitoring, and cabin monitoring systems adopted by OEMs through various programs.
AIM: Can Big Data analytics prevent accidents when a vehicle is in danger?
Biswajit: For autonomous driving or self-driving, the entire focus for AI is to make it safe for drivers and passengers and also other road users and most of the R&D budget is spent on that. There are programs where we are working on minimising the disengagement time (duration when a human driver is asked to take control of the vehicle) by critically analysing the data from different subsystems. There is a great improvement in terms of reduction in disengagement time year on year. Overall it is reported to be in the order of 1.3x as per the latest report from DMV, California. So we can safely say, self-driving vehicles are improving significantly to prevent accidents.
AIM: Tell us about the evolution of the autonomous vehicles space in India
Biswajit: I think the next boom already happening in India is for EV vehicles and the infrastructure required. A lot is happening to make EV vehicles a sustainable and reliable mode of transport and the ecosystem needed to support them. Autonomous vehicles on the roads in India may not be an immediate priority compared to the priority needed in other adjacent sectors like road infrastructure.
AIM: What are the challenges the Indian self-driving industry faces?
Biswajit: If we are talking of self-driving on the road, there are several challenges in India. First, it starts with average road users to maintain traffic discipline; then roads are hardly commutable in many city / urban areas. Road geometries are unscientific; road signs are non-existent; even if they exist, there are no standards followed. Barring some high-profile national highways, the scenario is the same everywhere. L3 and L4 automation in India is probably decades away, but we may see much L2 automation adopted in high-end car segments. However, some of the Self-driving technology can be adopted for off-road vehicles, especially in farming, mining, and even in some campuses where compliance can be regulated.
AIM: How does Tata Elxsi stand out?
Biswajit: We have been at the forefront of ADAS and Autonomous research for close to a decade. We are constantly innovating using AI and machine learning by adapting to the needs of the industry, be it in UX design, connected car or driver and passenger comfort. We have been working with top global OEMs and Tier-1 suppliers for developing smart parking solutions like advanced assisted parking systems and autonomous parking. Recently, we have developed Park by Memory and Parking Slot Detection models, which can help Indian drivers save time and make the hassle of parking your car much easier with machine learning, automation and data collection. We are working on AI-based perception models, driver behaviour intelligence solutions, ML-based Cabin Monitoring systems with the capability of detecting dangerous objects, etc. We have also been working on NLP based digital personal assistants, advanced data analytics on top of our connected vehicle platform for providing enhanced digital experience, electric vehicle management such as EV range predictions, Battery health predictions, and so on.
Tata Elxsi always has been at the forefront of innovation-led changes through its design and technology services, enabling its customers to reimagine their products & services. Being a very niche product design organisation, our design thinking approach to technology problems gives us an edge over the competition to think ahead of our times. We see a great transformation happening in the industry, and the times ahead are going to be interesting.