Attention
This website is best viewed in portrait mode.
Immersive Tech Enabling Businesses to Drive Customer Experience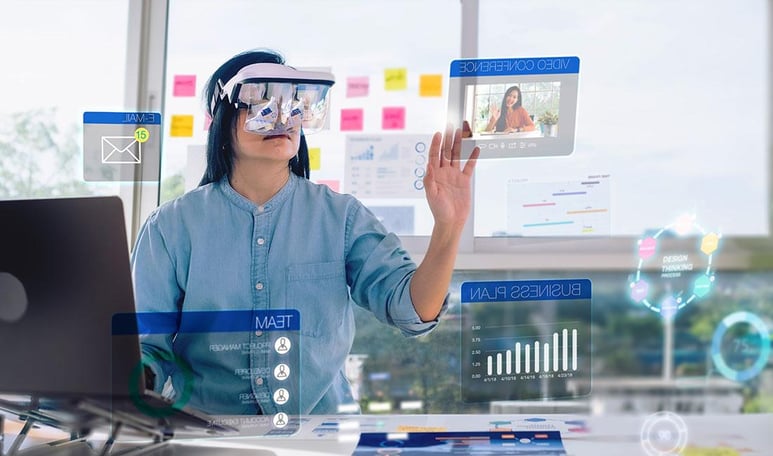 The global pandemic has changed a lot of things for companies around the world. It accelerated digital transformation and put customer experience (CX) in the spotlight. Companies are learning that in order to stay in business, they need to focus on their customer's needs in the ever-changing dramatic business environments. As the convergence of the physical and virtual world is blurring immersive technologies such as virtual, augmented and mixed realities (often termed as Extended Reality) are creating a differentiated CX. In a recent chat with CXOToday, Nick Talbot – Global Design & Innovation Head, Tata Elxsi explains how these immersive technologies are core to improving and retaining customer loyalty and are enabling businesses to drive maximum value.

How according to you are immersive technologies reshaping and enhancing CX? What are the recent trends in VR/AR/MR to boost CX?

Businesses are beginning to see the lucrative impact VR, MR and AR can have on enhancing customer experience. This comes at a time where companies are on the lookout for new ways to bolster customer connections, and these technologies are proving to be new opportunities to create unique experiences. The arrival of virtual, augmented and mixed reality technologies is shaping a new environment where physical and virtual objects are integrated at different levels. With the development of portable and embodied devices, together with highly interactive, physical-virtual connections, the customer experience landscape is evolving into new types of hybrid experiences.

These technologies are transforming the way marketers and businesses interact with their customers and increasingly impacting and enhancing everything from gaming to online healthcare, digital education and training tools, product personalization and of course the evaluation and exploration of new products and services. Augmented Reality and Mixed Reality in particular will open new ways of interacting with the world – whether in our homes, or on the streets and also increasingly as tools that we will use at work. These technologies have the ability to overlay and share physical objects, spaces and images on a user's view of the real world which is revolutionizing the customer experience.

Through new mobile technology, AR has emerged as an innovative tool that allows brands an almost unlimited opportunity to interact three-dimensionally with consumers on their mobile devices. Augmented reality customer experience is a new digital experience that transforms the customer journey into an immersive visual interactive experience. It further enriches the relationship between consumer and brand, and serves as a powerful new mechanism for companies to add value at every stage of the customer journey. With VR, businesses are able to create revolutionary customer experiences that are unlike anything ever seen before. VR creates an entirely immersive experience that provides a profound sensory impact which establishes a strong emotional connection with users. Businesses can leverage this connection to engage with customers in innovative and meaningful ways. When customers are more emotionally engaged with a brand, they are more likely to make repeat purchases and become lifelong brand loyalists.

How technology-enhanced experiences are adding value to the customer purchase journey?

Customers no longer purchase goods and services from businesses; instead, they purchase experiences from the goods and services they buy. Customer experience has grown to be more crucial in present times for any company's long-term success.

Micro-moments are reinventing and changing modern business procedures, especially as technology manages customers' unparalleled power to define the rules in acquiring products and services. There are two kinds of customers – those that will absolutely embrace the ability to better understand a product or service using technology tools, and those that want a much simpler and more direct purchase journey. Selecting the right technology, at the right point is critical for ensuring that customers are not necessarily overwhelmed by the tech 'push'. Nevertheless, with the global move to online selection and purchase, improving the buying experience through technologies like AR will be critical. Already we see automakers experimenting with AR and MR tools to evaluate your next car in real time wherever the customer chooses to view it.

How are new immersive technologies making a positive impact on enterprises?

Businesses are increasingly deploying immersive technologies to drive efficiencies, for a strong return on investment. Companies that are currently implementing these new technologies are either meeting benefits or exceeding their expectations. This is laying a positive foundation for the widespread business adoption of new age technologies. At every level right from design and development process, speeding up the overall product development cycle, saving costs on physical development processes, to using immersive marketing tools to enhancing the buying experience, new technologies benefits are multi-fold. When configured in the right way these technologies can allow much greater and faster collaboration across an enterprise. If we think of the advantages of digital twins, and VR access and monitoring to increasingly automated production facilities, we can see gains in efficiency, accuracy and more timely interventions at the manufacturing level.

What are the current challenges in AR, MR and MR for driving customer behaviour?

Mass adoption has been an issue for many of these technologies as these are still new concepts for people to adopt. Improvements in hardware, resolution, sophisticated aspects like 3D audio and of course further miniaturisation such that people can choose when and where to experience the technology benefits without some of the hassles that exists today, is required to be addressed. Once mass adoption and daily use transpires, these technologies will truly become part of our lives. Then the sky is the limit in terms of how we behave, interact, learn and experience the world. However, the choice 'on' and 'off' remains the same as has happened with mobile devices. Due to these developments of embodied and portable devices, pairing with highly interactive, physical- virtual connections, the landscape of the customer experience is taking new shapes of hybrid technologies.

How can the combination of different types of technology-based experiences affect the brand image of a product or service?

The key is to use the right tools at the right time. Brands which seek to stand out prominently as innovative and experiential-before, during and after purchase will prosper. The post purchase element is very important and these technologies may allow new ways to build relationships with customers and reinforce any brand messages. The risk lies in neglecting and insufficient understanding where the technology needs to be applied which may further lead to a poor brand experience. Additionally, 'authentic' brands (luxury goods) need to ensure that the levels of quality and simplicity align with the customer service i.e. personalized and in person, as well as meeting the customer expectations. Having said, it is equally essential to understand your customer before throwing something new at them as it can elevate or damage the brand's reputation.

Which are the industries where immersive technology can be a game changer?

Immersive technology is a game-changer, opening up new perspectives across industries. The gaming industry has seen monumental developments in the features and game-play, and the developers are not ready to stop. The amalgamation of the reality spectrum has been transformational. These new age technologies-VR, AR & MR has helped elevate the gaming experience into an immersive one and we can hardly say that the technologies we have are the end of it. Similarly, these new technologies can be a game changer in the healthcare space. VR/AR hold the potential to not only allow medical students and professionals to test and learn new skills in a safe and immersive environment; but can help in treating patients in new and effective ways. These new technologies can be increasingly be used as diagnostic tools for various diseases, from mental conditions to eye conditions. It will enable physicians to arrive at a diagnosis in conjunction with other methods. The education industry is another vertical that holds a lot of potential. In fact, the outbreak of COVID-19 and the push towards digitization has proven the potential these new technologies have to revolutionize the EdTech industry. The Immersive technology boom in the education sector will not only empower the sector but also make learning more interactive and enriching. The fashion and travel & tourism industry has always been a hotbed for new trends, and technology is no exception. Immersive technology has the potential to transform the way these industries create, presents, and alter perceptions of their physical surroundings and supplemental experiences and opportunities for interaction. Also, the media, entertainment and broadcast industry can be a game changer. By integrating design thinking, technology and content development capabilities, Tata Elxsi has been helping diverse industries to provide enhanced customer experiences.