Attention
This website is best viewed in portrait mode.
Impact of the pandemic on the Edtech sector: An India Perspective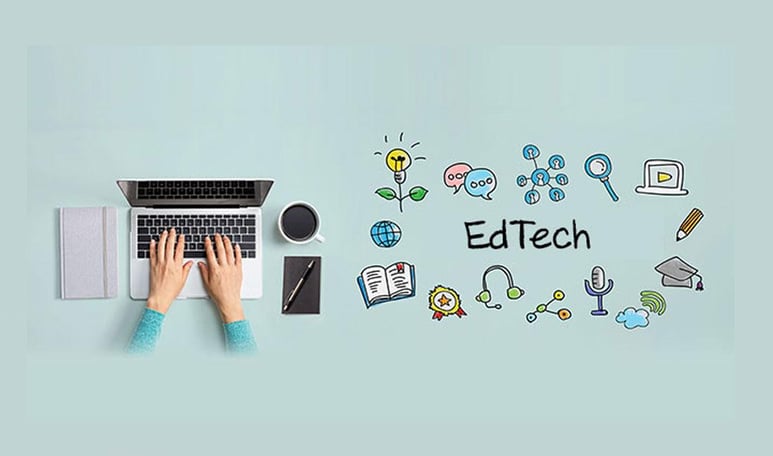 According to a UNESCO report, the pandemic will adversely impact over 290 million students across 22 countries due to the closure of schools in the wake of the lockdown. In India, schools and colleges shut down with immediate effect with the countrywide lockdown in place. The structure of schooling was one of the first to be affected by this. Only a handful of private schools could adapt to online teaching while low-income private and government school counterparts have completely shut down owing to a lack of organizational access and exposure to e-learning solutions.
Launch of National Education Policy – A welcome change
In the aftermath of the havoc wreaked by the pandemic, there have been some landmark shifts in the Indian education system. A major one is an introduction of the National Education Policy 2020 (NEP) which was launched on July 29, 2020. The new policy ushers in a new era of education after a gap of 34 years. The NEP aims to democratize education by giving universal access at all levels of school education, thus envisioning a future with 100% school enrolment/education for children aged 6–14 years. The key focus is given to technology as per the new policy. Additionally, e-courses will be developed in regional languages, and technology would be extensive and will be a core part of education planning, teaching, learning, assessment, teachers, students, and student training. Moreover, there is a special provision for socially and financially challenged groups in the new policy. The Cabinet has dedicated a unit to manage digital infrastructure, digital content, and capacity building under their wings to make sure all the e-education needs are fulfilled.
'Thinking Digital to being Digital' – The rise of Indian EdTech
The country has witnessed growth in the IT sector and a shift towards education; between January 2014 and September 2019, more than 4,450 EdTech startups have been launched in India. The sector got a much-needed push thanks to digital adoption; close to half a billion internet and smartphone users contributed to it. The EdTech sector in India can be compared in two phases – pre-COVID-19 and during/post-COVID-19. Prior to the pandemic, the EdTech sector was growing in India but at a relatively slower rate as online education was still met with some resistance. The lack of technology posed a major concern of reskilling and upskilling for teachers. While the pandemic has wreaked havoc across sectors and industries in the Indian market, it has been a watershed moment for India's EdTech sector.
The lockdown and fear of COVID-19 spread have taken schools, colleges, and educational institutes online, thus leading to the emergence of many EdTech products and services and a rise in adoption. Though in its nascent stage, there has been a significant transformation in curriculum development and pedagogy where we have moved from thinking digital to being digital. EdTech firms like Vedantu and Byju's (tutoring), Toppr (learning), and Unacademy (video lessons) have seen a substantial rise in traffic share during the lockdown. Byju's added 7.5 mn new users during the lockdown; Toppr also recorded 100% growth in the paid user base.
The Road Forward
In the light of these trends, the next cycle of growth in the education sector will be driven by the 4 E's: ed-tech, edu-content, e-learning, and entrepreneurship. Given that the traditional focus has been on offline education, a mix of online and offline is what will propel the sector forward. The National Education Policy's integration with Edtech is a welcome measure as it is a step towards inclusive, cohesive, and productive education in India.
The future of EdTech, therefore, looks promising, but it depends on the sector's ability to quickly adapt to the changing times and offer personalized solutions in diverse categories. The National Education Policy's focus on multilingualism online learning will instill critical thinking in children from a young age, thus making education better-rounded, useful, and fulfilling to the learner.
With the current education setup, online learning is here to stay. Therefore, to keep the momentum going, it is important for the sector to constantly keep innovating to capitalize on the void created by the closure of traditional classrooms. This innovation will spark critical thinking, collaboration, and creativity in the classroom. These innovations can be brought in with the use of immersive technologies such as Augmented Reality and Virtual Reality.
As an innovative Design + Technology organization, Tata Elxsi has been transforming eLearning, eTraining, Learning & Development, and EdTech experiences. We have been working actively with academic institutions, universities, corporate houses in helping them define pedagogical changes by developing 2D, 3D, and immersive content and delivery experiences.
About the Author:
Aditya S Chikodi - General Manager & Head, Industrial Design & Visualisation at Tata Elxsi.