Attention
This website is best viewed in portrait mode.
Pushing the Boundaries of Autonomous Driving Beyond Cars and Trucks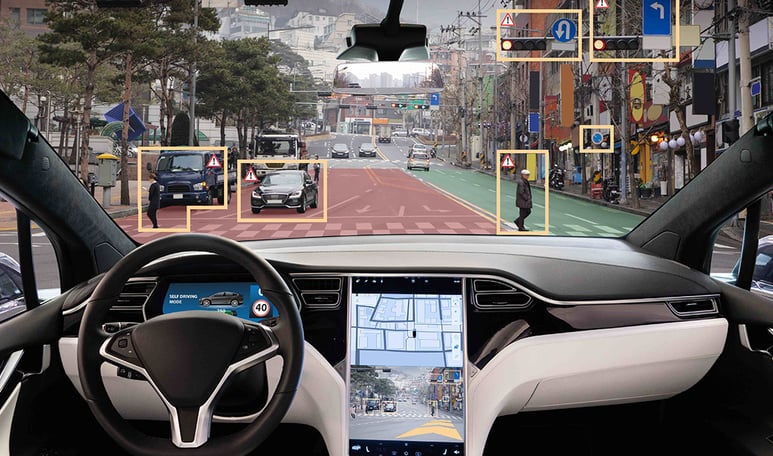 Technological advancements in the automotive domain aim to continuously deliver safety to drivers. As of today, many cars on road have advanced driver assistance systems that assist the driver in case of an impending crash and take action in case of a crash. In recent times, driver assistance systems have progressed and evolved into self-driving cars. Driverless cars are believed to be the future of the automotive industry and would transform the community mobility ecosystem once the autonomous technology is established.
Automakers across the globe have invested billions of dollars to make autonomous driving a reality. Even though there are focused efforts and investments in autonomous driving in terms of innovations and evolving business models, the adoption of driverless cars on public roads remains far from reality.
As per market data as of December 2022, driverless vehicles on road are quite insignificant and many manufacturers have scaled down their investments in autonomous cars. Even though the adoption of autonomous cars on road has been extremely slow, autonomous technology has the potential to provide various benefits including safety, convenience, and environmental benefits.
This article covers the challenges existing today to adopt autonomous cars on road. We also cover how autonomous driving technology can be leveraged across other adjacencies like farming, mining, construction, yard vehicles, and the marine segment.
Challenges in the adoption of autonomous driving on public roads
Regulations and standardization
Autonomy in vehicles is divided into six levels as per SAE International (SAE J3016). The below diagram depicts the various autonomy levels.

There have been several inconsistencies in the terminologies used across the industry resulting in interoperability across geographies and hence have led to a delay in getting approvals for the deployment of Level 3 cars on road. One such example is Level 2.5 introduced by some of the automakers which is undefined as per SAE standards and leading to consumers being unclear on the actual features available for Level 2.5. The irregularity in regulations has led automakers to use deceptive marketing strategies. As of today, regulations are becoming mature and it is extremely difficult with more and more stringent rules for getting Level 3 cars on road.
Infrastructure
Driverless cars are not only dependent on technology fitted on the vehicle, but also on infrastructure with wide roadways, intelligent roadside units, and connectivity to the cloud allowing continuous updates of software on vehicles. Additionally, the maintenance and repair of infrastructure assets is an important aspect of this ecosystem that can be achieved by public-private partnerships.
Hence, to facilitate this redundant communication, cooperative networking and standardization of regulations for infrastructure are essential.
Technology
There are various technological barriers to the adoption of autonomous vehicles. Below are some of the factors: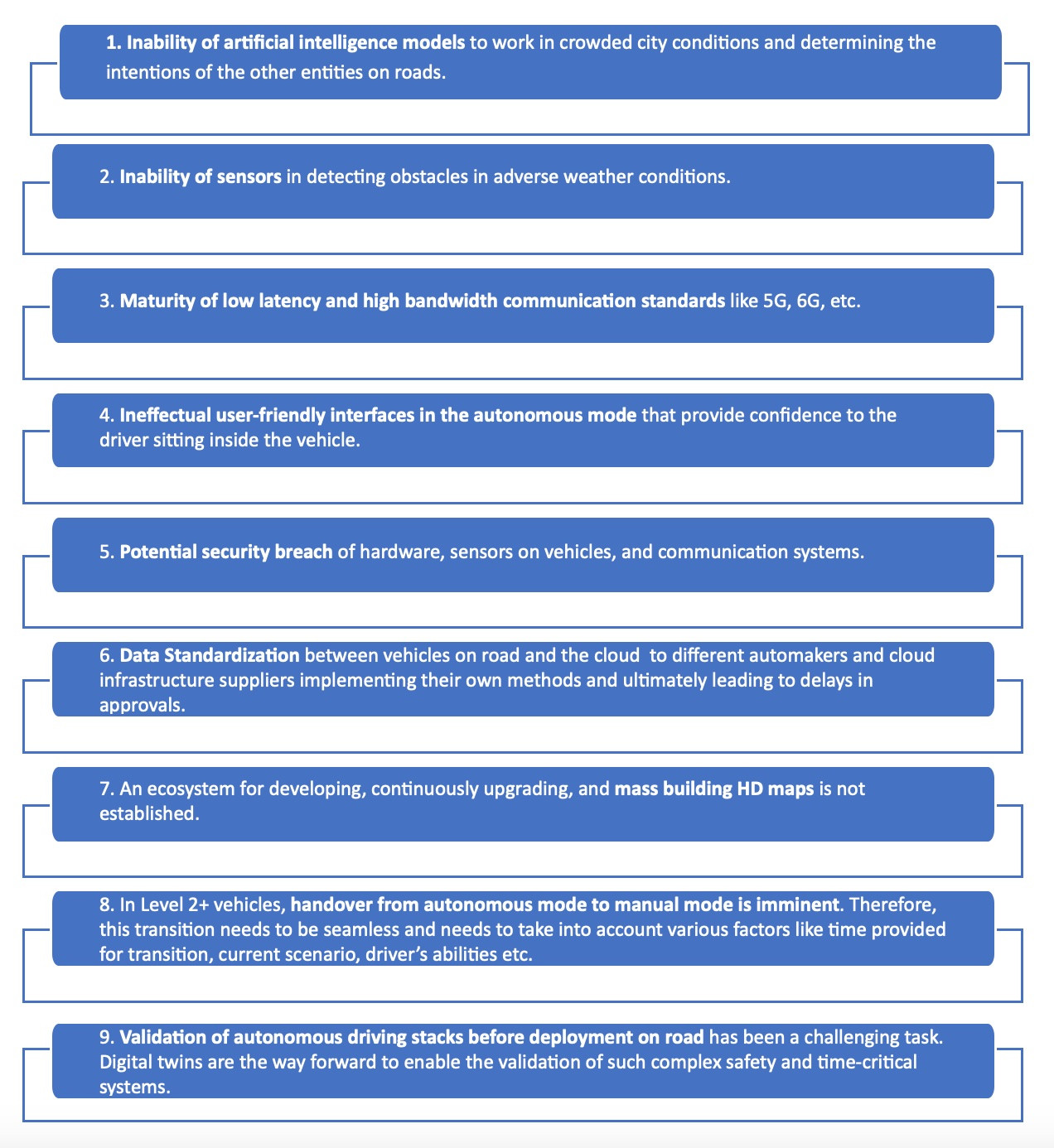 Continuous innovations and technological improvements will help in overcoming the above challenges and ensuring a zero-accident future giving confidence to the drivers.
Liability
Studies mention in conventional cars, human driver error accounts for over 90% of all car accidents. Hence, in the United States, the liability for a car accident is on the human driver since it is the driver's action that led to the accident. Therefore, in this case, claims against the automakers for the sale of a defective product are possible, but in reality, these are rare. The scenario is very different in the case of accidents caused by autonomous cars, which is dependent on the level of autonomy in other words the level of human intervention during the accident. Some of the entities who can be liable could be – the automaker, software supplier, driver, car's occupants, insurance company, etc. In short, as liability laws are yet to be defined consumers are concerned about safety and security.
Consumer confidence
Studies indicate that even though consumers are excited about the various advancements in autonomous technology, they are not confident and do not trust the technology. Recent crashes in some of the Level 2 cars on the road have added fuel to this perception. Furthermore, the deployment of autonomous cars in countries where shared mobility is the major source of employment will lead to a reduction in jobs for drivers. Also, there is a major section of motorists who still prefer driving their vehicles for enjoyment.
All the above factors which are more consumer-driven may lead to resistance and unacceptance of these autonomous cars.
Adoption of autonomous technologies in adjacencies
As per market data, Level 4 autonomous vehicles will emerge in the market by 2024 or 2025. This is far from reality.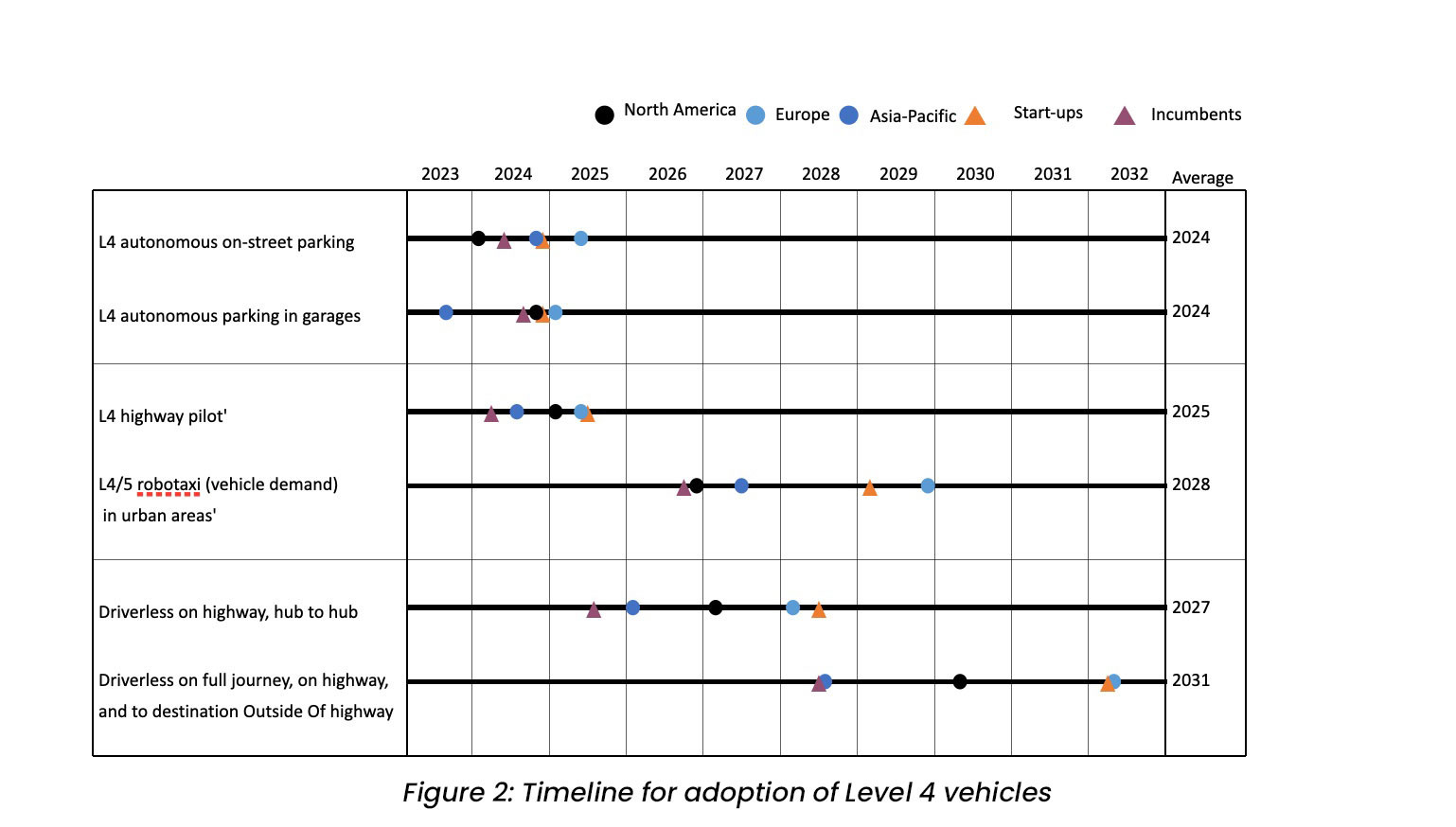 Autonomous cars will be first seen in controlled environments such as city centers, and parking lots to provide a shared mobility experience. The trucking industry is also expected to be one of the early cases of autonomous technology adoption. Yard, drayage, and shunt trucks are some examples where these trucks can autonomously drive or park.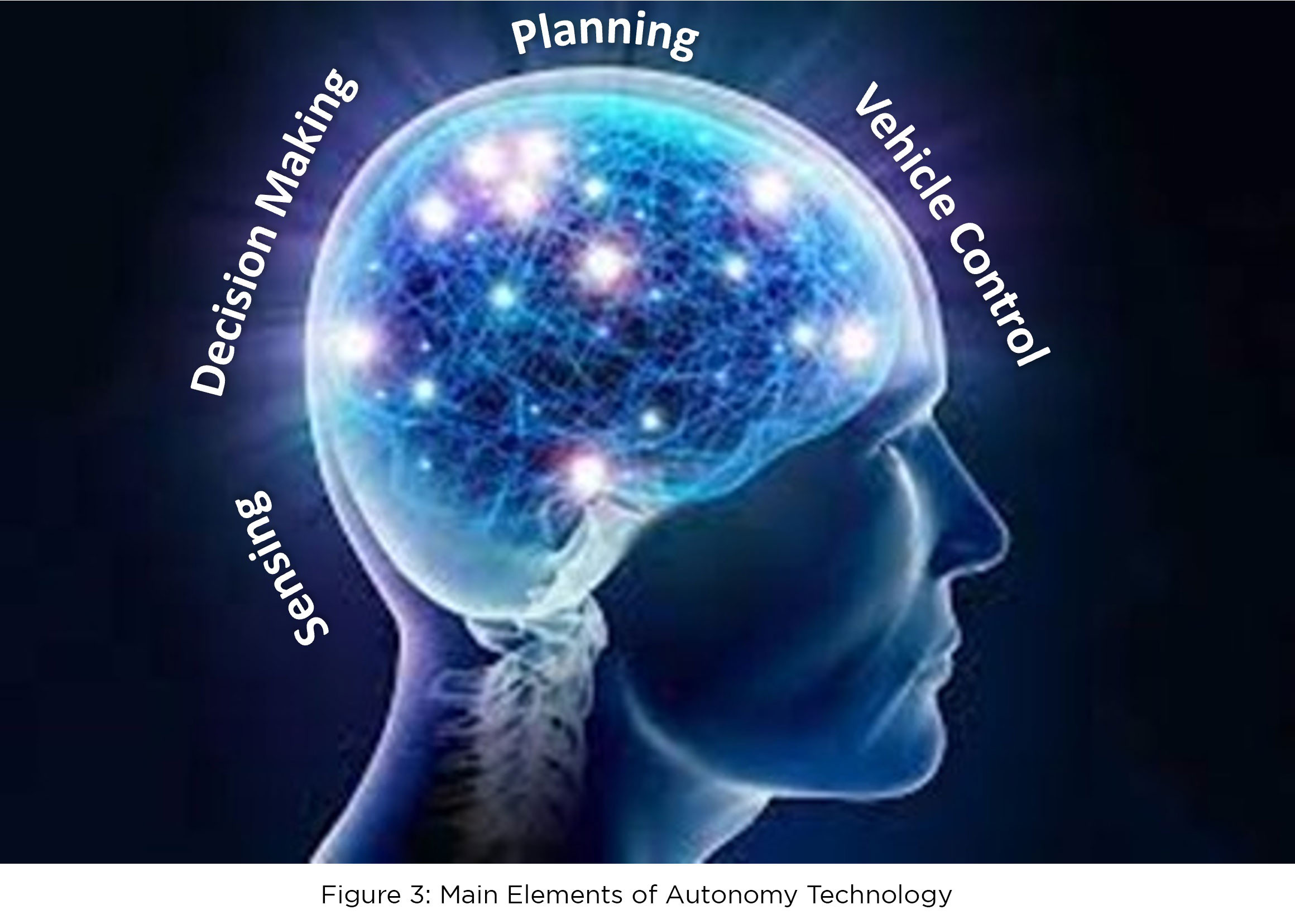 Way Forward
Autonomous technology architecture is driven by four main elements – sensing, decision-making, planning, and vehicle control.
The silver lining in the cloud is that this technology is aligned to be adopted by other adjacencies much sooner.
Agriculture
Below is a depiction of how autonomy has evolved in the agriculture sector.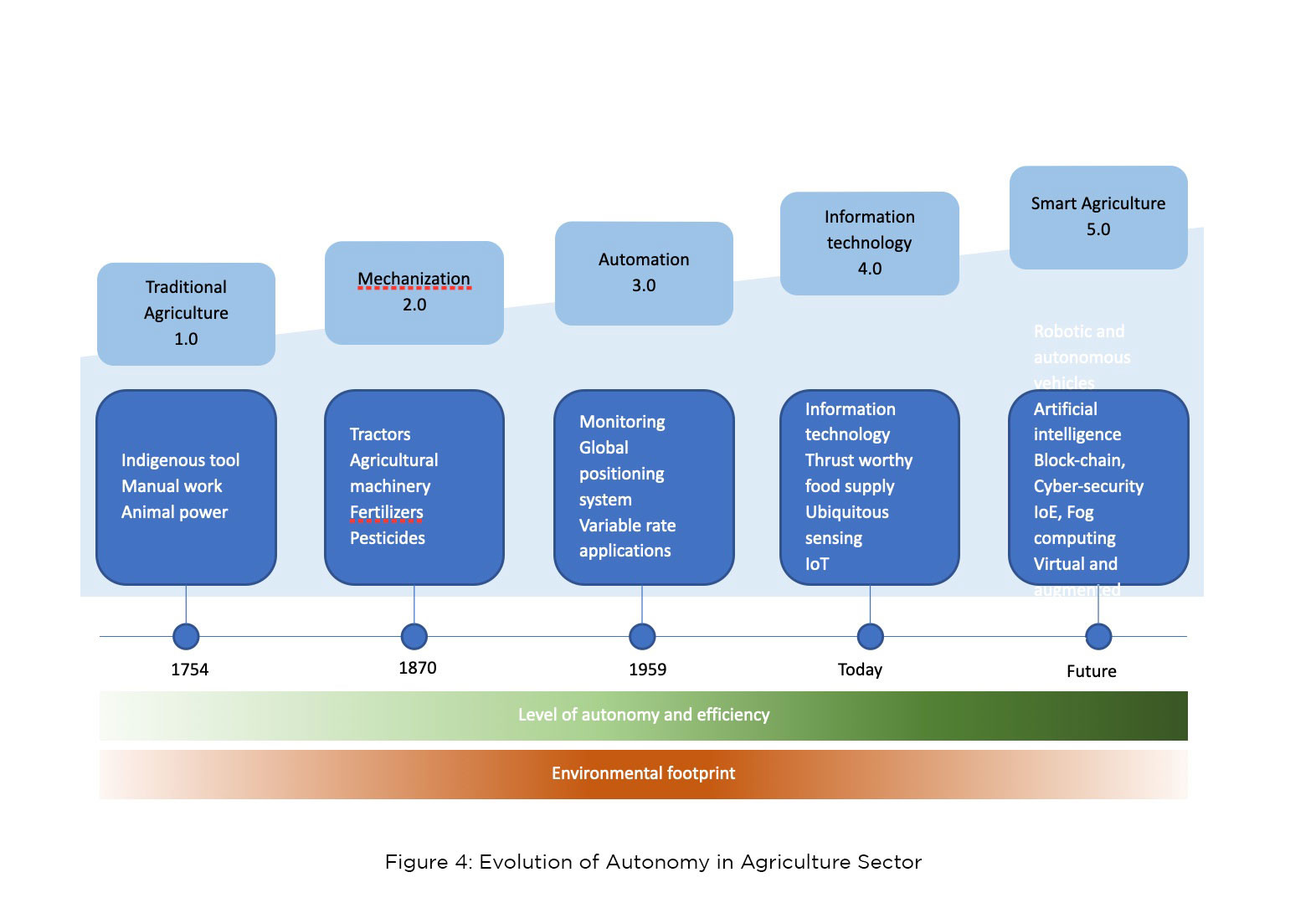 Robotic and autonomous vehicles are seeing a surge and are deemed to be the future of the agriculture industry. Automation in the agriculture sector can fall into below categories:
Driver Assistance: Reduce the complexity of field operations like crop detection, pest detection, etc. by providing assistance to improve efficiency.
Autonomy: Autonomous for some of the complex operations like obstacle avoidance, row turning, etc.
Supervised autonomy: Remote operation of farm vehicles
Rail
The rail industry has been prone to operational and safety issues due to guesswork and human error. The need of the hour is to equip the train with smart sensors, enhanced perception software, and a connected ecosystem. All these elements will aid to inspect and surveil tracks, siding tracks, and platforms. Autonomous trains will make it possible to carry more people, transport more goods, expand rail transport in rural areas, and develop topographic databases by collecting data on the surroundings. Rail-to-rail and rail-to-infrastructure communication will enable us to make quick decisions, adapt to real-time demand, and ultimately offer greater punctuality to passengers. Therefore, autonomy in the rail segment brings along an enriching passenger experience, reduced energy consumption, and a low carbon footprint mode of mobility. Below are some of the levels of automation for the rail industry corresponding to the automotive SAE J3016 classification.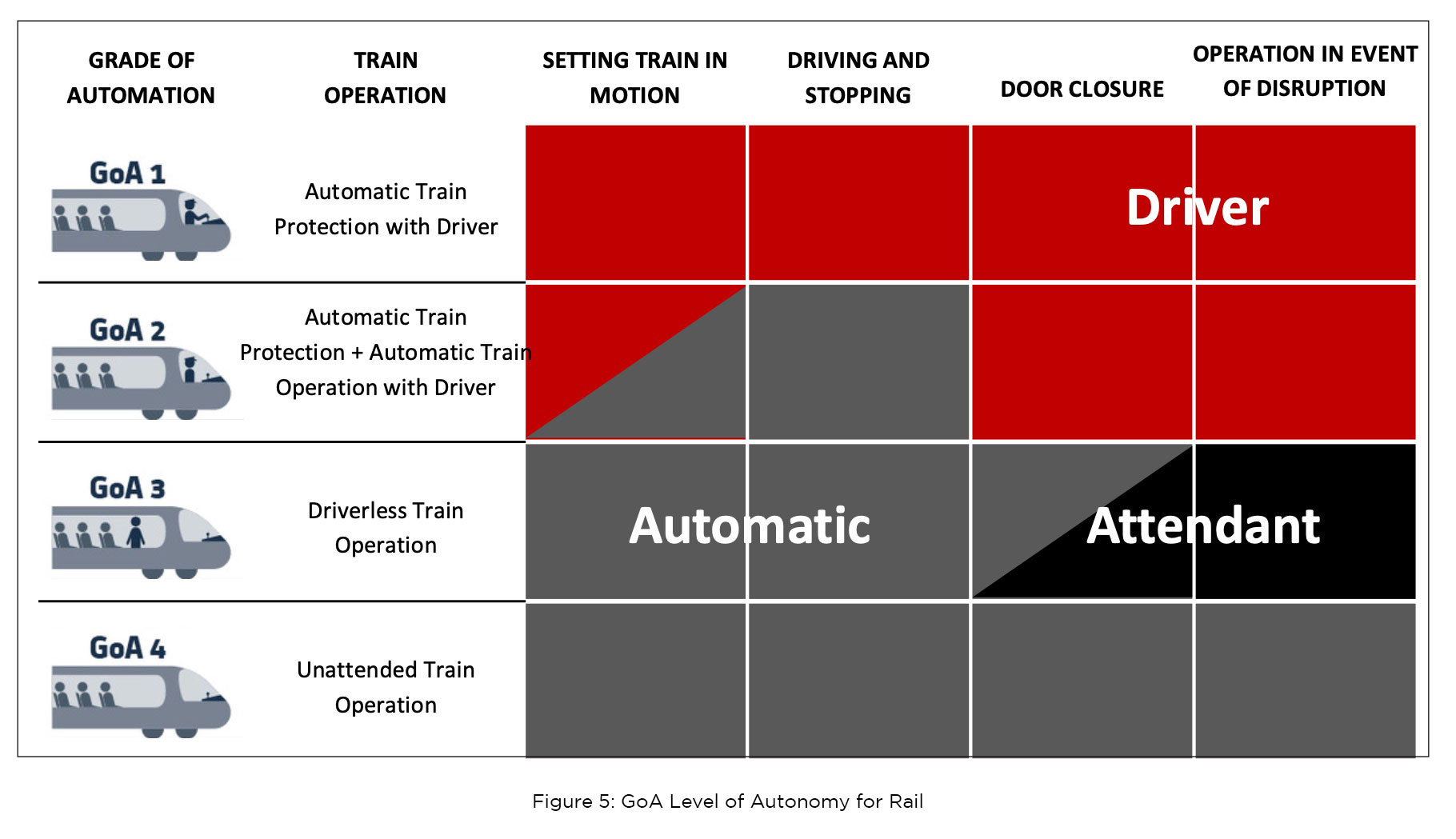 Marine
In the recent past, autonomous ships are making waves across the transportation industry.
As per market data, human error and operational costs contribute to 75-90% of accidents and approximately 42% of a ship's operating cost respectively in the marine industry.
Autonomous ships are expected to improve safety by minimizing human intervention, reduce operational costs by optimizing crew on board and increase carrying capacity by freeing ships from crew accommodations. As seen in other transportation industries regulations are far behind innovations. To prevent this, the marine industry regulatory body called International Maritime Organization (IMO) has taken a proactive step of formulating regulations beforehand. IMO has currently defined four degrees of autonomy:
Degree One: Crewed ship enabled with automated processes that can control the ship at all times
Degree Two: Remotely controlled ship with seafarers on board who can take control of the ship at any time
Degree Three: Remotely controlled ship without any seafarers on board
Degree Four: Fully autonomous ship
Autonomous ships have the potential of transforming the marine industry and ecosystem. Since the marine industry is in the early stages of autonomy adoption, it could learn from other industries and overcome practical, legal, and economic challenges.
As correctly quoted, "Innovation is to imagine the future and fill in the gaps".
Mass deployment and adoption of autonomous cars may be slow but autonomous technology has opened multiple avenues in other transportation industries where autonomy innovations can be effectively applied and reused.
Authors:
Jyotsana Singh, Senior Technical Architect, Tata Elxsi
Jyotsana is responsible for leading key projects and acting as SME for multiple projects. She is responsible for mentoring and upscaling engineers to such futuristic projects by conducting training programs. Additionally, she is also responsible for determining the future direction of the automotive industry and developing technology plans to customize or introduce new solution accelerators in autonomous mobility.
Sunitha Misra, Senior Technical Manager, Tata Elxsi
Sunitha is in the AD/ADAS domain, responsible for anchoring end-customer programs and also spearheading icebreaker technical discussions with new potential customers. She is responsible for handling members of a large ADAS and AD team at Tata Elxsi. Mentoring, up-skilling at the same time managing the aspirations of engineers by careful planning, assignment, and execution of training programs and projects is her forte. In addition to this, she is also part of core technical teams within the organization that keeps a check on the latest advancements in the automotive industry and also charters technology roadmaps of the organization aligned to these new trends in ADAS and autonomous driving space.
Gopinath Selvaraj, Senior Technical Architect, Tata Elxsi
Dr. Gopinath Selvaraj holds an M.Tech (2002) and Ph.D. (2007) in the field of Control Engineering, Robotics & Automation from IIT Delhi. Presently he is working in Autonomous Driving & ADAS Practice at Tata Elxsi, Bangalore as a Senior Technical Architect and is instrumental in developing and testing Software solutions for Autonomous Driving and Advanced Driver Assistance Systems (ADAS). He has published 25+ papers in international journals/conferences and he is an inventor with 4 patents. His research interests include autonomous driving, robotics, machine learning, intelligent automotive controls, and optimization. As a senior member of IEEE, he acts as an ExeCom member of the IEEE-Control System Society (Bangalore chapter) and an active reviewer of reputed international journals.