RDK Powering Customer Premises Equipment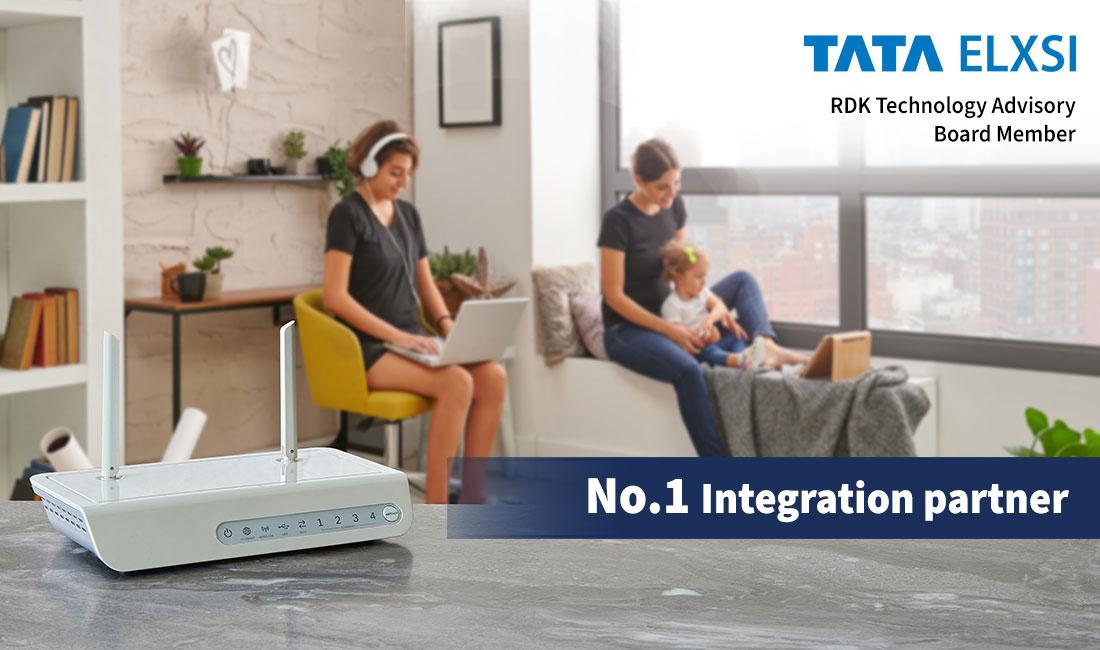 RDK started as a middleware for Set Top Boxes and later evolved to support home routers. TVs and Surveillance Cameras are the latest addition to the RDK portfolio
By Pret Joseph
RDK (Reference Design Kit) is a fully modular, portable, and customizable open-source software solution that standardizes core functions used in video, broadband, and IoT devices. It started as a middleware for Set Top Boxes and later evolved to support home routers. TVs and Surveillance Cameras are the latest addition to the RDK portfolio. The main USP of RDK is that it's driven by the operator community and is supported by ecosystem partners like Chipset, CPE Manufactures and System Integrators. RDK offers a ready foundation for operators with a:
Tried and tested stack
Accelerator platform to improve time to market
A set of test suites to qualify the device
Data for improving customer experience and business results
Today RDK community has expanded to more than 600 technology companies with continued adoption across Europe, North America, LATAM and Asia. Recently RDK device deployments crossed 100M testifying to the global adoption and support it provides to operators. Due to its participative nature, RDK has scaled in its features, efficiencies and has a clear roadmap to align with the requirements of the operator community.
Evolution of RDK and its importance
Traditionally, gateway requirements of operators used to be driven by a set of OEMs. The roadmap used to be determined based on a common set of priorities. Roll out of custom features and fixes used to be a major challenge for the operators. RDK helped operators overcome these challenges by gaining more control over the software in the gateways. In case of RDK, OEMs provide the base RDK platform, and the operator can add customisations on top of this platform. The base platform is standardised across the OEMs, and this enables operators to port their customised RDK stack to any of the compatible platforms. This approach enables operators to have a unified code which can be deployed across multiple OEM's platforms, countries, or WAN interfaces. It helps in developing a feature once and deploying it anywhere, as well as fixing a defect once and deploying it across OEMs, regions or across different access technologies. With the evolution
Today RDK community has expanded to more than 600 technology companies with continued adoption across Europe, North America, LATAM and Asia.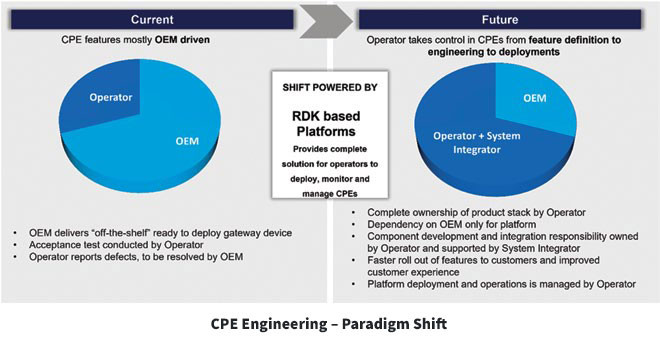 of RDK, operators now have the agility to defect fixes, feature rollout, and has empowered them to:
control their ecosystem
innovate to meet their product vision
deploy at own pace
control customer data and applications
improve customer experiences
reduce engineering costs
Evolution of RDK as a whole home platform
RDK stack has been in the Set Top Boxes for a decade and the latest additions to this is the RDK TV profile (which can be ported in TV itself) and the RDK based surveillance cameras which have made their presence in the market. Operators today are working with OEMs to promote RDK stack in TVs directly. Sky Glass is a recent example for this, and the other major operators are following suit. RDK broadband was launched with the cable (DOCSIS) interface and has evolved to support DSL, Fiber, and the LTE interface today. The RDK broadband has also evolved to keep pace with the evolution of Wi- Fi to provide a seamless whole home Wi-Fi experience. Today RDK support various Mesh standards and the latest Wi-Fi standards.
Surveillance and IoT is going to be the next big thing for operators. RDK is supporting surveillance through RDK C flavor and is already deployed with some of the operators. IoT support started integrating to the RDK stack in 2021, and in 2022 will see Matter 1.0 support getting added to the stack. The beauty of RDK is that if there is a specific IoT stack, then the operator will be able to integrate it and not wait for the community to release it. With Wi-Fi evolution, RDK has been adapting all standards of Wi-Fi from 2 to the latest Wi-Fi 7, hence the basic priorities are met. Thus, RDK ecosystem is geared up for meeting the latest surveillance and IoT needs of operators. Be it features or functionalities, RDK is aligned to the technology trends and operators needs in its specific area.
Data, Logging and Telemetry in RDK
Data is a key differentiator for RDK. RDK supports a whole lot of data models for every functionality. The logging provided by RDK stack is also extensive. The telemetry function of RDK leverages the data models and the logs for vital information on the state functionality and issue related to the CPE device. This data can be uploaded to solutions like the Tata Elxsi iCX to provide intelligent monitoring of millions of devices deployed to the field as well as provide proactive issue resolution.
Surveillance and IoT is going to be the next big thing for operators. RDK is supporting surveillance through RDK C flavor and is already deployed with some of the operators.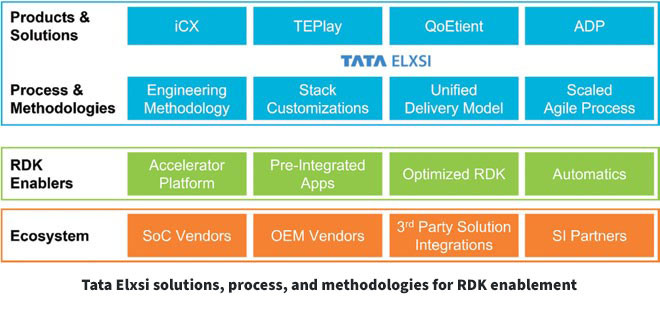 Tata Elxsi and our contribution to the RDK community
Tata Elxsi an RTAB (RDK Technology Advisory Board) member has been actively involved in the RDK community since its inception in 2012, collaborating with key operators and OEM partners to provide end to end services ranging from consulting (to ascertain the requirements like mapping, timelines and budgets) to RDK System integration, from Deployment Support to Post Deployment. Tata Elxsi has been the partner for leading MSOs for their Commercial RDK deployments across European and American markets. We also have started engagements in APAC region. Our experience helps customers undertake risk free RDK deployments. We have developed customised processes for RDK deployment. Our Engineering Methodology helps in a phased product development, Risk Handling, and better Planning to meet Budgets and Timelines.
Tata Elxsi has invested in RDK and has developed a set of solutions, accelerators, and processes to extract maximum value from RDK deployments. The Unified Platform Engineering process help operators to manage Multi-Platform, Multi Country deployments through Common Codebase, Test & Maintenance Strategy. Tata Elxsi brings its solutions and accelerators for helping operators in RDK deployments. We have products like iCX (Intelligent Customer Experience) Management Platform which collects data from millions of field deployed devices and provides an enhanced customer experience based on this data. iCX also helps operators with faster issues resolution, reducing call center interactions and truck rolls thereby reducing the OPEX. We are offering our service delivery platform to deploy third party services on home gateways. This in turn improves the functionality of the gateway and helps operators differentiate and monetize its offerings.
On the security aspect, Tata Elxsi's Automated Security Testing Framework (STAF) is efficient in identifying and mitigating risks associated with RDK devices. STAF allows users to integrate it with their own infrastructure. It can also be deployed in a cloud environment to ensure availability and reliability. STAF is a security focused framework that can be integrated into an existing CI/CD pipeline. This allows an organization to eliminate security risks right from the early stages of development and brings in a cultural shift towards a secure environment. The framework constantly evolves along with the trends of cyber-attacks and has proven to be reliable.
Pret Joseph is the Practice Head, RDK at Tata Elxsi