Attention
This website is best viewed in portrait mode.
Renesas Expands Focus on India with New NB-IoT Solution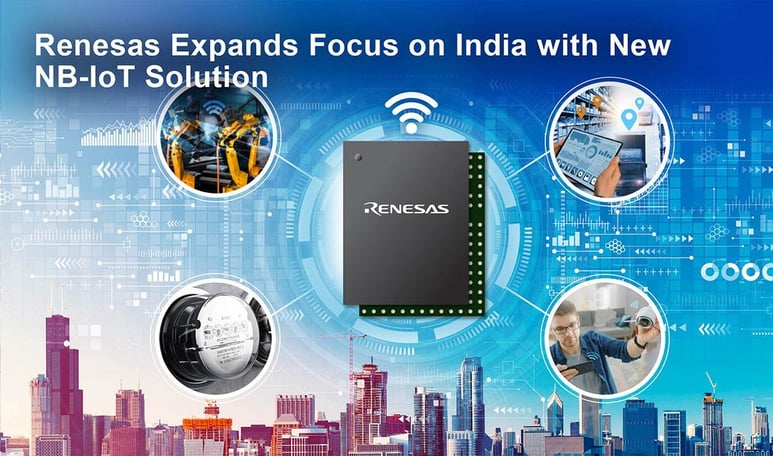 Low-Power, Secure Chipset is Ideal for Huge Indian Smart Metering Market
TOKYO, Japan ― Renesas Electronics Corporation (TSE: 6723), a premier supplier of advanced semiconductor solutions, today introduced an NB-IoT (Narrowband Internet of Things) chipset specifically for the Indian market. The new RH1NS200 is an LTE NB-IoT modem chipset that is designed to operate seamlessly on the networks of all major Indian telecommunications carriers. It is an ideal solution to serve the Indian smart metering market, which some estimates put at roughly 250 million units1 over the next five years. Customers can use it to build complete NB-IoT modules to satisfy "Make in India" requirements. The new chipset also can be used in asset tracking, lighting, security and numerous other applications.
The RH1NS200 chipset offers extremely low power consumption of only 1uA in deep sleep mode, significantly extending battery life. It also provides an integrated EAL5+ (Evaluation Assurance Level) Secure Element (SE) that provides zero compromise on security to ensure the safety of end applications, particularly power and water metering systems. The RH1NS200 is part of Renesas' next-generation family of NB-IoT solutions.
Increased Focus on the Indian Market
Renesas has recently increased focus on the Indian market with several new initiatives. In March of 2022, Renesas established its Next Generation EV Innovation Center (NEVIC) with Tata Elxsi, a global leader in design and technology services. In June 2022 Renesas announced a strategic partnership with Tata Motors Ltd. (TML) and Tejas Networks Ltd. (Tejas), both Tata Group companies, on the design, development and manufacturing of Renesas' semiconductor solutions for enhancing innovation across electronics systems for the Indian and emerging markets. Then in March of this year, Renesas and Tata Consultancy Services (TCS) announced the opening of a joint Innovation Center in Bengaluru and Hyderabad to collaborate on radio frequency, digital and mixed-signal design, and software development for innovative next generation semiconductor solutions. Renesas is currently working with Tata Elxsi to implement NB-IoT-based solutions that operate on the networks of major telecom carriers in India.
"Renesas recognizes India's enormous potential in terms of both market size and design talent, and we are committed to taking part in future growth driven by the Digital India Act," said Sailesh Chittipeddi, Executive Vice President & General Manager, IoT and Infrastructure Business Unit, Renesas. "This leading-edge NB-IoT solution is a prime example of tailoring our design and manufacturing strengths to meet the unique needs of this market."
"We are pleased to have partnered with Renesas to design and develop NB-IoT solutions and reference designs targeting smart applications ranging from water and energy meters to asset tracking. Our collaboration and trials in live 4G and 5G networks in India ensure that our offerings are not only technologically advanced but also market ready. Our expert technology team, as well as our extensive integration, customization, and productization services are fully aligned with Renesas to provide customers with the support they need to easily adopt and scale NB-IoT applications, helping drive the next generation of intelligent infrastructure and services," said Manoj Raghavan, CEO and Managing Director of Tata Elxsi.
Key Features of the RH1NS200 LTE NB-IoT chipset
Targets bands 1,3, 5 and 8 for India
Low PSM (Power Saving Mode) of 1µA in deep sleep with longer eDRX cycles
Support for transmit power (Tx) of up to 23dBm for all bands reduces transmission retries
Field proven and Carrier approved LTE protocol stack and software suite
Wide operating supply voltage range of 2.2V to 5.5V
Renesas is offering the RH1NB200-EVK, a full development kit with integrated multi-band antenna and access to all module I/O ports. In addition, a software development kit (SDK) is available that can control the LTE modem, platform I/Os, and customize AT commands.
RH1NS200 Winning Combinations
Renesas will combine the new RH1NS200 chipset with compatible devices from its portfolio to offer Winning Combinations for various applications. These Winning Combinations are technically vetted system architectures from mutually compatible devices that work together seamlessly to bring an optimized, low-risk design for faster time to market. Renesas offers more than 300 Winning Combinations with a wide range of products from the Renesas portfolio to enable customers to speed up the design process and bring their products to market more quickly. They can be found at renesas.com/win.
Availability
The RH1NS200 chipset and RH1NB200-EVK are available today in India only. Renesas will also offer the Indian market the new RH1NB200 LTE NB-IOT Module that includes a complete RF front end for quick time-to-market. Customers can get more information by contacting the Renesas Indian sales team at offices in Bengaluru, Mumbai, New Delhi or Pune.
About Renesas Electronics Corporation
Renesas Electronics Corporation (TSE: 6723) empowers a safer, smarter and more sustainable future where technology helps make our lives easier. A leading global provider of microcontrollers, Renesas combines our expertise in embedded processing, analog, power and connectivity to deliver complete semiconductor solutions. These Winning Combinations accelerate time to market for automotive, industrial, infrastructure and IoT applications, enabling billions of connected, intelligent devices that enhance the way people work and live. Learn more at renesas.com. Follow us on LinkedIn, Facebook, Twitter, YouTube, and Instagram.
As specified in the Indian Government's Smart Meter National Programme (SMNP)