Attention
This website is best viewed in portrait mode.
Smart Cities and IoT: A New Societal Order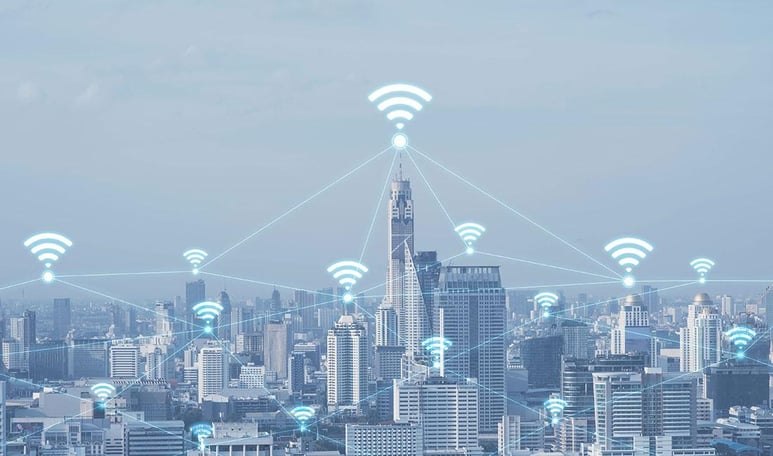 Contributors: • Suraj Nair, Director- Technology, Leader of Center of Excellence (CoE)- IoT and Telematics, Quest Global • Donna Moore, CEO and Chairwoman of the LoRa Alliance • Manish Kothari, SVP of Software Development and Head of India Center, Silicon Labs • Sudhama Dharmappa, Assistant FAM, KYOCERA AVX Components Division, ECB Segment • Nick Talbot - Global Design and Innovation Head, Tata Elxsi • Dr. Rishi Mohan Bhatnagar, President, Aeris Communications • Bhaskar Ganguli, Director, Sales and Marketing, Mass Software Solutions • Jaganathan Chelliah, Senior Director, Marketing, India Middle East and TIA, Western Digital • Seema Joshi, Sr. Manager Projects, Electropneumatics & Hydraulics India Pvt. Ltd. • Milind Khangan, Marketing Manager, Polaris Market Research • Madhukar Tripathi, Associate Director- Optical Business & Marketing at Anritsu India Pvt Ltd
Technology and Data are the foundation of the Smart Cities. They aim to bring an improved and more efficient way of living for citizens through optimal usage of resources. Modern technology platform powers Smart Cities. These platforms use information and communication technologies to address growing urbanization and sustainability challenges. Moreover, the ability to source data from multiple sources to derive information and knowledge is central to smart cities. Further, data thus gathered enables policymakers and stakeholders to reduce cost, optimize service operations and improve delivery. Overall, it helps improve the life of city's residents.
Given the true scenario of Smart Cities currently IoT has become evident. Further, the collective enabling ability of real-time fetching data, optimising, analysing and processing is making IoT a valuable potent.
With modern heritance of societies with technology, IoT technology is confidently changing civic bodies around and further nurturing smart cities. Applications of IoT solutions in Smart Cities today roves around monitor traffic patterns, predict and manage air quality, control street lighting, manage waste and water resources, and monitor the health of citizens.
IoT solutions helps in data can be collected from remote locations. These including smart meters, flowmeters, level indicators, gas sensors, speed indicators, and surveillance cameras etc. cited Suraj Nair, Director- Technology, Leader of Center of Excellence (CoE)- IoT and Telematics, Quest Global, "Citizens also contribute to data by publishing information on potholes, feedback ratings for services received, etc., via apps on their smartphones, social media conversations, and digital interfaces like public kiosks or support services."
Data and Network:
Since the data gives cities massive opportunities to bring tremendous benefits to business, citizens and the environment, underlined Donna Moore, CEO and Chairwoman of the LoRa Alliance, "As the leading low power wide area networking (LPWAN) technology, LoRaWAN is ideal for Smart Cities because it is cost-effective, easy to deploy, and easy to scale as new requirements emerge. As use cases are added the city continues to benefit and ROI grows."
Smart Cities need flexible wireless standards to deploy IoT applications securely and at scale, which inturn will modernize the grid infrastructure and enable innovation across industries said Manish Kothari, SVP of Software Development and Head of India Center, Silicon Labs, "Wi-SUN smart city technology is a significant step forward in helping intelligent city grids as its Smart Ubiquitous Networks to service providers, utilities, municipalities/local government, and other enterprises, by enabling interoperable, multi-service, and secure wireless mesh networks, covering both line-powered and battery-powered nodes."
How IoT helps improve Smart Cities:
IoT (Internet of Things) can help improve and build smart cities in several ways. IoT sensors and devices can be used to monitor and manage critical infrastructure and utilities. Another aspect of smart cities is that public safety is ensured by deploying smart videos backing them with artificial intelligence (AI) algorithms and deep learning (DL).
Further, Sudhama Dharmappa, Assistant FAM, KYOCERA AVX Components Division, ECB Segment has summaries in the table below some of the objectives that smart cities aim to tackle and how IoT can be applied in the real world to achieve them.
| | |
| --- | --- |
| Smart City Objectives | Real-World Use Cases of IoT |
| Efficient management of city lighting systems | Smart streetlighting adapts its intensity to match the conditions of the day (e.g., morning or evening) as well as sudden changes in weather conditions. |
| Improving traffic flow | Automated traffic management systems redirect traffic to manage congestion, inform authorities of accidents, and capture the license plates of offenders. |
| Better road safety and public transport | IoT devices are critical elements of autonomous vehicles and automated public transport. |
| Better allocation of city utilities | Smart utility meters (e.g., water, gas, and electricity) automatically send consumption data to the relevant service providers. |
| Reduced resource consumption and environmental conservation | Optimizing resource use with smart meters and automating processes leads to smaller carbon footprints and better environmental conditions. |
| Centralized monitoring of city operations | Integrated command and control centres (ICCCs) are the brains of the smart cities, where all inputs are processed and analysed. |
| Aggregating data about various aspects of city functions | Data generated by various IoT sensors, devices, and cameras can be combined for use in new applications. It can also be made available to the public to enable further innovation. |
| Waste collection and disposal | Smart garbage bins can alert authorities about fill levels to help optimize garbage collection routes. |
| General increase in standard of living | Informed and digitally literate citizens can use e-governance services for all their need, instead of relying on government officials. |

Innovative use of IoT:
Smart Energy, traffic, and water management are well-established use cases and are in different stages of their deployment in the various smart cities around India and the world.
Citing the example of the New York City Housing Authority, Nick Talbot – Global Design and Innovation Head, Tata Elxsi, says, "The New York City Housing Authority (NYCHA) has 'MyNYCHA' app where the residents can create, schedule, and manage work tickets via a desktop or mobile device. They can also use it to subscribe to alerts for outages in the development, view inspection appointments, check closed work tickets, and pay their rent. The New York City Department also has an initiative called 'Mid-town in Motion' – a congestion management system that aims to improve traffic conditions in Midtown by enabling city traffic engineers to identify and respond to traffic conditions in real-time. This initiative has been said to have improved travel times by 10 %."
"Amsterdam has also been one of the early adopters of the smart city concept in Europe. They have an intuitive platform called 'Smart Flow' – an IoT cloud-based platform that manages and monitors sensors across Amsterdam to report traffic flow and parking availabilities," he further adds.
Smart Cities core issues and solutions:
While IoT offers numerous benefits to smart cities, it also brings several core issues. Moreover, these challenges need to be addressed at the earliest.
Dr. Rishi Mohan Bhatnagar, President, Aeris Communications says, "One of the main challenges is the security and privacy of data acquired by IoT devices. Data breaches and unauthorised access are possible as a result of the growing collection and sharing of sensitive and personal information. Government and companies have to adopt strong data security measures, such as security at the design level, encryptions and secure storage to address this and guarantee that data is kept safe and secure."
Manish says, "Smart cities need to ensure that their IoT infrastructure is secure to prevent data breaches and other security risks. Mesh networks like Wi-SUN with multiple connections provide stronger protection and reliability. During a cyber-attack or a hurricane, if one node is down or compromised, the connection remains unaffected due its to mesh network. Wi-SUN's Zero Trust architecture requires continuous authentication that assures data security and privacy."
IoT sensors need fast connectivity to transfer a large amount of data that they collect. Most experts think connectivity and networking are one of the prominent challenges that smart cities face.
Bhaskar Ganguli, Director, Sales and Marketing, Mass Software Solutions, emphasizes, "The success of IoT in smart cities is highly dependent on connectivity, and India's urban areas often face connectivity issues due to poor network infrastructure and bandwidth limitations. This can hinder the deployment and functioning of IoT devices and sensors."
Further, smart cities face several core issues that dictate which networking technology is best-suited and will offer the best outcome and ROI. Donna says, "cities are primarily constructed of metal and concrete, and any networking technology must be able to transmit effectively in these conditions. This is one of the reasons LoRaWAN is the best LPWAN for smart cities, as it is designed to penetrate through steel and concrete, allowing cities to collect data from virtually anywhere. Additionally, a single LoRaWAN gateway can support tens of thousands of sensors. This is important because cities are dense and require networking technologies that can be easily expanded with minimal hardware."
"Cities also must evaluate current infrastructure and its future viability. For example, most major cities are already networked for cellular and wi-fi. However, each technology has different challenges in terms of reach, battery life and cost that could render a smart city project ineffective or too expensive to achieve its goals," she adds further.
Interoperability:
Highlighting the interoperability problem between different connectivity technology Sudhama says, "Currently, most of the world's operations run on a 4G LTE network. But smart cities will have billions of connected devices with gargantuan volumes of data being transmitted in real time. Further, that transmission is possible with a 5G network, but creating a reliable and error-proof 5G network currently means installing cell towers every 200 meters, which would be a long and tedious process."
Further, the digital divide is something that cannot be ignored in developing countries like India. Suraj says, "With demographic variations in urban residents, there would be varying degrees of readiness towards the adoption of digital technology relevant to services offered by smart city solutions. Access to technology should be distributed equitably across various form factor devices with relevant training to enable all citizens to leverage smart city services."
Jaganathan Chelliah, Senior Director, Marketing, India Middle East and TIA, Western Digital extended concerns stating, "Another challenge that one may encounter is the sheer volume created by sensors, "This staggering amount of data impedes the ability to efficiently access, manipulate, and gain insights from the vast and diverse world of data collected."
"Hence, to address the varied challenges, adaptive solutions are required by governments and enterprises alike to handle everything from small-footprint storage for the application stack of the smart sensor to an Edge gateway server, which is also resistant to high temperatures and humidity. Western Digital offers a variety of storage solutions built to fit the evolving needs of the IoT market," he adds.
Further, Seema Joshi, Sr. Manager Projects, Electropneumatics & Hydraulics India Pvt. Ltd. has highlighted a few challenges in the following points:
The first problem with a smart city is power. We want to install millions of sensors that can retrieve useful, potentially life-saving data. Yet with our current energy paradigms, we cannot power 1 trillion devices, let alone a million in a single city.
Open-source code vulnerabilities: Firmware developed for IoT devices often includes open-source software, which is prone to bugs and vulnerabilities.
Policy and Support from the government:
The government of India started Smart Cities Mission in 2015 for urban renewal and retrofitting with the mission to develop smart cities across the country, making them citizen friendly and sustainable. Further, internet of things or IoT, a system of interrelated computing devices, enables the transfer of data over a network without requiring human-to-human or human-to-computer interaction.
Madhukar Tripathi, Associate Director- Optical Business & Marketing at Anritsu India Pvt Ltd says, "Centre for Development of Telematics (C DoT) is actively working on one M2M mission. CCSP is software developed by C DoT for enabling IoT/ M2M communication. oneM2M brings together all components in the IoT solution stack. It avoids reinvention in favor of reusing existing technology components and standards. oneM2M's architecture defines a common middleware technology in a horizontal layer between devices and communications networks and IoT applications. This standardizes links between connected devices, gateways, communications networks, and cloud infrastructure. It allows developers to mix and match components from different vendors."
Rishi says, "The Smart Cities Mission has accelerated the adoption of smart city solutions across India, including large volumes of sensor-based infrastructure, citizen-centric solutions, and big data generation. Local bodies are using IoT solutions in line with their smart city initiatives to enable their strategies and meet their communal challenges. The 'Digital India Program' with a vision of 'transforming India into a digitally empowered society and knowledge economy' has been launched with the aim to take India towards the era of digitalization and to ensure that all Government services are available to the citizens electronically. IoT will play a vital role in achieving this, hence representing a big opportunity for the IoT industry for it to grow and prosper."
Further, supporting the recent initiative of the government, Manish says, "The government's smart cities mission to create 100 smart cities and MEITY's private-public partnership to create Smart City Livin Lab are great examples of the kinds of policies and support that governments can provide to accelerate the adoption of IOT and make cities Smart."
Support Required:
Highlighting the initiatives that government can take to further promote the use of IoTs in smart cities, Milind Khangan, Marketing Manager, Polaris Market Research says, "Governments can provide funding for research and development, promote the adoption of IoT standards, and offer incentives for businesses and individuals to invest in IoT technology."
Nick says, "There should be a certain set of defined guidelines, standards and framework created by the government on how a city can layout its IoT infrastructure."
Further, Donna says, "Governments must insist on solutions based on open standards, which will allow all departments within a city to benefit from the infrastructure investment while having the flexibility to meet every department's specific requirement."
Meanwhile, data is important to make decisions and built solutions for modern problems. Suraj says, "Governments should make data available (anonymized and secure as necessary) as an open ecosystem as data will enable enterprises and entities to develop innovative solutions useful to government and citizens. For example, car makers are catering to an increasingly sustainability-conscious generation by enabling options for multi-modal routes as part of navigation. This is achieved by tapping into public information on bus schedules, the location of buses, the availability of micro-mobility transport options, etc."
Bhaskar has summarised a few policy suggestions in the following points:
Regulatory Framework: The government can establish a regulatory framework that promotes the use of IoT in smart cities. This can include policies and guidelines for data privacy and security, interoperability standards, and incentives for deploying IoT-based solutions.
Skill Development: The government can invest in skill development programs to train the workforce required to deploy and maintain IoT-based solutions in smart cities. This can include training in IoT architecture, data analytics, cybersecurity, and project management.
Citizen Engagement: The government can focus on citizen engagement by encouraging the participation of citizens in the design, implementation, and monitoring of IoT-based solutions. This can include mobile apps, social media, and other engagement platforms to enable citizens to report issues and provide feedback on the performance of IoT-based solutions.
Smart Cities are steps in the right direction considering the expanding population in the cities and the need to minimise the impact associated with the expanding cities. Moreover, integration of IoT in smart cities can generate data that has the potential to bring out solutions customised to the needs and challenges of a particular city and its population.
Further, the challenges associated with the network, privacy, standards and funding, etc. should be tackled at the earliest to help cities grow and flourish in a sustainable and technologically advanced way.