Attention
This website is best viewed in portrait mode.
Tata Elxsi has been confirmed as the title partner for 2023 UK and International Defender Rally Series by Bowler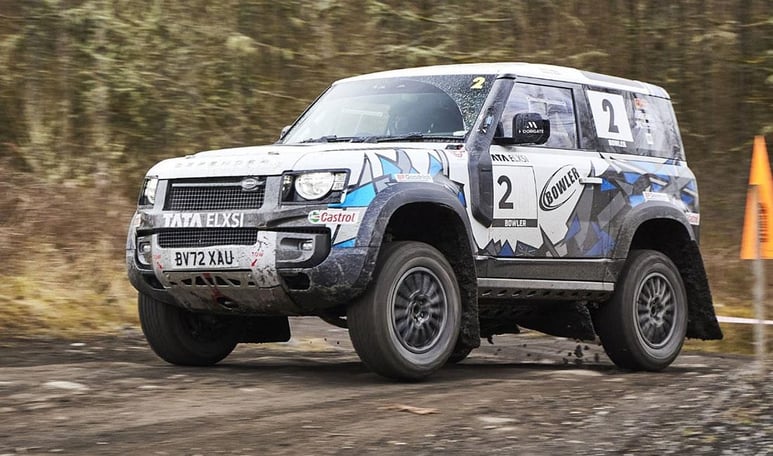 Tata Elxsi, one of the world's leading design and technology service providers, is today confirmed as Bowler's title partner for the 2023 Defender Rally Series. Tata Elxsi is a global specialist in design thinking and digital technology and views the rally series as a perfect demonstration of Extreme Engineering – where technology, engineering, and design come together to deliver class world-class pace and performance.
The 2023 Tata Elxsi Defender Rally Series by Bowler builds on a highly successful first year, taking competitors into 7 further UK rounds and 5 International Baja events at tracks in Spain, Iceland and France. Participants compete in identically prepared Defender rally cars, and the events challenge entrants with a range of rally terrains. The UK rounds prepare clients for high-endurance international events and more. From single-venue stage rallies to hill rallies, each team will work to master the disciplines and conditions to be in contention for the championship.
Bowler and Tata Elxsi Engineering team developed the Defender Rally car in just 2 years with further enhancements developed on the back of the 2022 championship, providing even further robustness and endurance for international events. This mindset of rapid testing, learning, and implementation of world-class technical solutions is a prime example of Tata Elxsi's work.
Chief Strategy Officer and CMO Tata Elxsi, Nitin Pai comments; "We are delighted to continue our association with Bowler Defender Rally for 2023. Bowler and Tata Elxsi share a common foundation of Extreme engineering, thriving in challenging environments, fostering high-performing teams, and utilizing next-gen technologies to revolutionize the automotive industry. Bowler is a world-class competition brand, and the rally series aligns perfectly with our brand's vision to provide cutting-edge technology and engineering solutions for the modern automotive industry."
Bowler General Manager Calum Mckechnie follows "We are incredibly excited to have Tata Elxsi remain with us as the title partner for the 2023 Defender Rally Series by Bowler. Continuing the relationship with Tata Elxsi exemplifies their belief in the product and remains a strong positive endorsement from a global technology leader. Our teams hold very similar values and constantly strive to find superior technical solutions to engineering challenges. It's going to be another exciting year for our partnership particularly as we move to compete in Europe and beyond."
The first rounds of the 2023 Tata Elxsi Defender Rally Series by Bowler commenced in March 2023 with the second UK round at Rally Nuts North Wales on 15th April and the second Baja round at Gatinais France on the 29th and 30th April – please visit bowlermotors.com for further details.