Attention
This website is best viewed in portrait mode.
In-Cabin Pollution Management for Tata Motors European R&D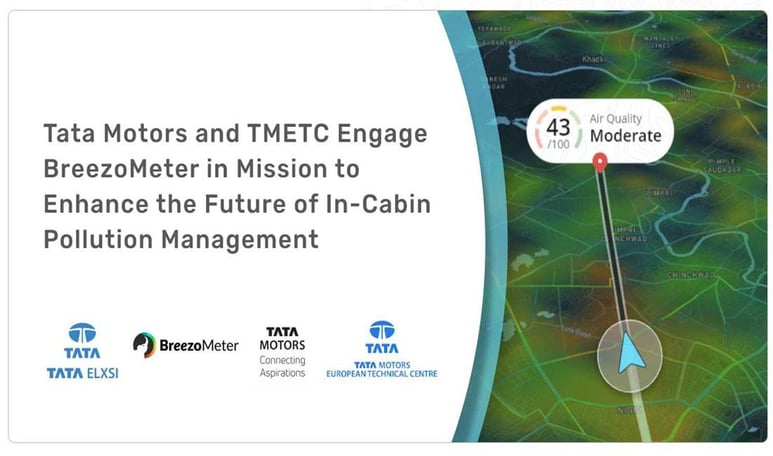 Three businesses within the Tata Group have entered into a partnership with air quality data specialists BreezoMeter, allowing drivers to make informed decisions about the places they visit.
Tata Motors, Tata Motors European Technical Centre (TMETC) and Tata Elxsi have joined forces with BreezoMeter, the first location-specific, real-time global air pollution, pollen and active fires data provider.
The move will further enhance the goal of both organisations within the industry and help to strengthen the future of in-cabin safety and management.
It will allow drivers to see real-time information about air quality in their vicinity on their car dashboards, allowing them to make better health decisions based on the air pollution levels and individual sensitivities.
Alerts will make the driver aware when they enter an area with poor air quality. It also offers an air quality map that highlights the best, and worst, parts of any city, helping them plan the most non-polluted route to keep them and their families protected.
It can also be used to automatically activate the windows, sunroof, A/C and filtration systems to keep the vehicle clear of pollutants.
BreezoMeter is accurate to five metres, it is updated hourly, has global coverage and provides a four-day forecast.
BreezoMeter's multi-layered data approach to environmental reporting and sophisticated machine learning was the ultimate fit for Tata Motors and TMETC.
Healthier driving experience with 360° Environmental Insights
Real time notifications for air quality index
"In line with Tata Motors and TMETC's objective to improve passenger safety and comfort, we are happy to collaborate with Tata Elxsi, who will help integrate Breezometer's SDK that will satisfy our system requirements," said Jon Clark, head of electrical and electronics at TMETC.
Studies reveal that average drivers spend around three years of their life on the road in a setting where both vehicle and passengers are regularly exposed to environmental hazards. A recent increase in awareness concerning personal health and car safety, during a time of heightened environmental challenges, requires smarter and safer cabins.
"This partnership with the three businesses within the Tata Group is a great opportunity for BreezoMeter to enhance the safety and comfort to an increasing number of passengers. We are looking forward to a continued relationship with the mobility giant as we move forward with a shared mission to improve in-cabin safety and management." Ran Korber, CEO, BreezoMeter
The Tata Group leads the market for tech-enabled innovative products to anticipate and provide the best vehicles and connected mobility solutions for their global customers. It is with this mission in mind that the company joined BreezoMeter.
Tata Motors is India's largest OEM, offering an extensive range of integrated, smart and e-mobility solutions.
TMETC, meanwhile, is a subsidiary of Tata Motors, launched in 2005 as a UK-based centre of excellence for automotive design and engineering.
TMETC provides research and development, principally for Tata Motors. Its team of engineering experts develops vehicle technologies to meet the needs of future generations in the world of autonomous, connected, electric, and shared mobility (ACES).
Tata Elxsi is a leading global design and technology services company.
ENDS
Issued by 8848 Communications Ltd. on behalf of Tata Motors European Technical Centre. For more information, contact Sue Foster or Sean Wozencroft on [email protected] / [email protected] or call 01902 907 520.
Notes to editor
Tata Motors European Technical Centre (TMETC) is a subsidiary of Tata Motors, created as a UK-based centre of excellence for automotive design and engineering, located at NAIC. TMETC provides research and development principally for Tata Motors but also for selected partners in the automotive industry.