Attention
This website is best viewed in portrait mode.
industries

Software Verification and Validation
Software Verification and Validation
Outcome-oriented | Cost-efficient| Quality Compliant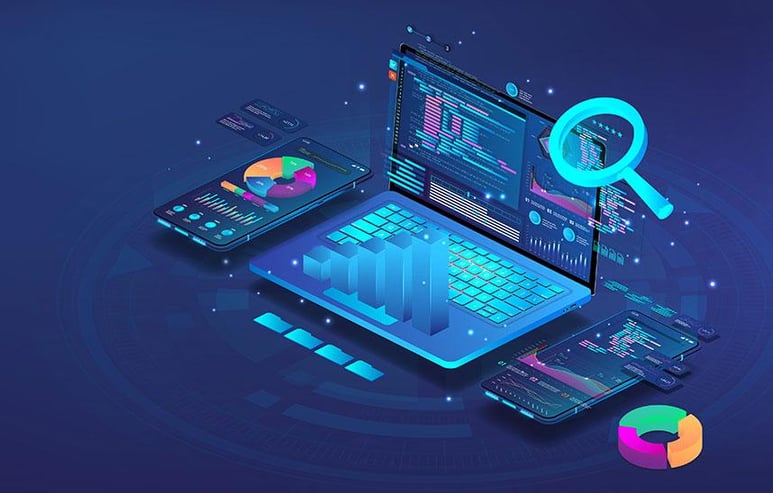 Software Verification and Validation
Outcome-oriented | Cost-efficient| Quality Compliant
Software V&V is a business challenge, not a technical challenge

Software is a critical component of any active medical device. No matter if the device is legacy or new, medical software V&V tends to be stringent and rigorous, leading to longer testing cycles. As product technology, ecosystem complexity, and the need to expand markets evolve, software v&v for medical devices is likely to become much more resource intensive.
Setting up a strong V&V team, processes, and practices that cover the whole product lifecycle takes time, capital, infrastructure, and specialized knowledge, which may hurt the manufacturer's bottom line. In addition to being tested for functionality, reliability, and usability, software must also meet strict regulatory requirements that change all the time.
It is paramount that a V&V practice delivers the confidence needed in the implementation plan and the certainty of seamlessly achieving milestones throughout the product lifecycle.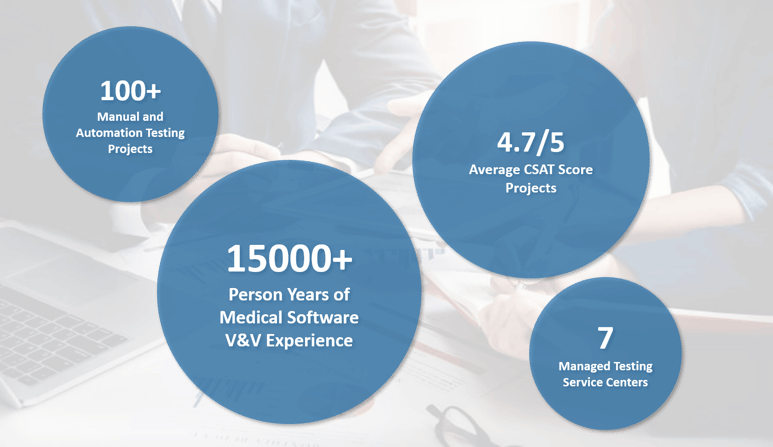 Why Tata Elxsi for medical device software V&V?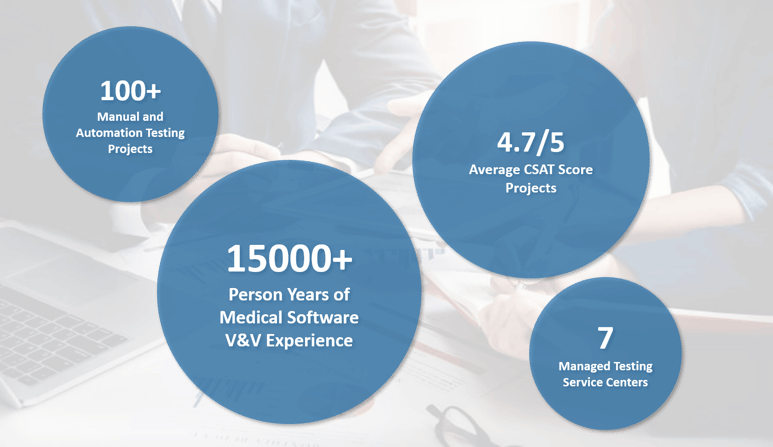 With Tata Elxsi's software verification and validation services, you can be sure of high-quality software while being in complete control of your testing budget.
Tata Elxsi's outcome-oriented catalog pricing model gives you confidence and certainty of quality-compliant software deliverables within the stipulated budget. Its V&V services provide access to necessary testing resources without requiring large in-house investments in specialized testers and infrastructure. In addition to being a cost-effective option, it can be scaled up or down based on the needs of the project, resulting in a flexible testing environment that can adapt to the needs of the company.
Furthermore, by providing extensive documentation, traceability, and validation testing, Tata Elxsi also ensures regulatory compliance and industry standards.
Tata Elxsi's Software V&V Services - Optimize operations, improve product performance

V&V Consulting
V&V plan creation | Testing strategy | Automation tool assessment & validation | Test automation gap assessment | Framework analysis and enhancement | Requirements analysis and automation feasibility
Manual Testing
Functional testing | GUI testing | Integration testing | Formal verification testing | Usability testing | Acceptance testing
Automation Testing
Unified automation solution | Low code automation | Devops integration | Testing tools and test management tools integration | Process automation using RPA | Bug analysis and automated triage
Specialized Testing
Security testing | Performance testing | Accessibility/availability testing | Localization testing (languages, form factor) | Interoperability testing | GDPR testing | Computer system validation (CSV)
Proven Process Excellence
Outcome-oriented planning and execution

Agile test methodology

V&V Center-of-Excellence (CoE)
Flexible Engagement Models
Managed test services

Project ownership model

Staff augmentation
Ready-to-use Test Assets
Catalog-based pricing model for budgeting

DigiTEst tool for accelerated automation testing

Standard-compliant templates, checklists and guidelines
Our Differentiators
Catalog-based pricing for optimal budget planning and utilization

DigiTEst test automation tool promising accelerated testing for improved time-to-market

A team of specialized testers with experience in testing various types of medical devices and advanced software technologies

A dedicated state-of-the-art testing infrastructure with the latest hardware and software tools

A deep understanding of the global regulatory requirements, and general and device-specific standards
Benefits delivered
35%-45% cycle time reduction leading to faster time-to-market

95%-97% proven defect detection rates for improved product performance

30%-35% lowered operational cost from increased efficiency

30%-40% improved ROI through mature Tata Elxsi team, assets and processes
Subscribe
To subscribe to the latest updates & newsletter