As the mobile network infrastructure is being crunched for supporting more and more data traffic, WiFi network in enterprises or public places is becoming the preferable channel for data off loading. The Enterprise/ SOHO Wireless LAN is evolving to meet the challenges of delivering rich multimedia content, accommodate various personal devices in workplace (BYOD) with the roll out of latest gigabit capable 802.11ac and cloud based management of policies and profiles.
Tata Elxsi provides services to WLAN OEMs in the user equipment, access point and controller segments. The services span across development, integration of chipset features, cloud profile development, QA, automation and pre-certification.
Tata Elxsi also works with customers from other segments such as Healthcare, Automotive and Consumer Electronics to integrate and customize various WiFi related features into their products.
With its state of the art labs for WiFi Gateway validation and frameworks for automation, significant time to market advantage and cost benefit is delivered to our customers in this areas.
Our services portfolio includes: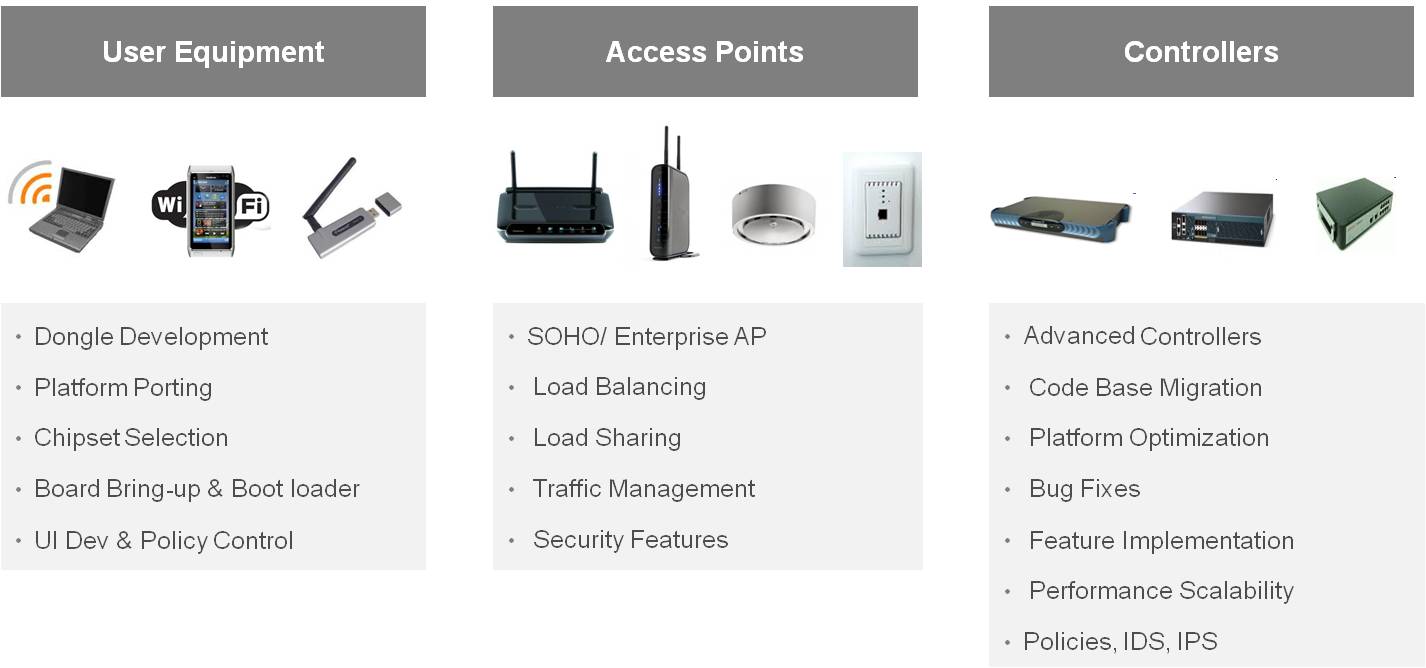 Our service portfolio offerings includes:
Development:
Performance optimization/ Enhancement of WLAN Controller
Feature Enhancement of access points
Porting on advanced platforms with more cores and supporting different AP's from different vendors
Developing EMS/ NMS for WLAN Products/ Networks
Policy and security features (Intrusion detection, prevention)
QA:
Sanity testing (IBSS & AP / STA)
Functional testing (including Conformance Testing) and Automation
Interoperability and regression testing
System testing (including Scalability, Performance & Reliability)
Certifications testing (Pre-WiFi Certification of WLAN AP & Client Adapters)
Regulatory standards testing (for WLAN products)
RF testing