Attention
This website is best viewed in portrait mode.
Dramatic Climax to 2022 Tata Elxsi Bowler Defender Challenge at Scottish Borders Hill Rally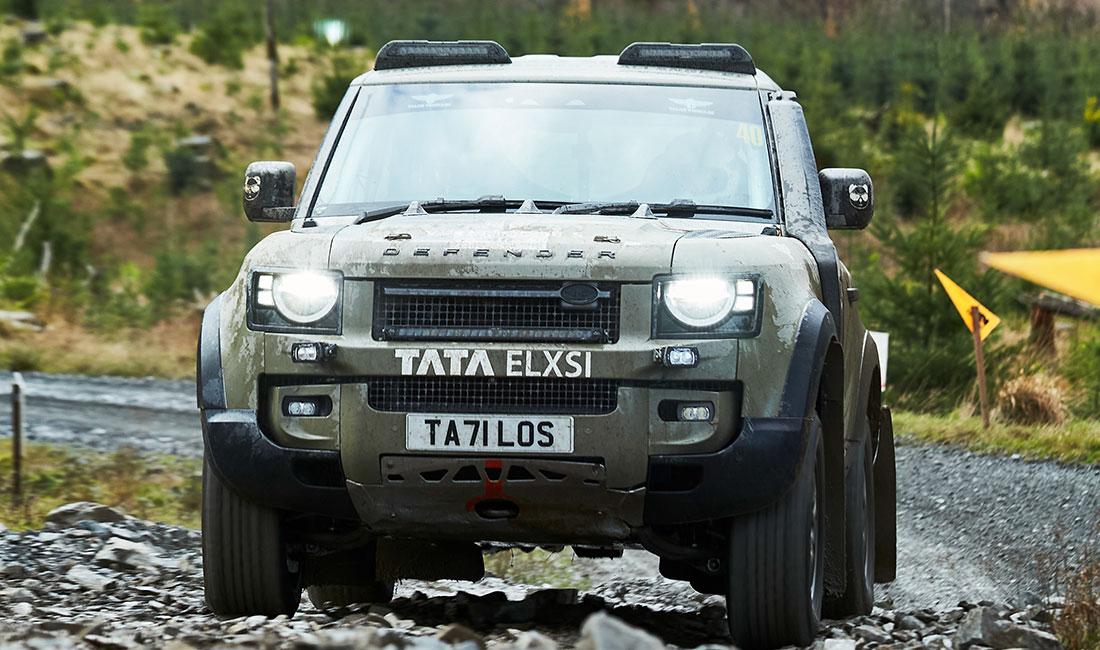 Thwaites and Cuming take event and Championship victory
Dramatic crash for Beecroft/Parish finishes title attempt
Scottish Borders Hill Rally provides thrilling finale to year-long Tata Elxsi-backed Championship
The 2022 Tata Elxsi Bowler Defender Challenge arrived at the Scottish Borders Hill Rally this weekend with everything to play for. Jamie Thwaites/Chris Cuming and Dave Beecroft/Fraser Parish headed into this final round at the top of the table with the championship wide open. With three other cars also in contention, the pressure was on the leading pairs to put in a perfect performance in order to take the title.
Held over two days on the 11,000 acre Forest Estate, the Scottish Borders Hill Rally delivered on the promise of being a challenging end to the 2022 Championship. Tough, technical terrain tested the Tata Elxsi Bowler Defenders to the max right from the first stage. Thwaites and Cuming set the pace on stage one, to then have their time matched by the pairing of Dan Beecroft and Philip Gillespie. Frazer Williams/Mark Acher and Miles Williams/Paul Chambers applied pressure with only 11 seconds separating the first four places. Williams and Chambers upped the ante in stage two, only for Beecroft and Gillespie to really hit their stride and post a time 22 seconds clear of the field. Arriving at the first service of the day Thwaites was clearly frustrated with the conditions, his Bowler Defender sporting a significant dent in the underbody protection courtesy of the challenging course. Heading back out from service it was Williams/Acher who set the pace, with Beecroft/Parish and Thwaites/Cuming in close pursuit. The 43 car of Williams/Chambers unfortunately suffered a damaged radiator, losing all coolant and resulting in engine damage that ruled out any further competition. In an intriguing twist their car would be back to become one of the heroes of the weekend.
Stage 4 would prove to be the deciding stage of the weekend, and of the Championship overall. At the flying finish the Beecroft/Parish 41 car suffered a dramatic high-speed roll – seemingly ending their weekend, and their championship challenge. Whilst both driver and navigator escaped the incident unhurt, a real testament to the strength of the Bowler Defender, there seemed no way the car would be back in competition. With Beecroft/Parish now out for the rest of the day Thwaites/Cuming, Beecroft/Gillespie and Williams/Acher all continued to push each other - trading fastest stage times between them.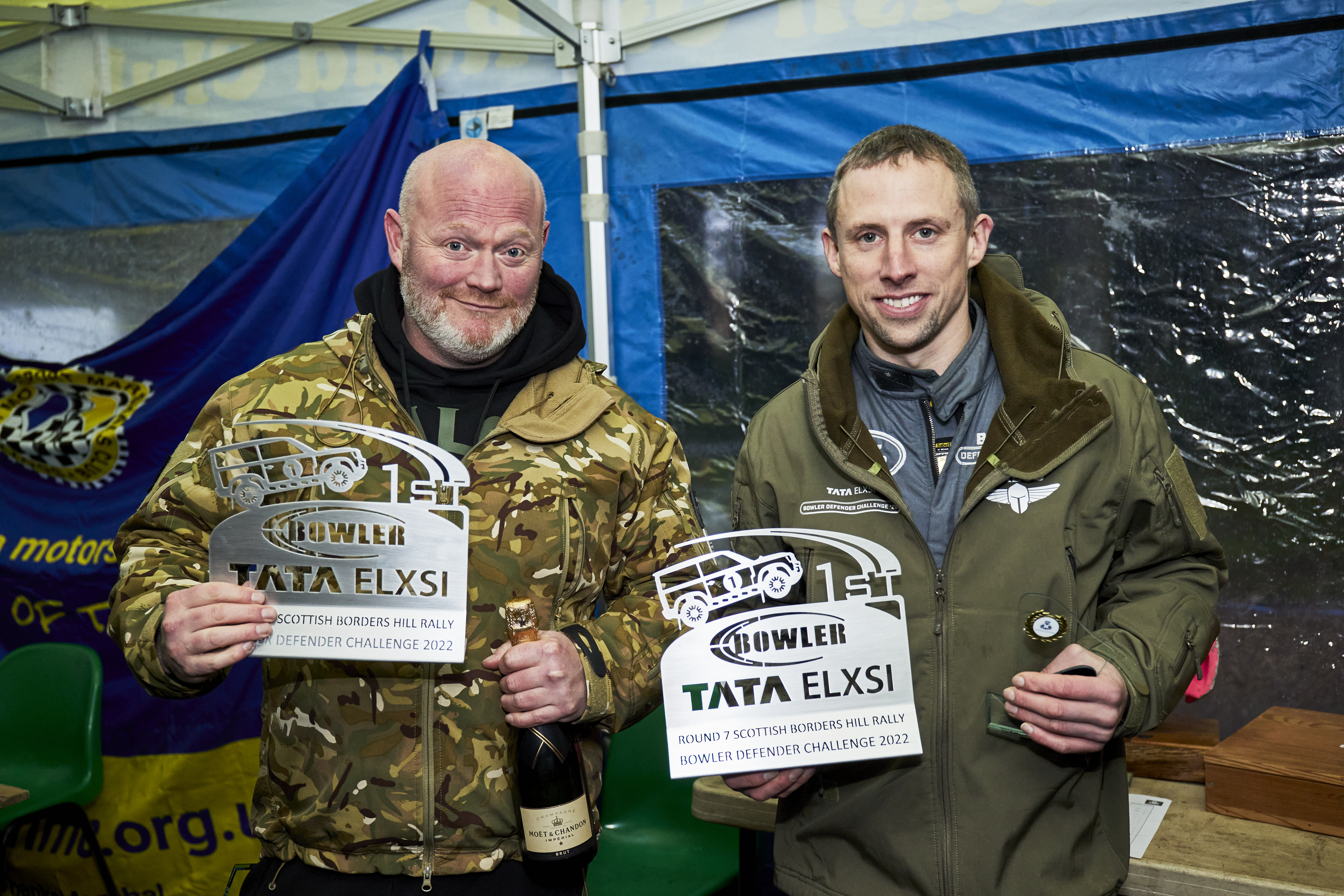 Whilst the cars on stage were pushing hard, a new challenge was developing in the Bowler pit area. Assessing the significant damage to the Beecroft/Parish car left the Bowler technical team exploring the possibility of rebuilding the car to be competition ready for the following day. In an amazing display of teamwork Miles Williams offered his 43 car as a donor for any parts that would be needed, and the team set to work. An incredible overnight effort, which would see the mechanics awarded the "Spirit of Drew Bowler" award – a longstanding award that the organisers of the event offer each year - for their dedication and determination, car 41 was approved by the scrutineers to take to the start line for the final day of competition. An amazing achievement made possible by a great gesture of support from Miles Williams and the Williams Classic team.
With Beecroft and Parish back in the competition in their repaired car they still had a mathematical chance of Championship victory as the final day kicked off. There was also plenty of action taking place behind the leaders to confirm the remaining championship positions. Frazer Williams and Daniel Beecroft both had sights on third place overall whilst Dave Beecroft set out to secure second place. Carrying a 60 second penalty from the previous day Beecroft/Gillespie were nearly twenty seconds clear after the first stage but a missing course marker, knocked down by an earlier competitor, left the pairing wildly off course and re-joining the stage out of position and off course – an issue that would lead to a later disqualification. Williams/Acher arrived at the morning's service requiring a shock absorber – replaced quickly by the Bowler team in the 40-minute service session.
Consistent driving from Thwaites/Cuming saw them take first overall in the event, and the provisional 2022 Tata Elxsi Bowler Defender Challenge championship. Beecroft and Parish finished strongly, not only proving they could get back into the action after such a large incident, but also wrapping up second place overall. Frazer Williams and Mark Acher's consistent performance gave them second in the event and third place in the championship standings. Consistent, measured performance also benefitted GP Racing's Gareth Bent and Paul Hulston who took their first podium of the championship – finished third in class after a great weekend of driving.
"What a fantastic finish to the 2022 season – plenty of action and a championship that came down to the last weekend of competition" commented Bowler General Manager Calum McKechnie "We couldn't have asked for more if we had planned it that way. Congratulations to Jamie and Chris, who are our provisional 2022 Champions. This weekend, as with the whole season, has been a weekend of close competition, teamwork and an incredible display of the capabilities of the Bowler Defender. A special mention has to go to the Bowler support crew. They've put in a huge effort at every round, supporting our competitors, but this weekend showed just how much they can do. I don't think anyone really expected car 41 to be back in competition on Sunday, but they made it happen.
I'd like to thank everyone, competitors, colleagues and fans for all of their involvement in the challenge this year. Thanks also to each of the events that has played host to a round of the 2022 Tata Elxsi Bowler Defender Challenge. It has been an amazing year and we can't wait for the 2023 season to get started!"
The confirmed championship positions for the 2022 Tata Elxsi Bowler Defender Challenge will be final at 14.30, 27th November 2022, subject to protests which extend this period. All Championship positions should be considered provisional until this point.
To find out more about the Tata Elxsi Bowler Defender Challenge, or for more details on how to enter the 2023 Championship, please visit tataelxsi.com/bowler
---
About Tata Elxsi
Incorporated in 1989, Tata Elxsi is amongst the world's leading providers of design and technology services across industries including Automotive, Media, Communications, Healthcare and Transportation
Tata Elxsi works with leading OEMs and suppliers in the automotive and transportation industries for R&D, design, and product engineering services from architecture to launch and beyond.
It brings together domain experience across Autonomous, Electric, Connected vehicle technologies, Software-defined vehicles (SDV ) and is supported by a worldwide network of design studios, development centres and offices as well as a global pool of over 10,000 engineers and specialists.
For more information, please visit www.tataelxsi.com
About Bowler
Bowler, found in 1985, is based in Belper, Derbyshire and pioneered the production of dedicated off-road competition cars in the UK.
It has achieved international success in rally raid events, having previously participated in the Dakar Rally, British Hill Climb Championship and French Baja with their Tomcat, Wildcat & Nemesis models, all of which were based on the heritage Defender 90 and 110.
Bowler provides its customers with competition racing events, to provide them with the driving skills and technical competition knowledge necessary to undertake international rally raid events.
Bowler has become synonymous with conversions and modifications of Defender models, designed to enhance power, handling, braking and comfort. These can be tailored to suit individual requirements and desires, including bespoke engineering requirements.
Since its inception Bowler has had a close affiliation with Land Rover, which was formalised with a brand partnership in 2012 that led to the creation of the popular Defender Challenge by Bowler rally series in 2014 - 2016.
The business was acquired by Jaguar Land Rover Group in December 2019 and forms part of Special Vehicle Operations.
To find out more about the Tata Elxsi Bowler Defender Challenge, or for more details on how to enter the 2023 Championship, please visit tataelxsi.com/bowler