Attention
This website is best viewed in portrait mode.
Bulley/ French take victory in Welsh Borders Hill Rally round of 2022 Tata Elxsi Bowler Defender Challenge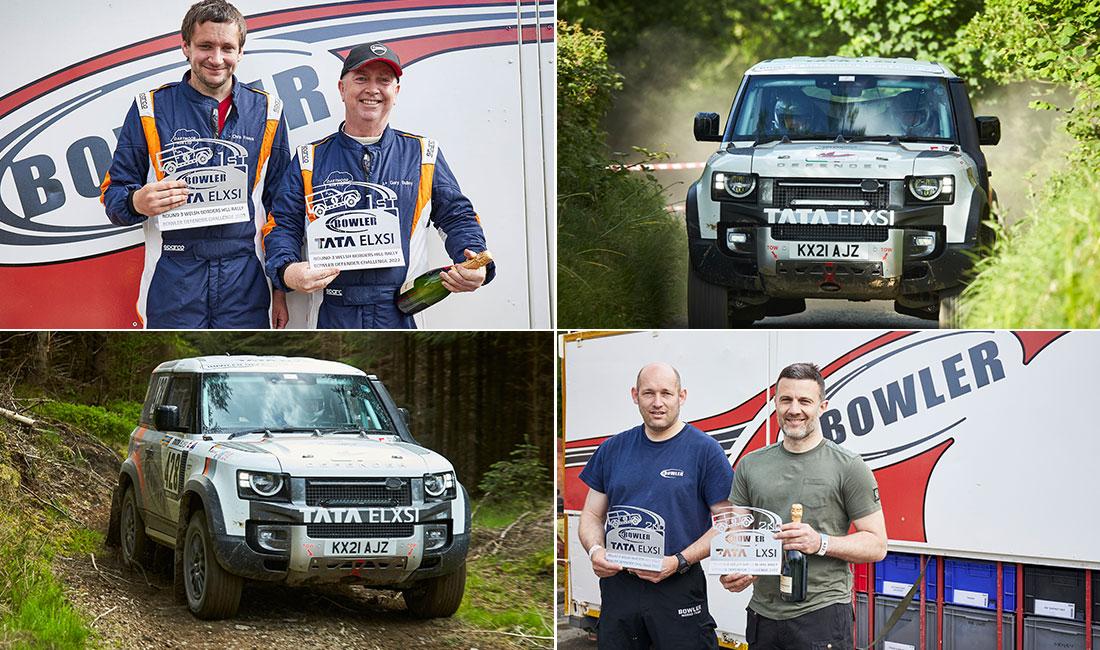 Gary Bulley and Chris French took 1st in class for the third round of the 2022 Championship
Seddon/Tomley score second and Williams/Chambers took third
Bulley/French achieved 17th overall in a production-based vehicle from 48 finishers
The three-day Welsh Borders Hill Rally played host to the third round of the 2022 Tata Elxsi Bowler Defender Challenge this weekend. The Tata Elxsi Bowler paddock welcomed eight teams for the event that saw two separate service locations and stages running well into the evening.
Each round of the 2022 Tata Elxsi Bowler Defender Challenge is designed to give new experiences to the competitors and the Welsh Borders Hill Rally was no exception. Previous rounds have demonstrated comp safari and fast gravel stages with the Hill Rally being a new format for many of our teams. Running against a large field of specialist vehicles in a mix of forest and gravel stages gave the 2022 Tata Elxsi Bowler Defender Challenge competitors a new understanding of this aspect of the sport.
The event would turn out to be an absolute test for the Bowler pit crew too! Friday's action saw all cars finishing every stage with minimal attention required. Sunday hosted a little more drama, with Dave Beecroft pushing hard in the front runners. Having picked up some minor damage previously Beecroft arrived at his 30-minute service with a blown radiator – needing replacement. The Bowler pit crew immediately joined forces to remove the front of the car and skid plate to replace the radiator – normally a 2-hour task – in just 36 minutes, returning Beecroft to the action and pursuing the leading pack with just a six minute penalty.
Championship contender Thwaites lost out on the day with a puncture costing him valuable time. Determined not to fall any further behind than necessary Thwaites proved the toughness of the Bowler Lightweight Rally wheels – completing over 13km on just the rim. With the drama unfolding behind them eventual event winners Bulley and French put in a consistent, smooth drive stage after stage to extend out their lead. Jason Seddon and co-driver Tomley chased them home to claim their first podium visit of 2022 with a second in class finish just 13 seconds behind after three days of competition. Miles Williams and Paul Chambers repeated their third in class result from the first round, having experienced a puncture earlier in the event. They finished just three seconds behind Seddon/Tomley at the end of third day.
Bowler Head of Motorsport, Dave Marsh commented "Wow – what an event! Three days of competitive driving is really tough on everyone – and the cars. We managed seven finishers from eight entries which is a real testament to the performance and durability of our Bowler Defender Challenge car. It's a great result for Gary and Chris – taking their first win of the season and all of the drivers and co-drivers have to be congratulated on everything they've achieved this weekend. I'd also like to say a special thanks to the Bowler pit crew – who look after the cars at each event. To strip out and replace a radiator so quickly and under so much pressure is really what rallying is all about – the whole team coming together to make sure the cars make it to the finish. An amazing job by the team. Here's to the next event at Kielder!"
The next round of the Tata Elxsi Bowler Defender Challenge will be held at the Kielder Rally on the 18th June 2022. To find out more about the Tata Elxsi Bowler Defender Challenge please visit
About Tata Elxsi
Incorporated in 1989, Tata Elxsi is amongst the world's leading providers of design and technology services across industries including Automotive, Media, Communications, Healthcare and Transportation
Tata Elxsi works with leading OEMs and suppliers in the automotive and transportation industries for R&D, design, and product engineering services from architecture to launch and beyond.
It brings together domain experience across Autonomous, Electric, Connected vehicle technologies, Software-defined vehicles (SDV ) and is supported by a worldwide network of design studios, development centres and offices as well as a global pool of over 10,000 engineers and specialists.
For more information, please visit www.tataelxsi.com.
About Bowler
Bowler, found in 1985, is based in Belper, Derbyshire and pioneered the production of dedicated off-road competition cars in the UK.
It has achieved international success in rally raid events, having previously participated in the Dakar Rally, British Hill Climb Championship and French Baja with their Tomcat, Wildcat & Nemesis models, all of which were based on the heritage Defender 90 and 110.
Bowler provides its customers with competition racing events, to provide them with the driving skills and technical competition knowledge necessary to undertake international rally raid events.
Bowler has become synonymous with conversions and modifications of Defender models, designed to enhance power, handling, braking and comfort. These can be tailored to suit individual requirements and desires, including bespoke engineering requirements.
Since its inception Bowler has had a close affiliation with Land Rover, which was formalised with a brand partnership in 2012 that led to the creation of the popular Defender Challenge by Bowler rally series in 2014 - 2016.
The business was acquired by Jaguar Land Rover Group in December 2019 and forms part of Special Vehicle Operations.