Attention
This website is best viewed in portrait mode.
Connected Healthcare: Accelerating Human-Centric and Holistic Care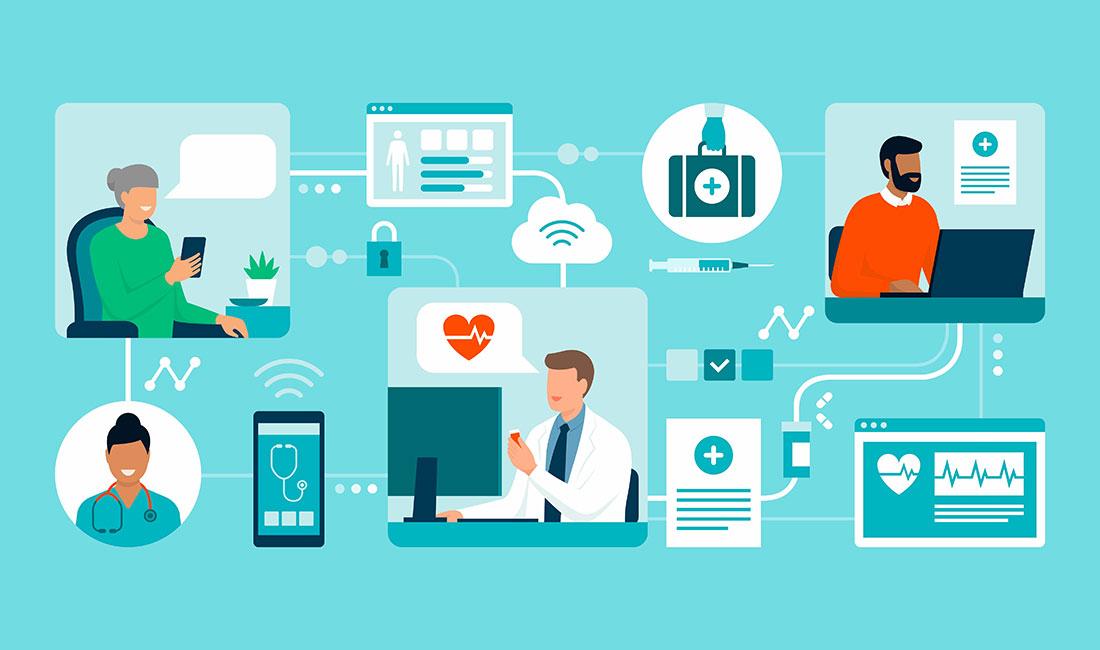 Technology has transformed healthcare over the past decade. Both patients and care providers now have various options to communicate and connect. The paradigm shift from a treatment-centric to a patient-centric approach to collaborative care has compelled MedTech organizations to develop a connected health ecosystem with a comprehensive set of services for clinicians, device manufacturers, care coordinators, caregivers, and patients.
Wireless, digital, electronic, mobile, and telehealth technologies have enabled various care delivery models that allow users to receive healthcare services anytime, anywhere. An optimal connected health model will align devices, services, or interventions with the patient's needs, and share health data to provide efficient, effective, and proactive care.
Market Size
The global connected health and wellness solutions market is expected to reach $104.8 billion by 2027. As countries experience epidemiological transitions globally and the population with chronic illnesses continues to increase, so does the demand for disease management and continuous patient monitoring technologies, fueling the demand for connected health.
Furthermore, technological advancements are lowering the costs of medical services and equipment and making healthcare more accessible. The market's tremendous growth has also been fueled by global advancements in web speed and accessibility.
Connected Healthcare Adoption Challenges
Data Silos

The lack of interoperability between heterogeneous systems or platforms potentially restricts seamless data transactions. It leads to problems like loss of data, increased costs for handling different kinds of data, and non-adherence to regulatory compliance.

In the absence of a standardized data format, data collection from multiple sources & stakeholders becomes cumbersome. This prevents longitudinal patient records from being generated, which are essential for monitoring patients throughout the continuum of care.

High-Volume, Non-Aggregated Data

Data from multiple sources is flooding the healthcare industry. This makes it increasingly challenging to build a robust architecture capable of dealing with this volume of data while preserving its integrity. Additionally, due to a lack of data aggregation, systems operate in silos, making it difficult to conduct advanced data analysis and to intervene medically at the appropriate point in the patient journey.

Non-Compliance with Privacy and Security Laws Healthcare data is stringently regulated by governing bodies and laws such as HIPAA, GDPR, etc. When not developed in accordance with the standards, connected healthcare platforms are vulnerable to data breaches, unauthorized access, and cyber-attacks.
Building a Robust Connected Healthcare Solutions
Connected care solution providers must have expertise and know-how to leverage health data and build systems based on solid architecture. To address product capabilities in a functionally connected healthcare ecosystem, end-to-end technology enablement services such as IoMT & cloud computing, patient-centric UI/UX, interoperability, advanced analytics, and platform & application sustenance are required.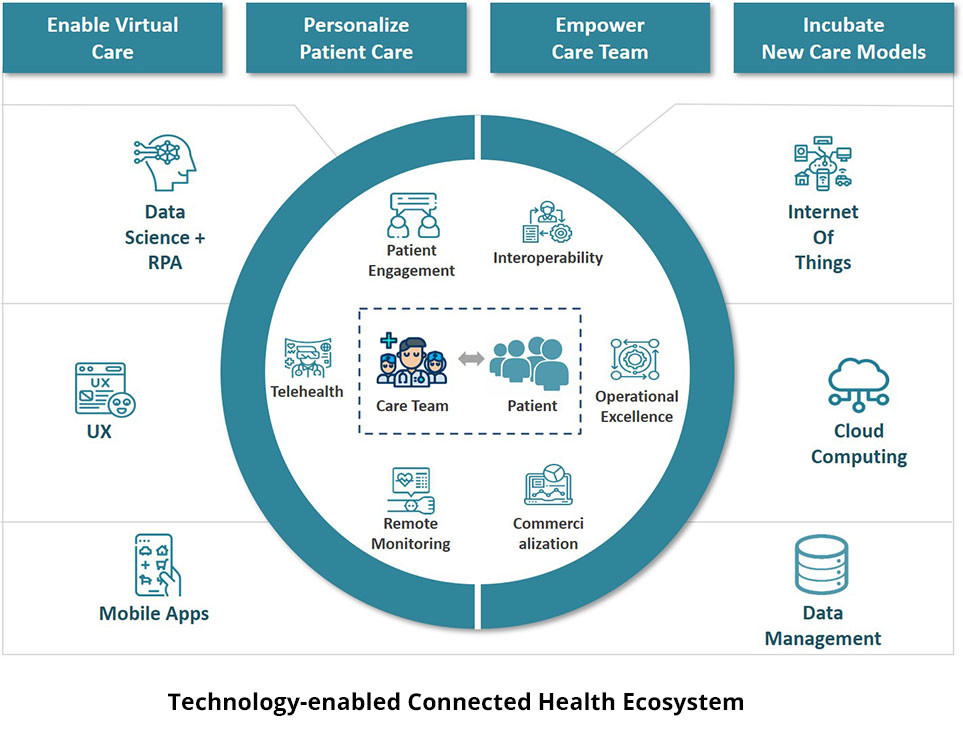 Industry Applications of Connected Healthcare Solutions
The use cases below provide an overview of how connected healthcare solutions benefit various stakeholders such as patients, healthcare providers, and solution providers:
Education/ Wellness for Preventative Behavior

Apps for self-assessment and self-management of specific conditions.
Apps for mental health and stress management.
The educational content on smoking, obesity, etc.
Device-based Chronic Care Management

Wearables or consumer devices for tracking biomarkers
Transmitting data about specified conditions.
Scaling up the coaching and treatment plans.
Telemedicine/ Virtual Doctor

Two-way virtual communication between patients and healthcare professionals.
"Spot checks" with images uploaded by patients.
Remote patient monitoring.
Healthcare Analytics

Clinical Decision Support - Natural Language Processing (NLP) to capture clinical notes and Artificial Intelligence (AI) to assess histories, symptoms, and risks to suggest therapies.
Care Optimization - Machine Learning (ML) to predict drug doses, assess inventory, equipment utilization, worklist prioritization, etc.
Population health management such as monitoring disease outbreaks and alerting the at-risk population.
The Future of Connected Healthcare
Medical device manufacturers will benefit by working with providers to create a connected ecosystem that may potentially allow them to:
Be at the forefront of the evolving healthcare landscape where patient outcomes drive the revenue potential.
Provide end-to-end, value-based, therapeutic care.
Build stronger relationships with providers and develop superior value propositions in specific disease areas to gain a competitive edge in the market.
Create a parallel revenue chain by monetizing data-driven insights from pharmaceutical companies, payers, and other device manufacturers.
Increase patient loyalty by improving patient health and economic outcomes.
Challenges in the healthcare industry are driving manufacturers to develop better value propositions for patient experience, care delivery, and costs. Therefore, MedTech companies must build a connected care ecosystem that prioritizes patients and harnesses the power of data to address industry challenges and drive business growth.
About Tata Elxsi's Digital & Connected Health Practice
Tata Elxsi has 15+ years of experience building holistic, functional digital, and connected health solutions for its clients. With our unique design, domain, and digital capabilities, we address all aspects of a cloud-based connected health ecosystem implementation. Sensor and gateway implementation at the board or silicon level, embedded software and firmware, cloud and analytics integration, app development for various smartphone operating systems, and form & function design elements to meet the needs of various stakeholders are some of our key service offerings. In addition to supporting varied roles and responsibilities at runtime, our services can be tailored to meet the requirements of various geographies.