Attention
This website is best viewed in portrait mode.
Publication Name: autotrack.ind.in
Date: September 01, 2021
Speeding up autonomous vehicle drive in India and ensuring large systems approach to safety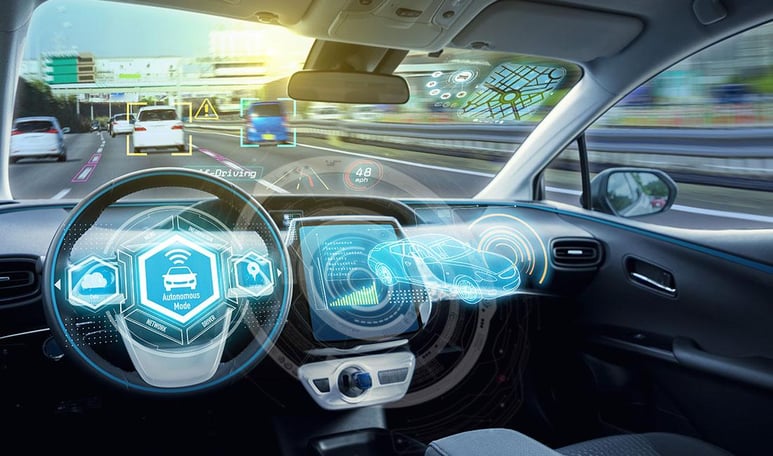 Interaction with Shaju S, General Manager and Head, Transportation Business Unit, Tata Elxsi
1. Tata Elxsi'significant role in driving autonomous vehicle push in India?
The automotive industry is undergoing a significant transition into the future due to the world's rapid digitization and acceptance of ACES technologies. Autonomous vehicles are the industry's front-runners, with applications ranging from human transportation to logistics, last-mile connectivity, and more.
Tata Elxsi has been the front runner in developing autonomous technologies for almost a decade, be it the software, including the algorithms, the middleware, the sensor fusion framework or UX design, connectivity, or driver interaction passenger comfort. We bring together a world-class AD, ADAS & Active Safety practice, an award-winning HMI & design team, and ASPICE Level 5 certified process to drive solutions for the autonomous and connected cars of the future.
We started our tryst with autonomous technologies for an indigenous environment way back in 2014, building our own Autonomous Vehicle Platform called the autonomai and testing it in the test tracks in our campus. In 2020, we came up with a Robo taxi concept vehicle build alongside AEye's iDAR and our Autonomai platform.
With AI and machine learning innovations, we've been developing smart parking solutions like advanced assisted parking systems and autonomous parking with top global OEMs and Tier-1 suppliers. With machine learning, automation, and data collection, we recently developed Park by Memory and Parking Slot Detection models, which can help drivers save time and make parking of cars effortless. In addition, we're developing AI-based perception models, driver behavior intelligence solutions, and machine learning-based cabin monitoring systems that can detect dangerous objects, among other things.
With challenges in enabling real-life test track scenarios for autonomous applications, especially in countries like ours, developers turn towards lab-based simulation tools to test and validate autonomous solutions. Tata Elxsi's Synthetic Scene Generation Tool (SSG) allows you to create millions of synthetic autonomous driving scenarios automatically. With unique and dynamic worlds, 1000+ realistic 3D models and features including urban and rural scapes, real-world lane markings, dynamic vehicle behavior for traffic signals, signs, pedestrians, and more, SSG Tool provides photo-realistic, dynamic scene rendering using gaming technology for validation of autonomous driving/ ADAS algorithms.
With autonomous driving on the rise, big data's role is critical in predicting the future of the heavy vehicle industry. We've developed unique algorithms for operator monitoring, remote vehicle operation, autonomous vehicle operation, sensor-fusing, synthetic scene generation, automated testing, and CAN bus signal analytics.

2. Tata Elxsi's views on speeding up autonomous vehicle deployment in India?
A significant factor determining the trajectory of the ER&D spend and advancements in ACES technologies is the pandemic that has affected the carmakers globally. While most industry experts believe that companies' research and development budgets will likely decrease globally, mainly affecting e-mobility and autonomous deployments, positive signs show renewed interest to pursue future technologies.

Apart from the challenges offered by the pandemic, India faces several difficulties for the actual deployment of autonomous vehicles in the near term. The lack of traffic discipline among road commuters and road infrastructure conditions will be the major roadblocks. With unscientific route geometries and a lack of road signs except for a few high-profile national highways, the situation is not favourable for introducing autonomous driving. While L3 and L4 automation are decades away in India, L2 autonomous tech with features like adaptive cruise control, parking assist and self-parking, collision avoidance, blind-spot monitoring, etc., can be seen in many Indian cars in the near future. Self-driving possibilities exist in off-road vehicles, such as farming, mining, and in a controlled environment like campuses for last-mile delivery as the paths are predictable and monitoring is possible. Although L3, L4, dreams might be a long way off, innovations like adaptive cruise control, parking assist and self-parking, collision avoidance, and blind-spot detection are putting autonomous driving in the spotlight.

Autonomous and semi-autonomous equipment, along with Internet of Things (IoT), are converging in the off-highway vehicle industry sector. As off-highway equipment manufacturers look to the future, autonomous technology has become increasingly important. They will require components that can endure off-road environments, regardless of their autonomy level. Among the most important functions of a self-driving vehicle are perception, exploration, mapping, localisation, planning, and path execution. Autonomous vehicles must have a sophisticated sensor network that feeds intelligence to the vehicle, collects information about its condition, location, and operating status for its owner or operator to review. Autonomous equipment's security can be improved by OEMs using this system-wide intelligence.
3. How the pandemic has accelerated digitization of the Indian automotive industry?
Digitalization leads today's transformation in the transportation space as data is considered the 21st century oil. The transportation industry is embracing long-standing innovations like artificial intelligence (AI) and big data & analytics and newer technologies like the Internet of Things (IoT), which are finding various applications in the industry. With the world's rapid digitization, the automotive industry is in for a massive transformation into the future.
The industry's front-runners are autonomous vehicles with use cases ranging from Human transport to logistics, last-mile connectivity, etc. There are currently only a small number of Indian vehicles equipped with advanced driver assistance systems (ADAS), which fall into the lower levels of driving autonomy (Levels 1-2). According to the automakers, the ADAS market in India is growing in response to the growing demand for safer driving conditions.
The 5G wireless technology significantly enables reliable communication for vehicles, which will play a critical role in managing safety challenges associated with connected vehicles. Enabling technologies will convert vehicles into marketplaces, allowing consumers to do everything—refuelling, purchasing services, paying for tolls, getting Features on Demand (FoD), and much more.
Much like mobile phones, we will see operating systems becoming standard for vehicles, which will be a crucial way of achieving differentiation. Voice recognition and personal assistants, combined with the launch of 5G soon, will connect the vehicle-to-home, vehicle-to-vehicle, and vehicle-to-everything.
In the process of purchasing a vehicle, digital platforms can gradually replace physical touchpoints. In 2021 and beyond, consumer demand will push for more digitalization, driving the auto industry to create a multi-channel, digital vehicle buying experience.
Applications utilizing AR (Augmented Reality) and MR (Mixed Reality) solutions are emerging for driving comfort and safety. Projecting route maps or safety information onto the windshield and using digital driver control and health tracking devices are examples. Post-COVID, we see a pivot towards adopting more electric vehicles supported by connected and digital technologies.
The smart factory combines a traditional manufacturing excellence approach with IT-OT integration to significantly increase performance.
With this in mind, Tata Elxsi created the award winning Connected Vehicle Platform (CVP), a cloud-based, cloud vendor-agnostic, hyper-scale IoT platform that enables customers to provide end-users with digital and connected features. CVP allows our customers to enjoy the full benefits of connectivity by safely storing, aggregating, and analyzing data from vehicles and delivering customer-centric features. CVP assists the industry in recognizing and satisfying the rising demand for a digitally enhanced experience among customers.
OEMs are investing heavily in R&D to overcome the challenges of vehicle electrification. The focus is on designing dedicated electric vehicle architectures from the ground up to meet EV specifications, including entirely new concepts for everything from the vehicle body structure to the electrical and electronics architecture. OEMs increasingly rely on connected digital cloud systems to predict the remaining range, battery life, and best charging options and provide customer-driving advice. Such efforts to provide customers with a comfortable and hassle-free EV experience create opportunities for EV segments. Lockdowns imposed in various countries have led to the temporary shutting down of automotive dealerships. But, multiple manufacturers have started selling online, thanks to the advent of digital vehicle dealerships. As a result, many people in 2020 were open to the concept of buying vehicles online, thereby paving the way for the more significant sales of electric vehicles even during the pandemic, especially 2 wheelers and mid-range cars for personal as well as for commercial vehicle fleet usage.

4. How new mobility concepts will change the role of public actors?
The public actors who will play a role in the future of mobility will need to incorporate data-driven analysis, faster problem resolution, and a customer-centric focus into all of their decision-making processes. This will allow them to tackle traditional and new challenges efficiently and with a focus on outcomes.

In this rapidly progressing field of transportation, the public agencies would need to undertake new activities to help shape the mobility landscape. This can include developing new regulations, collaborating with private sector partners, or implementing cutting-edge technologies (such as an integrated digital mobility platform) to improve the experience of transit users, providers, and the general public. Their roles would incorporate flavours of being a strategist as well as an enabler who is fully involved in the development of future transport system from day one and not just in the final stages. Agencies will need a more responsive and outcomes-based approach in the future mobility ecosystem to promote innovation while balancing risk and public interest. In India for example, regulations are far behind the west, when it comes to legislations concerning occupant / road-safety. Such legislations will accelerate the adoption of AD/ ADAS features by local OEMs. Infrastructure will be another key aspect especially when we speak about EVs.

5. How can safety be improved in such vehicles through new age technologies?

For ADAS and autonomous driving, Artificial Intelligence based technologies are focused to make it safe for drivers and passengers and also other road users There are programs where we are working on minimising the disengagement time (duration when a human driver is asked to take control of the vehicle) by critically analysing the data from different subsystems. There is a great improvement in terms of reduction in disengagement time year on year. Overall it is reported to be in the order of 1.3x as per the latest report from DMV, California. So we can safely say, self-driving vehicles are improving significantly to prevent accidents.
Fully autonomous vehicles (AVs) are expected to respond appropriately and safely to the complex and extremely diverse driving situations that they must encounter on the road, such as driving at intersections, avoiding vulnerable road users (VRUs) such as motorcycles, bicycles, pedestrians, animals, and so on. V2X (vehicle-to-everything) technology, on the other hand, enhances road safety, fuel efficiency, and driving comfort by connecting transportation infrastructure to automobiles and vice versa. As a result, the V2X system becomes more cooperative in character, and Tata Elxsi believes V2X and autonomous vehicles may complement each other.
To sense their environment, autonomous off-highway vehicles use various sensors, including RADAR, LIDAR, computer vision, sonar, and GPS. These sensors analyze sensory data to determine the geometry of the landscape, identify navigation pathways, avoid obstacles, and read pertinent marks. Across numerous industries, like farming, mining, and construction equipment, engineers developing autonomous vehicles conduct experiments that collect thousands of hours of test driving data. In a single eight-hour shift, more than 100 terabytes of data may be generated. This enormous quantity of data must be gathered, offloaded, stored, and processed to train algorithms for vehicle decision-making.
6. Autonomous vehicles hold potential to revolutionize farming, mining sectors & more-Tata Elxsi's thoughts on this Autonomous vehicles hold potential to revolutionize farming, mining sectors & more-Tata Elxsi's thoughts on this

Industries such as agriculture, mining, and construction might be transformed by autonomous vehicles and robotics. Indian agriculture and agricultural practises require significant mechanisation and precision-based agro solutions to maximise yield and increase farmer income. Farmers need a variety of technological solutions and digital interfaces to get agricultural knowledge, enhance cultivation information, and maximise productivity and profitability. Machines might play a key role in boosting yields significantly. Farmers may gain the ability to apply fertiliser and herbicides more precisely, or apply only what is needed to the crops that need it the most, rather than to all of them. They'd probably have a better idea of how to deploy the autonomous farm vehicles tilling the soil if they used a mix of GPS, sensors, and cameras.
The construction sector, worldwide, is constantly innovating and improving. Large-scale construction and infrastructure projects throughout the world are influenced by connectivity, digitization, and automation, which is not surprising. Building technologies and best practices that can be linked to every step of the value chain in India's transition to "smart cities and infrastructure" would push companies to invest more. Construction workers are more prone to fatigue when they do tasks that involve a lot of repetition. Risks might also increase if a firm has to expand its operations without growing its workforce number. In addition, the building and mining industries have hazardous working conditions. To a certain extent, autonomous equipment might alleviate these difficulties. These vehicles can be deployed to carry out repetitive tasks like sand loading, terrain leveling etc. Also, through features like remote monitoring and operation, labors can be kept out from hazardous construction or mining sites.The public actors who will play a role in the future of mobility will need to incorporate data-driven analysis, faster problem resolution, and a customer-centric focus into all of their decision-making processes. This will allow them to tackle traditional and new challenges efficiently and with a focus on outcomes.

7. Why autonomous vehicles need a large-systems approach to safety?
The benefits of autonomous cars in terms of safety are enormous, and they have the potential to save lives and reduce injuries by eliminating the human error factor, safeguarding drivers, passengers, bicyclists, and pedestrians.

As we go toward an autonomous future, achieving a greater level of safety demands starting with external operational variables like road and traffic light rules. This is followed by the vehicle's safety features: From the smallest sensor unit to the entire integrated system, including the actuators, all components must be functionally safe and redundant. Errors in electronics hardware or software can occur as the complexity of electronics content increases. As a result, there is a need to investigate these flaws – their causes, effects, safety precautions, and so on. The ISO 26262 Functional Safety standard, in this context, provides a systematic approach to accomplishing the same.

The third part of the large-system's safety needs stems from the mixed environment on the road with pedestrians, other autonomous and non-automated cars, and the public's behavioral safety. When all components of this ecosystem are synchronized safe and work together to perform complementarily, the autonomous vehicles are completely safe and the large-systems approach endures. It provides all parties with the tools and information they need to help the entire system gradually converge on the best set of safety criteria.