AUTOSAR is becoming increasingly popular and is being widely adopted in passenger & commercial vehicles. It is now being expanded to include even off-road construction & agricultural vehicles. AUTOSAR plays a pivotal role in the development process and data format to be harmonized with respect to communication protocols and interaction with multiple ECUs in a vehicle network.
Tata Elxsi has been a Premium Member and an active participant of the AUTOSAR consortium since 2004. We have been partnered with leading OEMs and suppliers, providing services and solutions right from evaluation and assessment to migration strategy and actual implementation of standardized architectures and ECUs.
Tata Elxsi's AUTOSAR 4.x & 3.x BSW along with configurator & RTE generator tool solution provides customers with an early-to-market, fully compliant and proven solution for their upcoming AUTOSAR programs.

Adaptive AUTOSAR
Autonomous driving, connected cars, high speed data communication, vehicle to everything communication using high performance computer processors necessitates the need of Adaptive AUTOSAR platforms. Tata Elxsi has collaborated with OEMs, Tier 1s and chip vendors to develop Adaptive AUTOSAR platforms and is also developing Adaptive AUTOSAR modules as IP.
AUTOSAR 4.2.x BSW IP
Tata Elxsi idealizes at achieving success through technological advancements and competitive corporate strategies to add unique values to its customer. Tata Elxsi AUTOSAR IP is the brainchild of such a philosophy befitting commercial values to a new and improved architecture.
Our AUTOSAR IP is a production quality off-the-shelf solution which influences in building strong business partnerships with leading automotive OEMs and Tier1s, resulting in a seamless transition from a novel futuristic idea to an innovation appreciated worldwide.
We have supported a leading semicon vendor to build a demonstrator with our AUTOSAR 4.2 IP, enabling them to showcase their capabilities on multiple controller variants through applications like Heads-up-display, Gateway Controller to numerous OEMs and Tier-1s.
We have currently licensed and deployed our AUTOSAR 4.2 IP stack to 2 leading OEMs for their advance research and production programs respectively.
The IP sale/licensing business model reinforces Tata Elxsi's AUTOSAR competence and enhances credibility of the solution.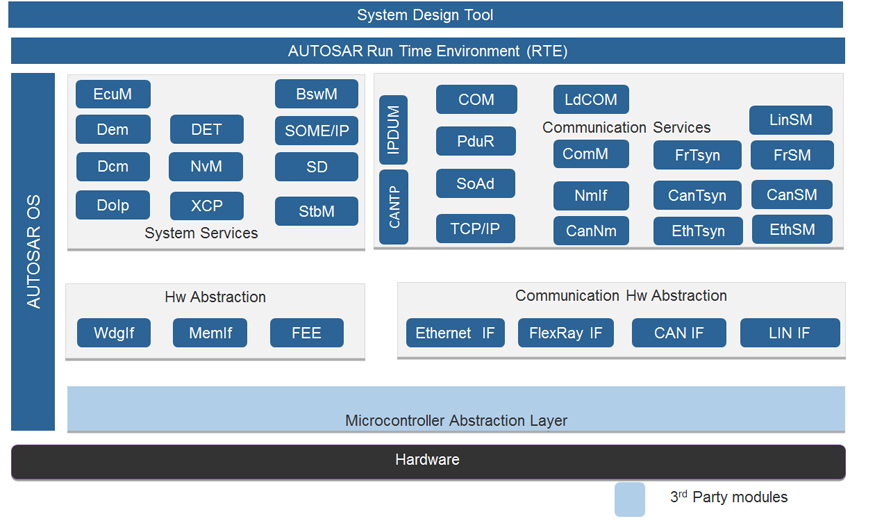 End-to-end Services
Tata Elxsi has extensive expertise in various automotive microcontrollers such as Freescale, Renesas, Infineon, Microchip, Toshiba, Fujitsu, Analog Devices among others.
Professional Services: AUTOSAR
AUTOSAR MCAL Services:

Tata Elxsi also works with industry leading 3rd party AUTOSAR stacks & tool chains, providing complex AUTOSAR integration services for Automotive OEMs and Tier1s.
We are certified for Automotive SPICE® Organization Maturity Level 5 and SEI CMMi Level 5, ISO 27001:2005 and ISO 9001:2008 standards. This experience reflects in high quality processes, deliverables and services to our customers.
AUTOSAR adoption strategy and impact assessment
Migration strategy
Platform consultancy
AUTOSAR integration
MCAL development, testing & maintenance
Test framework development
Authoring tool development
Adaptive Platform Application Development, Porting and Integration
Key Benefits
Reduced product development time and faster time-to-market
Flexible licensing model and relaxation on usage
All-in-one tool and configuration generation tool supporting Windows and Linux operating systems
Easy adoption to ISO:26262 ASIL
AUTOSAR compliant configuration Tool
eZyconfig
Tata Elxsi's eZyConfig tool with its intuitive & user-friendly interface, simplifies the process of configuring the basic software modules along with an AUTOSAR 4.2 complaint RTE generator
eZyConfig includes code generator engines, parameter verification language, data model access and eclipse based GUI that enable the seamless integration into existing tool-chains and workflows
All-in-one tool and configuration generation tool supporting Windows and Linux operating systems
Configuration and integration of custom/ legacy modules
Supports system design - application components, ECU nodes, communication networks adhering to AUTOSAR 4.2 standard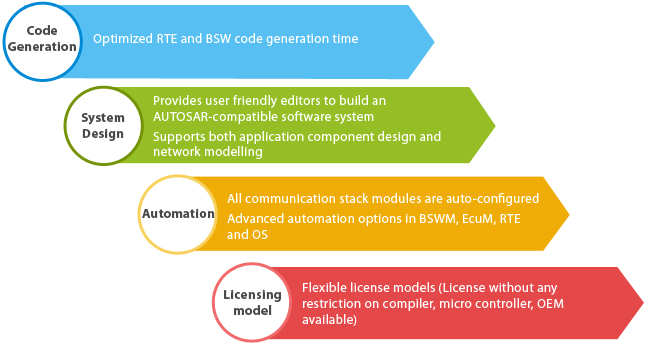 Our Credentials