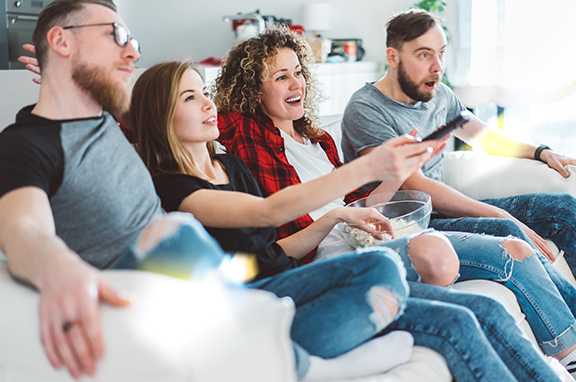 Reference Development Kit (RDK) for Video delivery platform is one of the preferred solutions for Set-Top-Box (STB) middleware. RDK powers millions of STB boxes in the American region and also influences the non-American region due to its adaptability and acceptance.
How RDK-V is Helping Operators
By accelerating deployment of STB middleware that has complete control and transparency to the operators, RDK standardizes core functions used in the video, broadband, and IoT devices, enabling operators to manage devices, easily customize their UIs and Apps, and provide analytics to improve the customer experience and drive business results. Data powers the next-generation UX and therefore, operators can control the data for the UX using RDK.
It enables operators to manage their devices; control their business models, and customize their apps, UIs, and data analytics to improve the customer experience and drive business results. The RDK community comprises of more than 350 companies including CPE manufacturers, SoC vendors, software developers, system integrators, and service providers.
By having a centralized repository of software code, operators and their key vendor partners quickly realized significant time savings in software development for video set-top boxes. They managed to create one user interface that worked across numerous set-tops from multiple vendors, decreasing the SoC integration time to half.
Considerations of RDK for Europe
The solutions offered by RDK are in high demand for Europe-based operators. Availability of RDK in premium Original Equipment Manufacturers (OEMs) and System on a Chip (SoCs) vendors become an X-factor for the readiness of Europe adoption.
While adopting RDK for Europe, some of the essential factors that need to be considered are analysed below:
DVB SI
Digital Video Broadcasting (DVB) Service Information (SI) collection and channel mapping for Europe is a new entity. Sometimes this will be limited to a few tables mapped to channels. However, on another extent, Electronic Program Guide (EPG) information has to be cached locally to keep the interest of non-connected consumers.
Subtitle
Subtitle matches with a closed caption by feature. However, based on the viewing experience in Europe, the extraction of texts and providing control interfaced to applications has to be maintained. Providing separate graphics rendering and syncing with voice are also few of the challenges that are to be solved.
Teletext
This entity needs to be integrated afresh as per the European requirements. A separate screen has to be dedicated to Wayland/SoC backend. Along with subtitle, language considerations are also applicable to Teletext.
CAS
OCDMi interface is one of the trends in integrating the Conditional Access System (CAS). The emergence of cloud-based infrastructure demands browser-based players on top of RDK. This, in turn, makes OCDMi based CAS a buzzword.
DSM-CC
Legacy firmware upgrade and apps delivery still exist to meet cost consideration for specific operator infrastructure delivery system. Digital Storage Media Command and Control (DSM-CC) requires extensions in middleware to parse carousal tables and store in a database for further usage.
HbbTV
In conjunction with DSM-CC, maintenance of Hybrid Broadcast Broadband TV (HbbTV) for similar TV experience also matters for co-existence of multiple application frameworks in STB middleware. Switching between HbbTV apps and web applications is another challenge.
GDPR
There are strict guidelines to be followed in the General Data Protection Regulation (GDPR) considering Europe citizens' personal data.
NorDig Compliance
The Nordic region has specific demands to comply with regional requirements in the receiver design.
Architecture
A reference architecture for Europe RDK migration is shown below: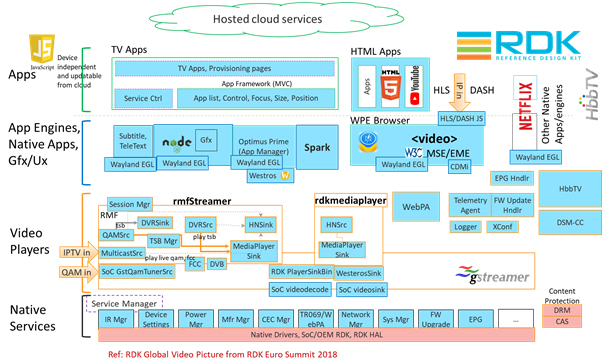 How Tata Elxsi is helping EU Operators
Tata Elxsi is an active development partner in the RDK community and has been continuously delivering solutions in the RDK space from complete system development to deployment support. Our understanding of operators' ecosystem and ready to use in-house solutions accelerators put us in an advantageous spot. We have also built a partnership with multiple operators across the globe, particularly in Europe, to successfully deliver business results and drive growth for operators.
References:
RDK Central wiki
To know more Contact us at info@tataelxsi.com